Although prices at the pump have come down in recent weeks, they are still historically high... And it's all President Joe Biden's fault...
At least, that's a popular sentiment – especially among folks who never liked the president much anyway.
There's some logic to this complaint... Most notably, his energy-related regulations have been suppressing the production of oil.
On May 12, for example, Biden's Department of the Interior blocked a proposal to open up more than one million acres of land in Alaska for oil and gas drilling. Two days later, his administration blocked plans to expand an oil refinery in the Virgin Islands.
Many criticized Biden when he revoked a key permit for the Keystone XL pipeline last year. This pipeline would have carried more than 800,000 barrels per day of Canadian crude to U.S. refineries.
Also, Biden failed to secure a commitment from Saudi Arabia to boost oil output. The list of his shortcomings can go on and on...
However, placing the blame entirely on the White House isn't exactly fair. There are things Biden could have done differently to help ease prices, no doubt. A different president might have handled things more to our liking.
But the truth is, the president can't do much about oil prices. There are two major factors for higher gas prices that go well beyond the Oval Office...
First, consider the COVID-19 effect.
Think back to the housing bubble for a moment...
Following the 2008 financial crisis, the housing market crashed and production dried up. This led to a housing shortage just as the recovering economy was boosting demand.
Basically, supply was ultra-low and demand was rising.
The exact same thing has happened with oil.
You'll recall that oil prices got clobbered during the height of the pandemic in 2020. It was so bad that oil futures even briefly went negative.
No one knew how long the economy would be shut down and just how bad the recession would get. As a result, oil drillers closed up shop. They stopped drilling.
But lockdowns didn't last... Businesses reopened, COVID-19 vaccines became available, and folks got back on the road. The oil industry was then unprepared when demand came roaring back.
Although rig counts – the number of active drilling rigs throughout the U.S. – have been on the rise the past couple of years, they're still below pre-pandemic levels.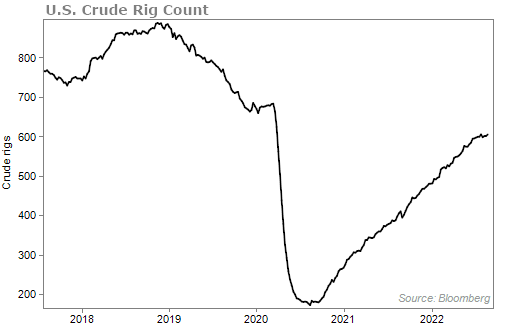 Put simply, we're not drilling enough oil. Inventory is too low.
The chart below shows that if we stopped producing today, the country would have less than 26 days of oil on hand...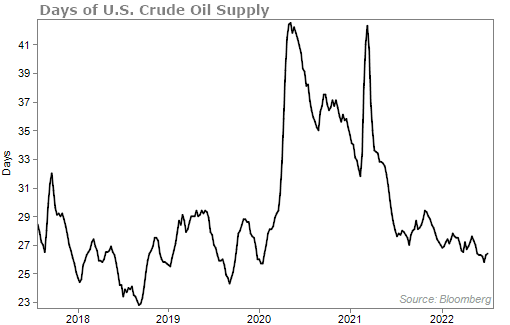 Even though we're two years past the COVID-19 crash, the supply-and-demand curve for oil is out of whack. This supports the need for higher oil prices until either there is more supply or until demand drops because of a recession.
You also have to consider the Russia-Ukraine effect.
Russian oil normally accounts for about 10% of global supply. That's a lot.
But with strict sanctions imposed on Russia after it invaded Ukraine, oil is not finding its way out of the country like it used to. This has constrained global supply even further. Europe is in a full-blown energy crisis at the moment.
You can see the jump in the price of oil when the Russia and Ukraine war started in the chart below...
It's hard to imagine the war in Europe ending anytime soon. Many experts are predicting many more months of violence, since neither country is showing signs of backing down.
That means global oil supply should continue to remain tight for the foreseeable future.
President Biden simply cannot wave his magic wand and make oil and gas cheaper. While many want to place all of the blame on the president, we know there are bigger forces at work.
Like we mentioned earlier, gas prices have come down recently, though. The worry about oil is that a recession will kill demand... driving prices down even if supply stays limited.
In recessions, people lose their jobs, cut back on spending, and travel less. During the 2008 financial crisis, the price of oil fell by more than 75%.
But as my analyst, Jeff Havenstein, wrote about last week, things don't feel too "recession-y" at the moment.
This past Friday we even found out that the U.S. added 315,000 jobs in August. A solid labor market will help alleviate some fears about a significant economic downturn.
There are strong reasons to believe that the price of oil should remain elevated for a while.
My colleague, Steve Sjuggerud, is taking this claim a step further... Steve believes we're at the beginning of what could be the most historic global oil boom ever.
He thinks a combination of economic and political forces will send oil prices much higher as energy shortages spread around the globe in the months ahead. And that means specific oil stocks can see hundreds-of-percent gains in no time at all.
You can click here to learn more and hear from Steve and his team.
What We're Reading...
Here's to our health, wealth, and a great retirement,
Dr. David Eifrig and the Health & Wealth Bulletin Research Team
September 7, 2022