I hear folks say this all the time... "I wish there was a magic formula for investing."
It turns out, there is.
Joel Greenblatt, a hedge-fund manager and professor at Columbia University, came up with a "magic formula" investing strategy and shared it with the world in his 2005 bestselling book, The Little Book That Beats the Market. He continued sharing this strategy in his follow-up book in 2010, The Little Book That Still Beats the Market.
This formula was magic because according to Greenblatt's testing, the strategy averaged 24% returns per year from 1988 to 2009. That's more than double the annual return from the broader market over the same stretch. And those kinds of returns are every money manager's dream.
Greenblatt's magic formula was a hit with investors because it made investing easy. It took the emotion out of investing. The strategy focuses on screening for companies that fit specific criteria and uses a methodical, unemotional process to invest over time.
Instead of buying the next hot stock you overhear at a cocktail party or spending days diving into the financials of a potential investment, you can just let your screening tool do the work for you. You set the magic formula criteria and buy whatever stocks are at the top of that list. And from there, you just follow the rules.
No balance sheet analysis. No understanding industry dynamics. It was investing made easy.
The magic formula focuses on buying good companies at a good price. It looks at metrics like a company's earnings yield and its return on capital. And it's hard to argue with good companies at good prices.
I have my own set of criteria when I look for investment ideas. If you follow these five guidelines in your investing, you'll sleep well at night and make money in the process.
Here's my formula for buying winning stocks...
1. Consistent top-line growth.
This one is self-explanatory... But I'll give you an example.
Back in August 2018, I wrote about two consumer staple stocks: spice maker McCormick (MKC) and condiment giant Kraft Heinz (KHC). At the time, the consumer staple industry was down, and these two stocks looked attractive. Both have products with incredible brand loyalty. And both were cheap.
But there was one major difference between both companies... One consistently grew its revenues over the past three decades. The other did not.
I'll let you guess which stock had consistent top-line growth and which one didn't...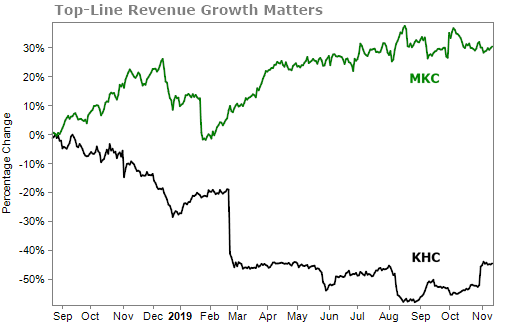 If a company is struggling to increase its sales, especially today when the economy is booming, why would you want to own it? The point here is to own stocks that can consistently grow revenues over time. The longer the track record, the better.
I like seeing a company that has multiple years of consecutive revenue growth.
2. Does more with less.
I just wrote about this a few weeks ago... You want to buy companies that don't have to spend a lot of money to make a lot of money.
These are companies that are highly profitable and can return money back to shareholders.
One way to find these efficient companies is by looking at something called return on assets ("ROA").
The formula for ROA is net income divided by total assets. The higher that number, the better a company's management team is at using its assets to generate income.
The average company in the S&P 500 has a ROA around 3.4%.
I like seeing a company that has a ROA of at least 10%.
3. Increases dividends every year.
If I'm looking for an investment idea, I always check out the list of Dividend Aristocrats. These are S&P 500 companies that have increased their dividend for 25 consecutive years or more. You can find the list of current Dividend Aristocrats here.
No matter what a company does, whether it sells tools, clothes, or soda... if it can raise its dividend payments each year for a quarter of a century, it's a high-quality business. Period.
You know that the management team has done a lot of things right over the years and you know the company is profitable.
There are, however, only 57 Dividend Aristocrats currently. It's an exclusive club to be in. For more ideas, I check out the list of Dividend Achievers – a broader list that includes companies which have increased their dividend for 10 or more consecutive years. You can find that list here.
And it's important to own a dividend-paying stock because over the past 90-plus years, dividends were responsible for roughly 40% of the total market return. If you want long-term success in the market, own high-quality dividend payers.
I like seeing a company with at least 10 or more consecutive years of dividend growth.
4. Avoids too much debt.
This is important because of where we're at in the economic cycle. There's no doubt we're in the late innings. So we want to stay away from companies that are highly in debt.
To measure this, we look at a company's net debt (total debt minus cash) to earnings before interest, depreciation, and amortization ("EBITDA"). We use EBITDA because it's often used as a shortcut to estimate the cash flow available to pay off debt.
The net debt-to-EBITDA ratio shows how many years it would take for a company to pay back its debt. The higher the ratio, the less likely a company is to handle their debt burden... And the less likely it is to take on more debt to grow the business. We want to own companies with strong balance sheets.
I like seeing a company that has a net debt-to-EBITDA of less than 4.
5. Trades for a reasonable price.
If you put my first four requirements together, you'll find a bunch of safe, high-quality stocks that reward shareholders. But we all know quality comes at a price... And if you overpay for a great business – even one that grows revenues, raises dividends, is efficient, and has a strong balance sheet – you can lose money. Price matters.
You can use the basic price-to-earnings ratio to get a sense of a stock's valuation. Right now, the S&P 500 trades for about 20 times earnings.
In general, I want to own stocks that trade for less than the overall market. But again, we're looking at some of the highest-quality companies in the world, so we can expect a bit of a premium valuation.
I like seeing a company that has a price to earnings multiple of less than 25.
The more stocks you own that meet these requirements, the more success you'll likely have in the market.
What We're Reading...
Here's to our health, wealth, and a great retirement,
Dr. David Eifrig and the Health & Wealth Bulletin Research Team
November 13, 2019