"People tell me that I'm so lucky," my friend Alistair from Ireland explained one night, over dinner with our families. "But it's not true. I fully believe that you make your own luck."
"My dad says that too, all the time," my teenage son replied. "My dad says you've got to put yourself in luck's way, over and over again. And then eventually luck may run you over."
Well over one weekend, luck ran me over...
Last Easter night, I was fortunate to sing and play live with some of the planet's best musicians – which has been my dream since I was young. In this case, it was father-son duo Tim and Myles Thompson.
(If you aren't familiar, Tim and Myles are some of the world's best musicians... literally. In September 2015, Myles finished second place in the National Mandolin Championship... and he had only been playing the mandolin about four years. A few years earlier, his father Tim won the National Fingerstyle Guitar Championship. You can check them out right here.)
Here's a "selfie" – taken by Tim from the stage that night: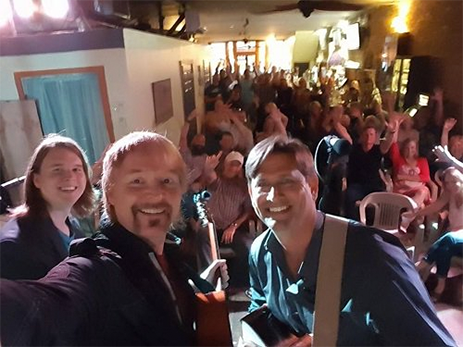 The thing is, Tim and Myles didn't just randomly pluck me out of the crowd... I made my own luck...
Here's how I did it...
First, I contacted Tim and Myles out of the blue...
I saw that they had an empty date on their tour schedule (that Easter) and they were passing through my area. So I asked if they would play in my tiny town that night, at a discounted rate. They said yes.
So I went to work...
I put together a charity concert in my town for that night – got the venue, got the word out, etc.
Next, I offered Tim and Myles a free place to stay... Instead of staying in a hotel, they could stay at a property I owned. When they got there, we started talking (they were super nice!), and eventually we pulled out instruments and started jamming.
I've put a ton of time in on the guitar... so after we jammed a bit, Tim and Myles asked me if I wanted to join them on stage at the concert. Of course I said yes! Here I am in action, belting it out with 'em...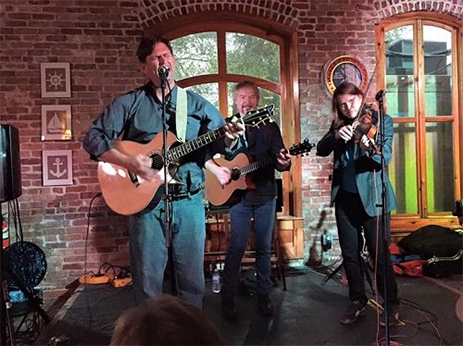 Was I lucky to be on stage with them?
Or did I create my own luck?
The way I see it, I put myself in luck's way...
I created the opportunity for them to be in my town... I put myself in position where they could ask me if I wanted to play with them. And I made the most of the chance.
In the end, it was a great night. Tim and Myles are fabulous. Everyone had a great time. For me, I was truly living my childhood dream. And to top it off, we raised a good amount of money for a local charity as well.
People say "Steve, you're so lucky." I can certainly agree... good things have happened to me.
But I think people have no idea how often I put myself in luck's way. Luck might not come to me every time, or even most times... But if you put yourself in luck's way often enough, eventually you'll get hit by it.
In my opinion, I didn't get to play live with Tim and Myles because I'm "lucky." It happened because I followed this simple secret:
Whenever there is any moment – any crack in the door to help make "luck" happen – you must shove your foot in... and not let it out.
So get out there, and go put yourself in luck's way, over and over again...
Luck will find you... I guarantee it!
Regards,
Steve
Doc's note: Steve knows you can't count on luck when you're investing either. In his True Wealth advisory, Steve focuses on buying assets of great value when no one else wants them... and selling them when others will pay any price. Click here to learn more.
Are you living a millionaire lifestyle? Our free daily letter is your guidebook: