I'm no razor aficionado.
I've had a beard for more than 30 years. So when my friend and publisher Porter Stansberry told me about his new razor idea, I was interested but didn't expect it would be for me.
But when I saw the razor in person, I decided I needed to try it.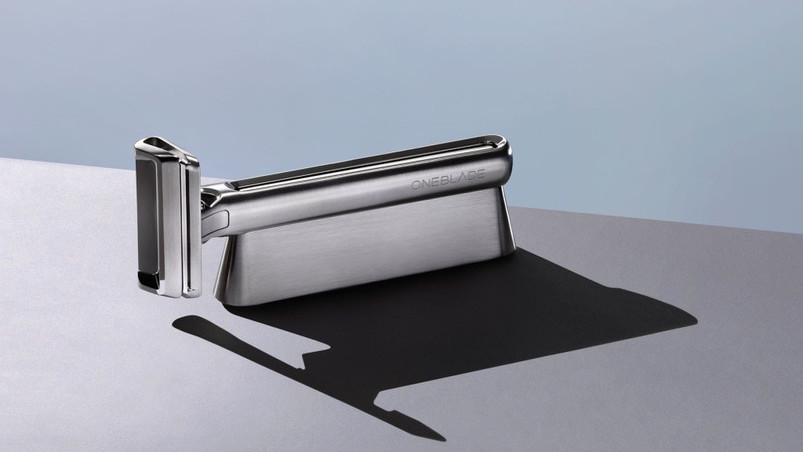 So at our Alliance conference last year in Vegas, I let the barber who Porter flew in for his stage demonstration trim my neck underneath my beard...
Wow. The cut was clean... with no whiskers pulled, which is what usually happens when a second or third cheap blade tries to cut them off and not clip my skin with it. This thing is incredible.
And I'm not the only one impressed with this razor. Here's just a sample of the feedback that Porter has received so far:
Messiah of razors
Just a very quick note to tell you that my new OneBlade razor arrived today. I was able to use it, and I wanted to pass on my first impression of the razor. What a great razor! It is designed beautifully from packaging to product... not a flaw. And you are most correct in stating that it is the best shave that I have ever received!

I've tried 'em all, and this is the one, the Messiah of razors. Thanks for producing such a fine piece of shaving equipment. To do so takes lots of time, money and effort. It shows. – B.W.
The last razor I'll ever own
I just wanted to let you know how pleased I am with my new razor and blades. The package arrived yesterday, and I had a three-day growth in anticipation of its arrival. Your promotion of its qualities sets a high bar, and I wanted to be sure to test that. I started my shave, and was immediately amazed. In fact, I had to touch my face and check the razor – I thought I must have forgotten to put in the blade!

This baby does not just cut whiskers – it spirits them away like magic. No pull, no bite, no drag, no nuthin'. It was like re-shaving an already shaved face – not plowing through three days of heavy beard. And believe me, I know the struggle of a three-day removal project using any of the 3/4/5 blade cartridge setups.

Now what of the weight and balance of the razor itself? It's perfect. Well done team! I'll admit – I cringed a bit when providing my credit card for a $299 razor. 'What am I doing – this can't be worth that much for 15 minutes in the morning,' I sighed. But I can truthfully report – this will be the last razor I'll ever own, and frankly, I now believe I underpaid. – N.J.
The gift to ask for
I received this razor as a present for my birthday. After six weeks of use, I can say unequivocally that it is the best razor I have ever used. It is also a joy to use. It provides an extremely close shave, without nicks, and without razor burn. Add to that, shaving has become a pleasurable morning ritual for me now. So, as a man that never knows what to request as a present, I say unto my gentlemen friends: this is it. – E.R.
And maybe my favorite piece of feedback was from M.T., who has a concise way with words: "Best damn shave, ever. New world."
You can buy this razor at full price (or more) on Amazon or eBay...
But we have a better deal, only available to Stansberry Research readers.
You'll receive a beautifully wrapped package in a leather carrying case, which includes your individually numbered OneBlade razor. This razor will never rust... never break... and is guaranteed for life. And it comes with a stainless steel razor stand, built from a single piece of solid steel...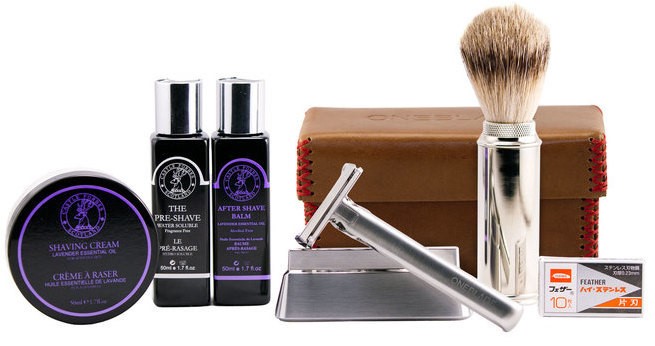 You'll also receive a premium OneBlade shaving kit, completely free of charge.
Also included in the premium shaving kit is a top-quality super badger hair shaving brush – "The Old Original" – handmade in England by Vulfix. And Porter is also sending you pre-shave, shaving cream, and aftershave balm from Castle Forbes... the best shaving set on the market today, bar none.
Altogether, the Vulfix shaving brush and Castle Forbes set is valued at $170. They're yours free when you try OneBlade today, or if you choose to give it as a gift.
Here's a summary of what you'll receive...
A OneBlade Razor, Razor Stand, and Leather Carrying Case
Ten (10) Single-Edge, High Carbon Stainless Steel Blades by Feather
A top-quality Super Badger Hair Shaving Brush – "The Old Original" – handmade in England by Vulfix.
Premium Pre-Shave, Shaving Cream, and Aftershave Balm by Castle Forbes
Plus, to make this a truly wonderful gift-giving experience, all orders placed through this exclusive offer include complimentary premium gift wrapping and will be shipped out with a gift receipt.

Right now, you can try OneBlade... or give it as an incredible gift... for just $399.
Order a OneBlade razor for yourself or as a gift by clicking right here.
What We're Reading...
We're not the only ones who appreciate the OneBlade. The experts at Sharpologist called it the world's best razor and the "ultimate luxury razor experience."