There's nothing better on crisp, cool fall nights than to curl up with a steaming cup of hot chocolate. But in your local grocery store, the options are extreme – very cheap mixes like Nestlé and Swiss Miss share shelf space with high-end brands like Godiva.
I wanted to know if anyone in my office would really prefer the higher priced chocolate without knowing which was which. So we held a "double-blind" taste test here last winter. It was double-blind in that the person making the chocolates didn't interact with any participants, and the server didn't know which chocolate she was handing out each round.
Our results surprised us. Based on overall points, we had a three-way tie between Nestlé, Godiva, and Swiss Miss. To break the tie, we looked at which one received the highest rankings, on average, from our testers... which gave Nestlé the win.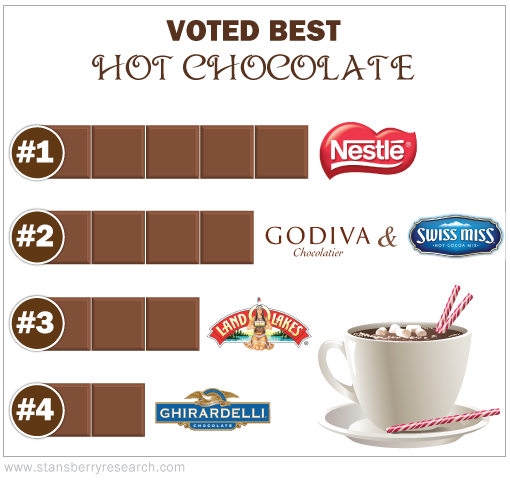 Our testers noted the strong chocolate taste and agreed it was just what you'd want from a cup of hot chocolate. Nestlé was also the cheapest (on a per serving basis) of the five at about $0.27 a serving. Godiva was the most expensive at $2.08 per serving.
A cup of Nestlé once in a while won't hurt you, but if you frequently sip hot cocoa in the winter, you'd do better to go dark... as in, drinking a dark, unsweetened chocolate.
I keep a can of Hershey's unsweetened cocoa to make my hot chocolate. I use milk, instead of water, to give it a bit of sweetness.
Dark chocolate has more antioxidants and less processed sugar and fat. Look for a dark cocoa powder and enjoy it with the natural sugars in milk. You'll get the benefits from the cocoa without too much sugar.
Have you heard about a health claim too good to be true or another chocolate tasting that Doc can attend? Drop us a line at [email protected]. We'd love to dig into it and you may see your question in a future issue of Retirement Millionaire Daily.
Are you living a millionaire lifestyle? Our free daily letter is your guidebook:
Please provide a valid email address.