We recommended it... And we hope you bought it...
Because if you did, you're sitting on a gain of 55% in just four months.
You can sell today and take your profits. Or you can hold on for a potential move higher. The choice is yours... But either way, you're making a lot of money.
We're of course talking about a commodity that's been dominating the news lately: oil.
In early December, my analyst Jeff Havenstein made the case for higher oil prices. At the time, the Omicron variant was spooking investors and the price of oil was dropping. Brent crude, the international oil benchmark, was down to around $67 a barrel... a 20% drop from its late-October high.
Jeff told Health & Wealth Bulletin subscribers that they shouldn't panic over Omicron. In fact, he said that this was an incredible buying opportunity for oil.
Here's what he wrote...
Over the course of the next few months to a year, oil should easily climb back above $80 a barrel. I'd even make the case that oil should be around $100 a barrel.

You see, the oil supply is just too low...

Oil production got rocked during the start of the pandemic. Oil prices dropped below $40 – and oil futures even briefly went negative.

While we now know the economy bounced back from the pandemic quickly, there was a time when it looked like we were facing a massive global recession. Oil drillers reacted by shutting down everything they could (similar to how homebuilders stopped building homes after the housing bust in 2009 and 2010).

And oil drillers have barely started up again. Crude rig counts – the number of drilling rigs in operation – have started to rise. But they have a long way to go to get to pre-pandemic levels...
Demand for oil was also recovering at the time. And anytime you see demand much greater than supply, you should think about buying. It's simple economics.
We published Jeff's bull case for oil on December 1, which is actually the day that oil bottomed. In the weeks following, the price of oil crept higher. By the end of January, contracts were trading for $88 a barrel.
And you all know what happened next... Russia invaded Ukraine.
This sent the price of oil soaring even more...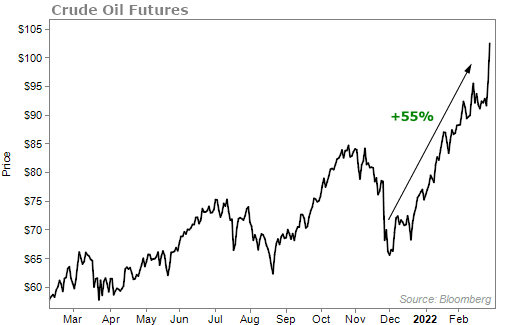 Prices have recently topped the $100 mark – for the first time since 2014.
We were already in a very tight oil market with little supply... But this invasion prompted fears of further supply disruptions.
You see, Russia is a key exporter of oil. The country produces 10% of global oil and supplies 40% of Europe's natural gas.
Of course, we didn't see the war in Ukraine coming. That's impossible, and we would never claim that. But oil prices were already trending higher because of low supply and recovering demand. The Russian invasion just made concerns over low oil supply even greater.
If you took advantage of Jeff's recommendation, you're up 55%. And now the only question is when you should sell...
In my opinion, locking in a 55% gain in four months is never a bad thing.
It's likely oil prices will be highly volatile for some time. Taking your gain now will help remove some of the anxiety of holding.
But there is a strong possibility oil prices continue to move higher. From a CNBC article published yesterday morning...
Morgan Stanley raised its near-term oil price forecasts on Tuesday, saying the events in Ukraine have introduced a "risk premium in oil prices that is likely to remain in coming months."

"Against a backdrop of market tightness, even small disruptions can have large price impacts," the firm added.

Morgan Stanley now sees Brent averaging $110 in the second quarter, up from a prior forecast of $100. Under the firm's bull case, prices will jump to $125 per barrel.
Whether prices continue to run higher in the short term depends on what happens in Ukraine. We'll be the first to admit that predicting an outcome is foolish. No one knows what will happen.
For you, as investors, you have to decide whether to sell now or keep holding. It's a good predicament to be in with oil hitting multiyear highs...
What We're Reading...
Here's to our health, wealth, and a great retirement,
Dr. David Eifrig and the Health & Wealth Bulletin Research Team
March 2, 2022