It's one of the most profitable things you can understand about the market...
Sometimes, traders are pouring their money into risky speculations. Other times, they're pulling that money out.
And by staying on the right side of these trends, you set yourself up for big gains.
So far this month, the markets have wavered between "risk on" and "risk off" behavior.
Tech stocks and other particularly speculative names led the market higher for a couple years, then stalled out for the last quarter or so.
But the mood has changed... Speculation is in the air again.
Look how the tech-heavy Nasdaq Composite Index has rocketed up through June and July...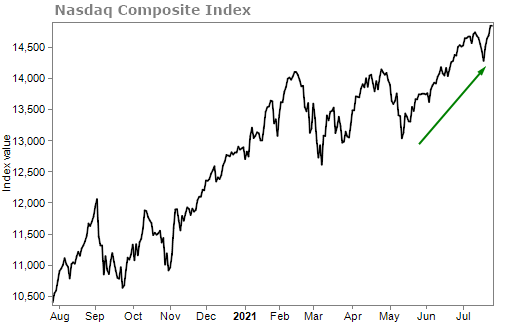 Electric-car darling Tesla (TSLA) has popped off its May lows (though is still well below its January highs when it traded for an absurd 26 times sales)...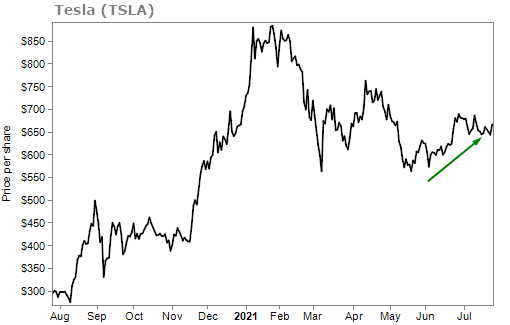 And the poster child of optimistic speculation, bitcoin, is rallying.
Some analysts will attribute part of the rally to investors covering their short positions. But other news is sending the cryptocurrency higher... and that's speculation that e-commerce giant Amazon (AMZN) may be venturing into cryptos soon.
An Amazon job posting published online last week was searching for a "Digital Currency and Blockchain Product Lead." It's just another major company getting into the space.
(Also, if you are interested in cryptocurrencies and want to speculate safely with the guidance of an expert, I suggest you watch this video from my colleague Eric Wade. In short, Eric shared an opportunity that he thinks is even bigger than the biggest name in cryptos – bitcoin. And he explained how to set yourself up to start profiting now. Click here to learn more.)
Earlier this year, bitcoin was cut in half. But it has moved 28% higher in the past week.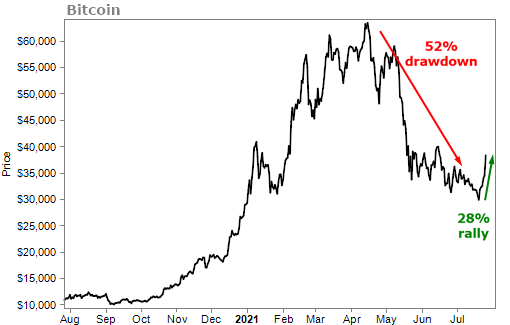 For now, growth and speculation look like the order of the day. And that's what you should expect in a market Melt Up.
Folks are all hitting the buy button at the same time, causing stocks to rise... and the new highs attract new buyers. You'll often hear folks say that new highs lead to more new highs... and it's typically true. At least until there are no buyers left.
This rally in growth and speculation tells me that there might be new highs ahead.
But it's important to stress that nothing goes in a straight line forever. Even if the markets end the year higher than where they are now, there will be plenty of bumps along the way.
We saw that two Mondays ago, when the Dow Jones Industrial Average fell 700 points. In fact, the Dow has fallen by 200 points or more four days this month.
We're overdue for a market correction. The S&P 500 Index has yet to fall by more than 5% since late last year. And as I always say, market corrections are just a normal part of the cycle.
So even though speculation is thick in the air, and it's tempting to go "all in," always remember there are going to be periods of volatility as this Melt Up continues.
By all means continue to speculate and profit, but do so safely. Never put all your chips in one basket. There are still plenty of threats to this bull market... from high inflation readings to a new coronavirus variant to high market valuations.
Enjoy this Melt Up, but don't get complacent.
What We're Reading...
Here's to our health, wealth, and a great retirement,
Dr. David Eifrig and the Health & Wealth Bulletin Research Team
July 28, 2021