Let's begin today's Health & Wealth Bulletin with a question that subscriber Tom H. recently sent in...
In past articles you and other editors at Stansberry Research have talked about the advance/decline line and how this can predict the overall health of the markets. Since many people are now concerned with this overheated stock market, and wondering when the bubble might burst... What is this measurement telling us today?
As I wrote last week, it makes sense to be a little worried about the market today. Investor euphoria keeps pushing the market higher, and valuations keep hitting new peaks. Eventually, the market will take a breath.
Stocks will fall 5%, 10%, or even 15%... and that's just normal market behavior. Corrections happen all the time, even in bull markets.
One basic sign of a healthy bull market is whether more stocks are going up than down.
The "advance/decline" line that Tom mentioned earlier shows us this. It's a simple measure...
You take the number of stocks that went up in a given day and subtract the number that went down. If more went up that day, the line goes up. If more went down, the line goes down. The advance/decline line is also cumulative over time.
In a typical bull market, as the market goes up, the advance/decline line goes up, too. But when the advance/decline line moves lower while the market continues to move higher, then it's time to worry. It means the gains are concentrated in only a few companies.
That's exactly what happened in the late 1990s. And as you know, the dot-com bubble burst shortly after.
Today's advance/decline line looks nothing like the late 1990s. The market is up, and so is the advance/decline line. This metric tells us this bull market is still healthy.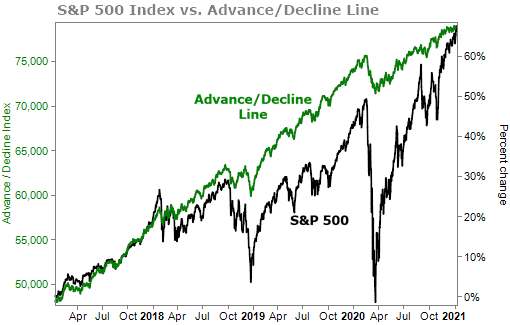 This is a bullish sign for the market over the next few months. But again, that doesn't mean stocks won't fall from here.
Even in raging bull markets, there's volatility.
In mid-December, I told subscribers of my option selling service Retirement Trader that they should expect plenty of volatility in 2021. Here was our "market outlook" for 2021...
We'll call ourselves "cautiously optimistic" because there are still plenty of reasons to worry. The market won't move in a straight line up.

First, we'll have to get through the next few months as positive COVID-19 cases continue to remain high. More states might shut down their economies. And that will lead to more people out of work and more businesses closing for good.

You also have to consider how rich today's market is. The S&P 500 Index trades for 28 times earnings. Over the past four decades, the index has had an average price-to-earnings ratio of only 18.

Just on valuation fears alone, we could see some profit-taking sending the market lower.

The point is that we expect the market to finish higher over the next 12 months... but we expect plenty of price swings along the way. It wouldn't surprise us if there were a few corrections of 10% or greater in 2021.
Over the past three months, the S&P 500 is up nearly 10%. In a normal year, that's a whole 12-months' worth of gains. And that has just been the past 90 days...
It may feel like the market is going to keep going up forever, but that's not going to be the case. Expect volatility.
2021 already shows no signs of being the calm, quiet year we hoped for.
Lots of folks are asking... What does all of this mean for you, your money, and the stock market?
To help you make sense of it all, my colleagues Dr. Steve Sjuggerud and Austin Root, and myself, filmed our thoughts on where the market could go from here... as well as our No. 1 stock picks for the year.
Whether you're all-in on Steve's Melt Up thesis... nervous that another crash is just around the corner... or simply overwhelmed with what's happening in the world... don't miss our urgent briefing next Tuesday, January 26 at 8:00 p.m. Eastern time.
It's totally free for you to attend. Just sign up here.
What We're Reading...
Here's to our health, wealth, and a great retirement,
Dr. David Eifrig and the Health & Wealth Bulletin Research Team
January 20, 2021