It seems nothing can stop the market from making new highs – not even the rising death toll from the coronavirus.
As I write this morning, there have been more than 2,000 deaths from the virus globally. That's more than the SARS outbreak from 2002 through 2003.
And there's no signs of it slowing down either. While China is doing everything it can to contain the outbreak – more than half of China's 1.3 billion population being subject to travel restrictions and other quarantine measures – the death toll continues to rise.
Meanwhile, the S&P 500 Index hit a new all-time high on Friday.
Clearly U.S. investors aren't that concerned about the outbreak. (And if you've been following us these last few weeks, you know we aren't either.) And that's because the virus hasn't spread much outside of China. All but five deaths have occurred inside mainland China.
So until there is evidence that the coronavirus is spreading internationally – more specifically, making its way to the U.S. – investors may continue to shrug off the fear-mongering headlines.
The S&P 500 is up nearly 5% since the government in Wuhan, China, confirmed that health authorities were treating dozens of cases in January. If the S&P 500 continues to rise at this pace, it would gain over 30% for the full year. That's a fantastic year for stocks. And it beats 2019's total.
When you look at which companies are driving the market higher, you'll see it is companies with limited exposure to China.
On the other hand, the companies that do sell in China are being punished.
The chart below compares the year-to-date performance of the S&P 500 to U.S. companies with large exposure to China, according to an index from Goldman Sachs.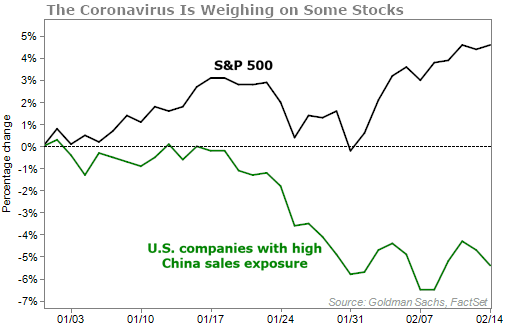 The basket of U.S. firms that count on China for a large percentage of their sales include companies like manufacturer 3M (MMM), casino company Las Vegas Sands (LVS), and fast-food restaurant company Yum China Holdings (YUMC). 3M gets over 30% of its revenue from the Asia Pacific region, Las Vegas Sands gets over 60% of its revenues from Macau, China, and just about all of Yum China Holdings' sales come from China.
It makes sense that investors are selling stocks like these. Many factories have been closed in China. Casinos are vacant. And many fast-food joints like KFC have shut their doors temporarily as well.
The financial results of just about any company that has a good amount of sales in China should be negatively impacted.
Even iPhone giant Apple (AAPL), with about 19% of sales coming from China, warned that the outbreak will harm its revenue. Apple cut sales expectations for the quarter because it is highly dependent on Chinese factories and Chinese consumers.
When something affects both supply and demand... it's never a good thing.
Apple lost $26 billion in market cap yesterday because of its warning to investors.
As some stocks take a hit because of the coronavirus, the question we should be asking is: Is this a buying opportunity?
I've talked before about how you should adopt a contrarian mindset if you're looking for big gains in the market. Being contrarian means opposing popular opinions. It's going against the crowd. And once the crowd comes back into your trade, it pushes prices much higher.
Buying stocks that sell their products in China would certainly be contrarian. That's because many investors are staying away from them or even betting against them. From a recent Wall Street Journal article...
Ihor Dusaniwsky, head of research at S3 Partners, a financial analytics firm, said he has seen a significant increase in activity from investors betting against many of the U.S.-listed Chinese travel and consumption companies.
Stocks that traders are shorting include Chinese travel agent Trip.com (TCOM) and coffee company Luckin Coffee (LK). And that seems like a good bet... Folks in China will likely not travel anytime soon or go to public places like coffeehouses because of fears of getting infected.
Morals aside, traders want to profit from the coronavirus. More from the Wall Street Journal...
Mr. Dusaniwsky said one reason Trip, Luckin and other U.S.-listed Chinese companies have become popular targets for short sellers is the difficulty in shorting shares in China itself. That leaves these companies as "the main vehicle to accumulate short exposure to the Chinese market," he said.
Here's my take... Now is not the time to either buy or short companies that have a large exposure to China.
It's best to just stay away and watch what the crowd does.
I do think there will eventually be a buying opportunity... but it's not today. The effects from the virus could get much worse from here. And we don't know how long the quarantine in China will last.
We could easily see these stocks fall another 10% or so. Or we could see them recoup their losses in a short amount of time. It's anyone's guess.
If you want to know where you can start putting your cash to work today, Dr. Steve Sjuggerud hosted a special event last week where he detailed a once-in-a-lifetime money-making opportunity you can't miss.
If you missed the event, you can see all the details here.
What We're Reading...
Here's to our health, wealth, and a great retirement,
Dr. David Eifrig and the Health & Wealth Bulletin Research Team
February 19, 2020