It was supposed to be Zillow's secret weapon...
You likely know Zillow (Z) for its online real estate platform. Zillow's website and app allow folks to search millions of home listings.
Since the company launched in 2004, Zillow has become a trusted brand in the real estate world. More people search Google for "Zillow" than "real estate."
But Zillow wanted to be more than a website...
Management wanted to fulfill a dream of becoming an all-inclusive real estate marketplace. The company also wanted to profit more directly from rising housing prices.
As a result, Zillow became a house flipper in 2018. Specifically, it got into the "iBuying" business. An iBuyer offers instant cash prices for your house, sight unseen.
Zillow thought it had a secret weapon – an immense trove of data. It hoped to use its massive database of homes and proprietary pricing algorithms to purchase homes directly from sellers... make some light repairs to the properties it bought... and then sell them quickly for a profit.
The buying side of the equation came easy. The company's Zillow Offers division loaded up its balance sheet with homes. But selling those homes for a profit was harder than it looked...
In the third quarter of last year, Zillow bought 9,680 houses using its algorithms, but it could only unload 3,032 of them. Zillow is now sitting on a stash of nearly 7,000 unsold homes.
One big problem was that Zillow overpaid. Management has been blunt about this. The failure casts big doubts on "Zestimates" – Zillow's home-pricing algorithm.
Zillow blames other factors as well, like "home-pricing unpredictability." That's an ironic excuse for a business built on predicting home prices.
Another explanation was it couldn't find enough workers to fix up all those homes, making it a victim of today's tight labor market.
Zillow Offers lost more than $420 million from July to September... roughly the same amount that all of Zillow had earned during the prior 12 months.
As a result, Zillow temporarily stopped buying new homes. It also announced a few months ago that it would lay off about 25% of its employees.
Basically, Zillow Offers is being taken out behind the barn and shot.
While folks may have seen the headlines of Zillow getting out of the house-flipping business and take it as a warning sign for the housing market... they'd be dead wrong.
Zillow algorithms just overpaid for houses. That's bad news for Zillow, but not bad news for housing.
New homes are still being built every day, but more are needed. Buyers are falling over each other to compete for available homes.
Put simply, demand for new homes remains much higher than supply.
Even though homebuilders have been working at a frantic pace over the past year and a half, too few homes are going up for sale. Months of supply just hit a low in December...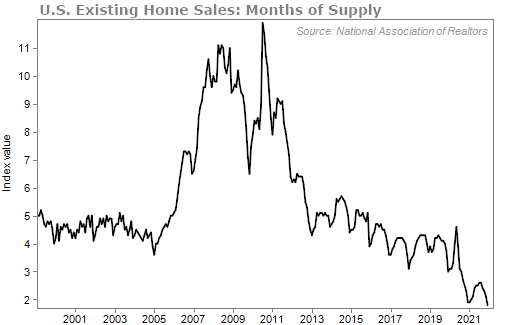 According to Realtor.com, the U.S. needs 5.24 million more homes to meet demand. That's an increase of 36% from the 3.84 million homes needed in 2019.
Although housing starts have risen dramatically over the past few years, homebuilding collapsed from 2009 to 2011 – and still hasn't fully recovered a decade later...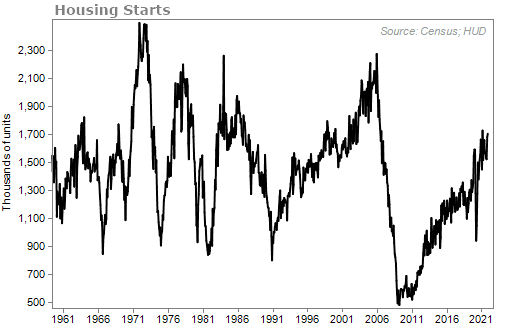 Even with housing prices up 14% from a year ago, we still expect higher prices in the years to come... albeit at a slower pace.
The folks buying and selling homes today are real people like you and me. They are families who need more space, not the get-rich-quick speculators who were the hallmark of the bubble back in the mid-2000s.
Even when Zillow was still in the house-flipping market, iBuyers only represented about 1% of the U.S. residential real estate market.
Don't let the headlines in the housing market fool you... Home prices can still go higher from here.
Last Thursday, during a special briefing, I told viewers why I'm not all doom-and-gloom... Despite what headlines might have you believing, I'm still optimistic about investing in 2022, if you take the right steps for your portfolio. I also gave away my No. 1 pick for the year.
If you missed the event, click here to watch the replay.
What We're Reading...
Here's to our health, wealth, and a great retirement,
Dr. David Eifrig and the Health & Wealth Bulletin Research Team
February 2, 2022