Opinions often differ at Stansberry Research.
Our editors are free to say and recommend whatever they like as long as they put the interests of their readers first. With that in mind, it's not uncommon for me to disagree with something that Porter Stansberry or Steve Sjuggerud says, for example. (Longtime readers are probably familiar with some of our disagreements.)
Diverse opinions are in part what make our business great. Readers get all of the facts and then decide for themselves how to put those facts to good use. It's always better to understand both sides of any argument before you put your money to work.
Different opinions aren't just limited to Porter, Steve, and I, though. There are also disagreements within my own team.
For example, millions of folks are getting vaccinated against COVID-19. Many more have already developed antibodies from prior infections. And the fatality rate, as a percent of the total number of infected people, has remained low.
To me, that means we're likely headed toward the end of the pandemic.
My senior analyst, Matt Weinschenk, disagrees. You may have heard us sparring in our periodic COVID-19 briefings. And I welcome debate...
For months, I've told folks to stop listening to the talking heads and not panic over the pandemic. Most of them don't truly understand the virus or what it means for our health and the economy.
But Matt is one of the smartest guys I know, and he recently shared why he's concerned right now...
I think the math is pretty simple here.

Though a lot of the details are still to be confirmed, the U.K. variant of the coronavirus, known as B117, appears to be 50% to 70% more infectious. For whatever biological reason, it jumps from person to person more easily. That's going to push up the reproductive rate substantially.

I know we've all been inundated with bad news for over a year – and needless panic is destructive to your health and well-being. But this is not just another development to glaze over. This is bad news.

If a virus has a reproductive rate of 1, each person infects one person and the rate of new infections stays flat. If it's below 1, the virus fades away. If it's above 1, it spreads at a faster rate.

The reproductive rate doesn't just depend on the biology of the virus, but on human behavior – whether we wear masks, avoid contact, and so on.

But small changes in the reproductive rate can make huge changes in the spread of the virus, owing to the power of exponential growth.

Using numbers from Our World in Data and reproductive estimates from the Centre for Mathematical Modelling of Infectious Diseases, you can see that in, say, October, the reproductive rate rose from around 1 to 1.10... and that's led to the surge from 50,000 cases per day to 200,000.

This new variant, left alone, means the reproductive rate will jump to something like 1.5.

The rate in the U.K. has jumped from around 1.1 to 1.5, and that looks like this – with an extreme national lockdown...

This is bad news. We're doing the best we can seem to muster, and cases have only risen... now the challenge is going to get exponentially harder.

I don't think there's any way we can keep it from getting to our shores. And though the time frame is tricky to nail down, I see the U.S. diagnosing 500,000 cases per day in February or March. That's two-and-a-half times the rate of today.

That would come with two times the hospitalizations. Right now, about 60 million people are in areas with ICU beds at 90% capacity... up from 20 million on October 1. (You can track local and national capacity levels at a project from the University of Minnesota.)

In other words, this is the overrun-hospital scenario we were warned about in March – it's just going to take this new variant to get us there. And it appears the vaccine won't get distributed fast enough to save us from infection.

This could mean a new, more stringent lockdown, or that people police themselves out of fear and stay home more. Either way, it's not good news for the economy and could cause a big hit to this high-flying market.

On the other hand, the market has not cared about rising cases. Since September, cases have been rising from 50,000 per day to more than 200,000... and the S&P 500 Index is up 16.7%.

I hope I'm wrong. We could keep the variant out (but I doubt it). We could organize a response. Or the new variant could not be as infectious as thought. But my baseline scenario is, for now, a bad three months ahead.
While I'm less worried about both the spread and the treatment of COVID-19 than Matt... I do also have concerns about the economy and the market's valuation. Even with interest rates near 0%, it's nearly impossible to not be a little worried about stocks...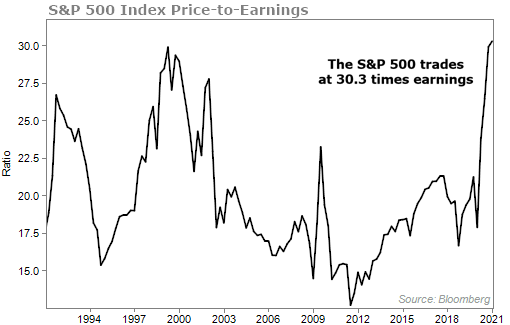 Because of this, I also favor buying some portfolio protection.
Besides, while Matt's outlook is not inevitable, it's distinctly possible. And when we find a particular possibility, we try to judge how likely it is and what we can do to protect against it.
For starters, every investor should have a portion of their portfolio in cash and cash-like instruments. It's always a good idea to have some cash available and ready to buy stocks after a market correction.
Also, a small portion of your portfolio should be in something to protect against a down market. You could short a stock or a broader fund, buy a put option (or buy a bear spread like we do in Advanced Options), or own a "chaos hedge" like gold.
Whether you agree with Matt and want to prepare for what's coming over the next few months, or if you agree with me... it does make sense to take precautions with your portfolio today.
If you want to hear more about why you need to protect your portfolio now – and how to do it – make sure to watch this special presentation from Steve Sjuggerud. (Don't wait, it will only be available until tomorrow!)
What We're Reading...
•         S&P 500 muted with eyes on earnings season.
•         CDC to expand COVID vaccination guidelines to everyone 65 and older.
•         Something different: California's Disneyland to become COVID vaccination site.
Here's to our health, wealth, and a great retirement,
Dr. David Eifrig and the Health & Wealth Bulletin Research Team
January 13, 2021