It's finally here... Americans are all-in on the stock market.
And that makes sense... The Dow Jones Industrial Average is at a new all-time high, and so is the S&P 500 Index. The tech-heavy Nasdaq isn't too far from its high either – and I suspect it will reach it very shortly.
Since the major indexes can do no wrong, folks have been piling in to stocks at record rates.
Americans are now holding more money in stocks than ever before... and that includes the peak of the dot-com bubble.
Let me ask you this... Does that excite you? Or does that terrify you?
To be perfectly honest, I think it's OK to feel both excited and terrified.
But as I'll explain today, giving in to either of these emotions is a big mistake...
The chart below shows stock holdings among U.S. households as a percentage of their total financial assets. The data is from JPMorgan Chase and the Federal Reserve. It includes any stock that folks may hold in 401(k) accounts as well.
Right now, 41% of our financial assets are allocated to stocks. Again, that's higher than the dot-com peak of 37%.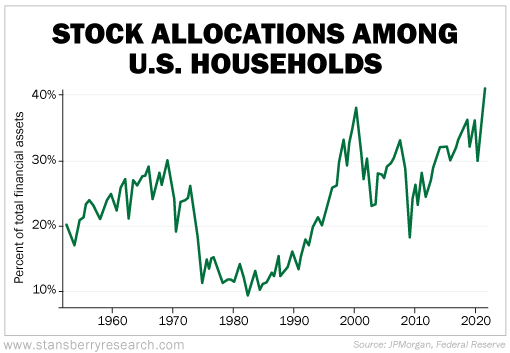 This means one thing... The "Melt Up" is definitely here.
For those unfamiliar with the term, a market "Melt Up" happens when folks pile in to the stock market, which drives prices higher. As stocks keep going up, folks on the sidelines get sick of hearing their friends and family talk about how much money they are making in the market, so they decide to get in on the action. This leads to more buyers and a new round of highs.
This continues until there are no buyers left. As you can imagine, a Melt Up can lead to massive gains for investors.
A telltale sign of a euphoric market is how much money investors borrow to buy stocks. When you hear that someone is taking out a second mortgage to buy their favorite stocks, you know that you're deep in a Melt Up.
One thing I like to keep an eye on is margin debt – or money that investors borrow to buy securities.
Right now, folks are borrowing more money than ever before. Margin debt stands at $822 billion – an increase of more than 25% since September of last year.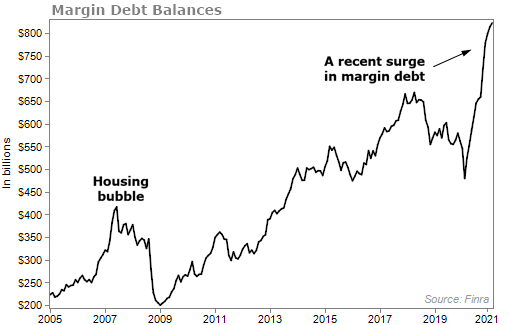 Of course, margin is risky. When you buy securities on margin, you must repay the amount you borrowed as well as interest, even if you lose money on your investment.
When there is a run-up in margin debt balances, I get nervous. That means more folks are buying with borrowed money, fueling valuations that aren't supported by what companies earn. And when stocks eventually turn, it can lead to a lot of investors being unable to pay back what they borrowed.
The good news is that earnings have been pretty solid as many major companies have reported results over the past few weeks.
Giants like Alphabet (GOOGL), Amazon (AMZN), and Facebook (FB) have recently posted impressive results. Alphabet increased sales by 34% for the quarter, while Amazon and Facebook both posted sales growth of over 40%.
Consumers are flush with cash, and they are out spending. The outlook for the economy for the rest of the year is bright.
That means everything is lining up for a boom in the stock market.
But that also means things are lining up for an eventual bust. You can't have one without the other.
Valuations are stretched, and when there are no buyers left in the market, things can come down in a hurry – especially since many investors have been borrowing money.
That's why it's OK to be both excited about the stock market and terrified. But the one thing you should never do is be either 100% in or 100% out.
If you're 100% invested in stocks, you may eventually get burned when the market does turn. And if you have all of your money on the sidelines in cash, you'll be kicking yourself in the butt when stocks are shooting higher.
As I always say, diversification is key. Your assets should be spread out between stocks, cash, bonds, real estate, and gold.
But the point is that you need to own stocks today. These euphoric markets can go much higher and much longer than you'd expect. So stay invested... just don't be the fool putting everything into the market at the top.
Over the years, my colleague Steve Sjuggerud has done a great job telling his readers when it's time to buy... and more importantly, when it's time to sell.
So to hear my colleague Steve Sjuggerud's thoughts on the potential of the market over the next few months – including when he thinks the Melt Down will occur – you can watch a special presentation that he put together here.
This is a must-watch presentation if you haven't seen it already.
What We're Reading...
Here's to our health, wealth, and a great retirement,
Dr. David Eifrig and the Health & Wealth Bulletin Research Team
May 5, 2021