Back in November, we liked the outlook for a particular stock that's linked to cryptocurrency. And we were right about it... The stock kept hitting new highs shortly after.
Today, the outlook for that stock looks just as good...
In my Advanced Options trading service, my team and I look for stocks that can make a quick move in either direction. Using options, we can earn huge gains simply from a 3% to 5% move in a stock.
Unlike most investment services, this type of trading is short term. Our trades last an average of two months. So timing a trade is always tricky. Even a great company can have a two-month stretch where it falls.
So we tend to look for news that will move a stock, find an overreaction or an extreme situation in the market, or trade with the trend.
Back in November, we wanted to make a bullish trade on PayPal (PYPL). As you likely know, PayPal is a company that helps drive the "cashless revolution." It has more than 370 million active electronic-payment accounts and has $277 billion in total payment volume.
PayPal has been a massive success over the years.
Revenues have grown roughly 20% a year over the past decade. The company is wildly profitable, too. One of the best ways to gauge profitability is by looking at how much a company generates in free cash flow ("FCF"). FCF is the amount of cash left over after all expenses and capital expenditures. Basically, it's the amount available for management to buy back stock, issue dividends, and make acquisitions.
With $21.4 billion in revenue, PayPal generates $5 billion in free cash flow. In other words, for every dollar of sales, PYPL is effectively left with about $0.23 of FCF available for shareholders. The average of the companies in the S&P 500 Index is about $0.10 of free cash for every dollar of revenue.
PayPal is also sitting on a mountain of cash of $4.8 billion. And the company should continue to grow as more and more people stop using cash around the world – as it's already in over 200 countries.
It's a great company. And it has traded just like one. Over the past three years, the stock is up 220%.
In late October, the company made a move that would make its business even stronger... PayPal shook up the crypto world by announcing that its hundreds of millions of customers would be able to buy, hold, and sell bitcoin and other digital assets using their PayPal accounts.
As a result, volume for bitcoin skyrocketed. At the time, crypto investment firm Pantera Capital said that PayPal bought up almost 70% of all newly created bitcoin since it began offering cryptocurrency services.
Pantera Capital also predicted that PayPal-related demand alone would exceed all newly issued bitcoin within weeks.
This was great news for bitcoin investors, as more money will continue to flow into the cryptocurrency. And it was great news for PayPal investors – excitement around the move into cryptos should help keep millennials bidding up the stock.
Shortly after we recommended a bullish trade on PayPal, the stock quickly moved out of buy range. Shares tacked on 20% in just one month from our trade. In two and a half months, the stock was up 50%.
Recently, however, shares have been sold off with the rest of the tech sector.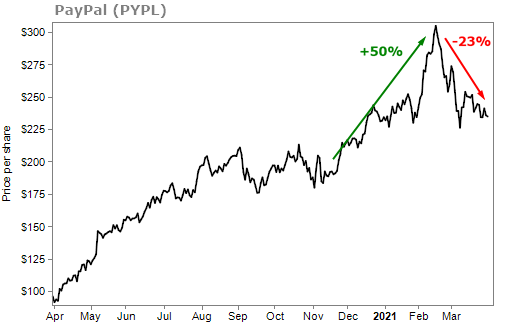 PayPal is now trading for $235 a share, nearly 23% below its February peak.
But there's reason to think that PayPal can start moving higher from here thanks to even more crypto news...
Yesterday, PayPal announced that it's launching a crypto checkout service. This will allow customers to use their cryptocurrency holdings for payment at millions of online merchants around the world.
Again, in November, PayPal opened cryptocurrency trading to all users in the U.S., allowing them to buy, sell, and hold bitcoin, Litecoin, Ethereum, and Bitcoin Cash. Now, PayPal is giving customers a way to purchase items directly with their cryptocurrency stash.
This just shows that PayPal is all in on crypto. As CEO Dan Schulman recently said...
As the use of digital payments and digital currencies accelerates, the introduction of Checkout with Crypto continues our focus on driving mainstream adoption of cryptocurrencies, while continuing to offer PayPal customers choice and flexibility in the ways they can pay using the PayPal wallet. Enabling cryptocurrencies to make purchases at businesses around the world is the next chapter in driving the ubiquity and mass acceptance of digital currencies.
Given PayPal's strong financial position, its recent sell-off, and the news of its new crypto checkout services... shares could rise in the short term.
PayPal shares can also gain if the price of bitcoin and other cryptos move higher. And for that, I turn to our crypto expert, Eric Wade.
Eric recently put together a presentation where he dives into what's next for cryptocurrencies like bitcoin. He also gives details on several smaller crypto opportunities with huge potential.
If you haven't seen his presentation yet, you can click here to watch it 100% free.
What We're Reading...
Here's to our health, wealth, and a great retirement,
Dr. David Eifrig and the Health & Wealth Bulletin Research Team
March 31, 2021