If you've been deeply hurt by the market over past few weeks, you haven't been listening...
The S&P 500 is down 8% for the month and it's down 8.5% from its 52-week high. We're approaching correction territory but haven't hit it yet.
On the other hand, tech stocks are in a bona fide correction. The tech-heavy Nasdaq Composite Index has fallen 11% in October and it's down nearly 12% from its 52-week high. It's been brutal.
In fact, the Nasdaq is on pace to post its worst month since late 2008. Back in October of that year, the Nasdaq fell a whopping 17.7% and 10.8% the following month. Depending on how the index closes later today, October should finish right in the middle of those two months.
The past four weeks certainly haven't been kind to the tech giants either. We've seen Amazon shed more than 23% of its share price. Even Google's hasn't stayed out of the selling, dropping 13%. And Netflix has been absolutely crushed – down nearly 24%.
This has been one of the worst months in terms of stock performance over the past decade... But if you've been following us closely, you shouldn't be surprised. And if you've lost 15% or more in your own portfolio, you haven't been listening.
We've been preparing for this.
Over the past few months, regular Health & Wealth Bulletin readers know that I've gotten cautious about the stock market. Even while I was encouraging readers to take advantage of Steve Sjuggerud's "Melt Up" last week, I mentioned my hesitations about the market, pointing out how there were a ton of red flags. I've been talking about these warning signals, whether debt or valuations or inflation, for a while now. I hope you've been following my advice and pared back some risk.
Now before anyone accuses me of playing both sides, let me explain...
I agree with Steve Sjuggerud that the market is likely to explode higher before the big crash. There's going to be great gains.
Investors should have a bet on the Melt Up... But it should be a reasonable bet. My past experiences tell me that when there's a fantastic money-making opportunity like the Melt Up, folks will throw caution out the window and push all their chips in the middle of the table.
Don't do this.
Only a portion of your portfolio should be allocated to bullish bets right now. Even with a conservative portion of your portfolio betting on the Melt Up, you'll make a ton of money if Steve is only half right.
You don't need to risk everything.
I've seen it far too many times when investors take advantage of a great market call like the one Steve is making, and then ride the market all the way down. They don't know when to get out.
That's why I've been writing about all the different risks in the market for the past few months. I've been urging readers to get defensive.
You'll make money in the Melt Up, I'm confident of that. But I don't want you to lose it all in the "Melt Down." My job is to make sure you understand the whole picture and help you allocate your money accordingly.
I always recommend that investors spread their money between a few asset classes. You should be invested in stocks, fixed income, cash, and chaos hedges.
If you take one thing from today's issue, it's that you should move some of your portfolio to cash. Have some money on the sidelines. It could be sitting in a money-market fund or in a certificate of deposit (CD). When the crash happens, you'll be relieved you have some of your money parked there.
And now is also the time to increase your position in chaos hedges. Chaos hedges are protection for when things in the economy get really bad. Gold, for example, is a chaos hedge.
Earlier this month I told my Retirement Millionaire subscribers to buy gold. The timing was right. Since that issue came out, the price of gold is up nearly 3%.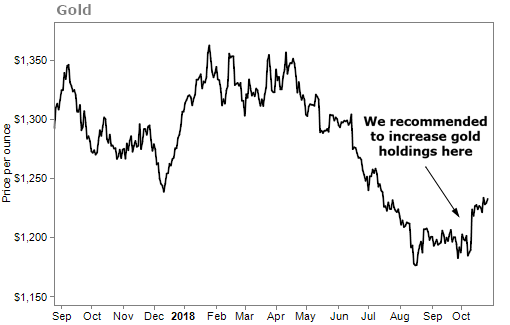 It's not hard to figure out that when stocks go down, people buy gold, which pushes the price up. It's important to buy before the big market crash. I don't think this is the big market crash right now – just a normal correction. But in this case, it's better to be early than late.
Based on the way things have gone this year, it appears volatility is here to stay. That plays into Steve's Melt Up thesis. Have a portion of your portfolio invested in Melt Up stocks. Just to reiterate, a portion... Not everything you have.
Volatility also means that there's going to be more market downturns... Including the bear market we're all fearing. Now is the time to get ready. Increase your cash position, buy some gold, buy some safe bonds, and hold only your highest-conviction stocks.
What We're Reading...
Something different: Many U.S. firms in China are eyeing relocation as the trade war bites.
Here's to our health, wealth, and a great retirement,
Dr. David Eifrig and the Health & Wealth Bulletin Research Team
October 31, 2018