It's official... The S&P 500 Index is now in a bear market.
On Monday, the S&P closed 21% down from its January high. This is only the second bear market since the financial crisis in 2009.
The stocks that soared during the pandemic rally are the ones driving the market down.
Nvidia (NVDA), for example, shot up nearly 500% from late March 2020 to the market's record close on January 3, 2022. Since then, Nvidia has been cut in half.
Apple (AAPL) was up 224% during the pandemic rally. Since then, it's fallen 28%. Even Microsoft (MSFT), which was up 146%, has fallen 28% since the start of the year.
All of these stocks have a heavy weighting in the S&P 500. Investors have been selling because valuations became a touch too expensive toward the end of last year.
Record inflation of 8.6% is also weighing on growth stocks. The Federal Reserve is likely to raise interest rates by 0.75 percentage points. Rising interest rates are bad for growth stocks as they reduce the present value of future cash flows.
It's not all bad news though. History tells us that when the market officially enters a bear market, higher stock prices are not too far away.
While you shouldn't expect prices to soar over the next month, as stocks may be volatile for some time until we see progress on the inflation picture... over the next twelve months, the market is usually up about 24%.
Take a look...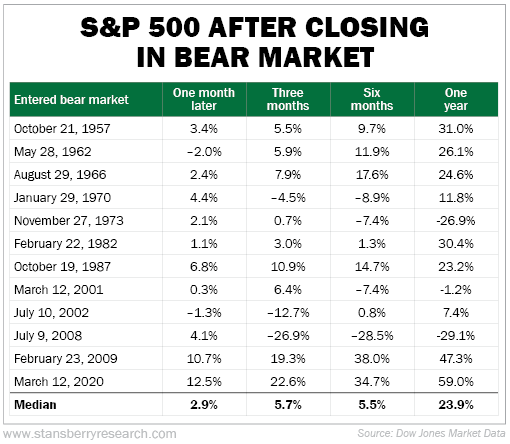 Like we've talked about before, a lot of indicators are showing extreme bearishness. Fund managers are loaded up with cash. Sentiment is near an all-time low. And folks are buying many more put options than call options to hedge their portfolio.
Did You Fall For Tesla's Trick?
If you missed last week's issue, we talked about Amazon's (AMZN) recent stock split. The e-commerce giant went through a 20-for-1 split. Shares were trading around $2,500 before the split and dropped down to around $125.
While owning a stock at a lower stock price seems like a better deal (after all, the more shares the better)... a stock split does nothing to a company fundamentally. It's still the exact same company.
In last Friday's issue of Retirement Trader, I called the phenomenon of wanting to own stocks with lower share prices the "Thrift Shop Fallacy." It's called the Thrift Shop Fallacy because so many people flock to second-hand stores because of the low prices. People think they're going to pay $2 for a watch that's really worth $50... but that $2 watch is usually just a $2 watch. It's the illusion of a bargain.
Cheap stocks have a similar pull.
If you've been watching the financial news lately, you would have seen that Tesla (TSLA) finally revealed the long-awaited details of its stock split. It's going to be a 3-for-1 stock split that will make shares more affordable to investors.
If you are planning to buy Tesla simply because its stock price will be cheaper, go back and read last week's issue. If you didn't want to own Tesla before the stock split, there's no reason you should want to own it today.
If the economy can escape a recession, it's possible to see higher stock prices.
There are going to be a lot of eyeballs on next month's inflation reading. The outcome of that report could decide which way stocks go to close the year. Stay tuned.
In the meantime, my friend and colleague Joel Litman says that instead of a bear market, there's something you should be much more worried about...
Joel is warning of a massive financial "heist" you've likely never considered before, with an opportunity hidden within that's far greater than anything you could make on gold, ordinary stocks, bonds, or cryptocurrencies...
Click here for all the details.
What We're Reading...
Here's to our health, wealth, and a great retirement,
Dr. David Eifrig and the Health & Wealth Bulletin Research Team
June 15, 2022