Doc's note: 2020 has been a lousy year for most folks. But if you've stayed in the market, your portfolio is probably looking pretty good. But that could change this month. In today's issue, Greg Diamond takes a look at what's going on in the market today and why he expects a massive move on December 23...

What a ride the market has been on... massive declines and massive rallies.
Liquidity evaporates and then comes roaring back. Options prices are all over the map. The changes happen so fast, sometimes it's hard to keep track of everything.
However, the current environment is signaling what we can expect from the market going forward.
Last year, I outlined the case for a "round trip" market which, over the course of a few years, would see large declines and large rallies.
I shelved this outlook at the beginning of 2020 largely due to the rally that unfolded in tech stocks to start the year. I was looking for a big blow-off top.
But then COVID-19 hit.
I noted during the crash that we might be entering "the shortest bear market." And that's exactly what occurred...
From the top in February, the Dow Jones Industrial Average fell 37% in 27 trading days. The record before that was in 1987, when it fell 36% in 38 trading days. Since then, the market has continued to hit new highs.
So, the big question becomes – are we already in another bull market in stocks?
Over the past decade, investors have expected the Federal Reserve to step in any time volatility rises. While 2020 has been no different, the fact that nearly 58 million people in the U.S. have filed for unemployment since March is a serious dent to the economy.
The stock market and the economy are in two very different positions.
In June, I told DailyWealth readers...
While a major low is likely in place, a new bull market is not yet in the cards. I expect the round-trip market will roll on.

However, this doesn't mean we won't see more double-digit gains in stocks this year. In fact, lately I've been quite bullish... And I am expecting new highs in most of the major U.S. indexes this year.
And so far, that's exactly what's happened...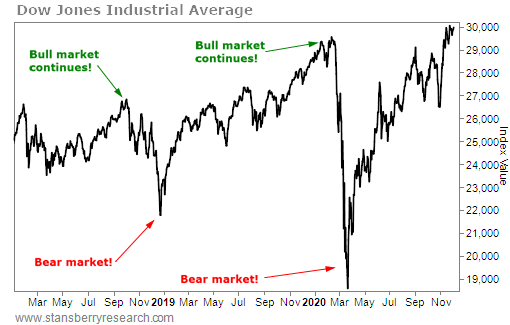 Since 2018, stocks have been in a near perfect round-trip market. This includes false breakouts in which everyone thinks the bull market will continue... followed by big declines where everyone thinks the bear market will take over.
In short – equity markets are in a long-term range.
This is not the first market environment where a long-term range was the dominant force. Equity markets saw this from 1999 to 2003...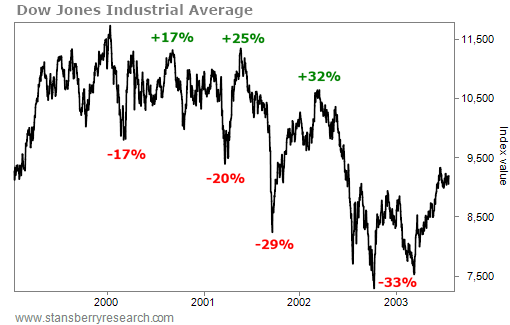 Big bull traps led to big bear traps for three consecutive years before finally bottoming in early 2003.
The same thing happened in the '60s and '70s, when the range lasted for 10 years...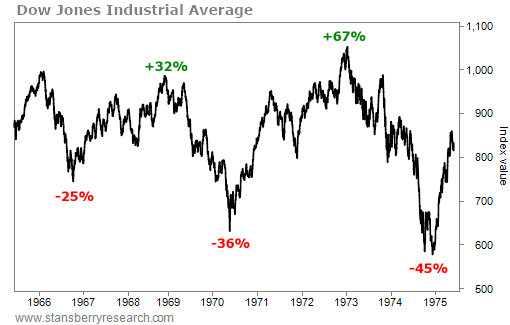 We saw huge declines followed by huge rallies, with no sustained breakout or breakdown.
These range-bound markets were a result of economic stagnation after a long bull market. In technical terms, the range-bound markets worked off the overbought conditions of the previous long bull market.
Right now, with more than 57 million people out of a job, and states shutting down again as coronavirus cases spike, economic stagnation is back. Again, the disparity between the stock market and the economy is wide – we could soon see double-digit gains in stocks, but a major long-term bull market is not yet on the table.
And despite unprecedented monetary policy, central banks do NOT create wealth, do NOT create growth, and do NOT create jobs... The free market does.
What happens when you combine economic stagnation with excess liquidity from monetary policy? It's outlined above – explosive moves higher and lower over a long period of time. This environment could last until 2023 (following the 1999 to 2003 script) or even longer like the 1960s and 1970s.
Based on history, I have no reason to expect anything different.
That's why, just last Friday, I released an urgent message warning that something bigger is on the way. It will be a lot bigger than the massive drop we saw back in March, which was only the first phase of what's to come...
Now, don't get me wrong... I'm not predicting a financial disaster. At least, not the kind most people might be worried about.
What I am predicting is another crisis, beginning with a huge move on December 23. And it's going to be unlike anything we've seen since the 1970s.
If you don't see it coming, it could wipe you out, sooner than you think. But if you get scared out of the market and sit around in cash, you'll miss out on one of the greatest moneymaking opportunities of your lifetime.
There's still time to prepare before all of this happens. And if you know what to do... what's coming could soon hand you one of the biggest and fastest payouts of your life. Or set back your retirement by years.
Click here for all the details.
Good investing,
Greg Diamond, CMT
P.S. By the way, I just released a free research report all about this opportunity. No need to purchase anything. Simply click this link to download the report immediately.