The Napa and Sonoma Valley wildfires are devastating the wine industry...
Experts estimate that fires may have destroyed around 80% of Napa cabernet grapes. That means that lots of winemakers won't be bottling a 2020 vintage this year.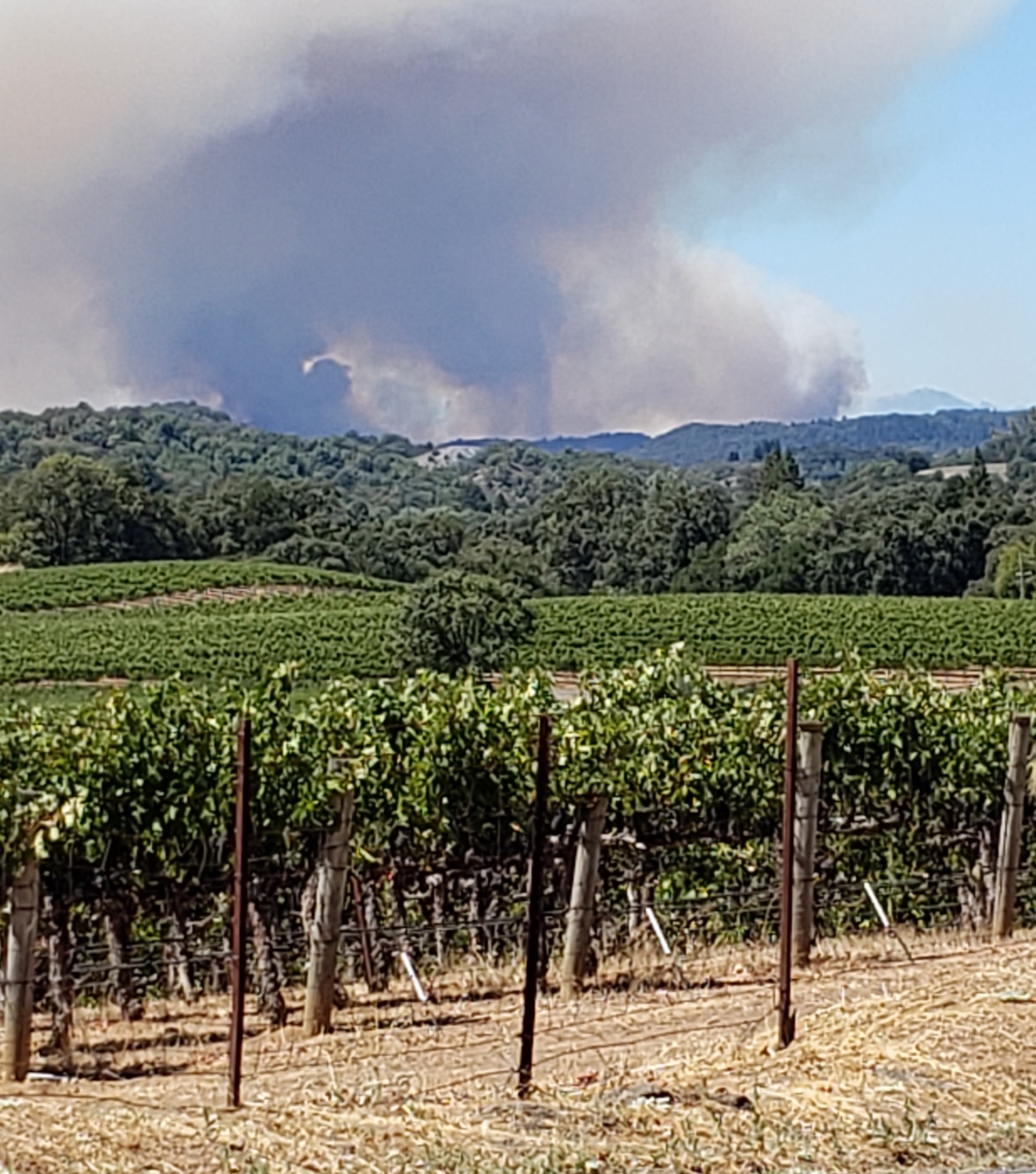 Fires raging above Dry Creek Valley
Longtime readers know I usually spend a good part of September and October working the "crush" in Napa. This is when harvested grapes come into wineries and are pressed (or crushed) on a crush pad.
But this year, we won't be harvesting for Eifrig Cellars.
On August 18, I had just landed in San Francisco from my cross-country flight when my world-class grape grower Jim Ricci texted me: "It's happening again!!" The LNU Lightning Complex fire was spreading across Napa and parts of Sonoma Valley.
I lasted barely a week... That's when government edicts about air quality (the indexes were registering in the low 400s, which is extremely hazardous) forced me to evacuate to Southern California.
I had flown out to both plan the 2020 harvest with Jim and the winery team, and to sample the dozens of barrels of 2018 and 2019 Cabernet and Merlot that the COVID-19 pandemic prevented me from tasting earlier this year.
Since late August, Jim has snuck back into the vineyard to water the grapes and check on the harvest potential. But fires continue to ravage the area. He has tested grapes and done micro-fermentations to smell and taste for defects. Sadly, the red grape lots are all smoke-tainted, which means nothing for Eifrig Cellars this year.
There have been fires in Napa and Sonoma during the crush four years in a row... 2017's fire similarly destroyed our red grapes. While the 2018 and 2019 fires caused many folks to suffer personal and financial losses, 2020 was a double whammy – two fires in one harvest.
There's an old saying that the fastest way to a small fortune in the wine business is to start with a larger one. These sorts of events help me understand why.
The thing is, winemaking is a labor of love for me. I spent 40 years working toward my dream of one day having my own wine, which I launched in 2009. I got into this wine business to create some of the best wines money can buy. We've done just that, and folks have paid for affordable wines that compete with $300 to $500 bottles. Just recently, a good friend of mine turned down offers for a $500 Colgin cabernet. He told me, "Why waste my time and money when Eifrig is so good?"
Fortunately for me, I can handle years without a harvest. In fact, my original plan was to make a vintage only when the year and grapes were exceptional... and by my research, that meant odds were for once every two to three years.
The fires also remind me why I always advocate for investing in ways that let you sleep well at night. You don't want to make investments that would destroy your finances. But I also don't believe in missing out on amazing potential moneymaking opportunities out of fear of fire or other disasters. You just have to make the investment with a clear awareness of the risk, and to make sure the worst case won't destroy your overall finances.
Right now, there's a corner of the market that's offering incredible gains. But most investors don't understand it... or are throwing their money into the wrong places. And that could lead to huge missed opportunities or damaging losses.
That's why if you didn't see last night's SPAC Investment Summit, I urge you to take the time to watch it.
My friend Enrique Abeyta was joined by hedge-fund giant Bill Ackman, who made $2 billion trading the crash of 2020. Bill shared the secret behind his latest venture. It's a "backdoor" way to claim a stake in the best private startups, before they go public... for a chance at 1,000% gains or more.
Click here to watch the replay before it goes offline.
Q: I was approached by my family doctor to get the Shingrix vaccination as a precaution last year. After receiving the first part, all was well, until I took the second part. Within days, I had pneumonia symptoms and actually went into a-fib for 27 hours straight! I thought I was going to die! This lingered on for six months... taking antibiotics and then finally getting the right antibiotic. After that, large boils appeared on my body and blisters on my ear lobes and shingle-looking blisters on my neck. All this went on for nearly a year before it finally subsided.
I personally would not encourage anyone to take the Shingrix vaccine even though I am told that it does not contain the actual virus itself. The whole issue remains a mystery to me. Any thoughts? – C.H.
A: We're sorry to hear about your reaction, C.H. It might be of little comfort to you to hear this, but your reaction is rare.
The Shingrix vaccine, approved by the U.S. Food and Drug Administration in 2017, contains an inactivated form of the virus. It's essentially a "dead" virus. Your body reacts to the dead virus and mounts a less severe reaction and creates antibodies. But in your case, your body mounted a more serious reaction (hence the blisters).
In safety studies for the Shingrix vaccine, it looks like a few people also developed pneumonia and atrial fibrillation. But in the placebo group, the same number of folks experienced these conditions, so it didn't register as statistically significant. (You can read the study here.)
We know that a full-blown shingles infection does lead to severe cardiac responses, including heart attack. So any atrial fibrillation from a full infection could have been much worse. We're glad to hear you're all right now.
We can't give individual medical advice, but we do urge anyone with heart trouble to talk to their doctor before getting any vaccine. I'd also urge you to read my two-part issue on shingles, here and here.
Q: Doc, I recently read that people with type A blood are more likely to get a severe case of COVID-19 than other blood types. Is this accurate? My wife has type A blood and I'm concerned about that possibility. – K.S.
A: This is one of the unknowns about COVID-19. Early research hinted that there could be a connection between blood type and severe cases of the virus. But the evidence is very weak.
One major study from the New England Journal of Medicine found that folks with COVID-19 had variants in two different genes. One of these genes controls blood types. Based only on that fact, it would be a stretch to say that your blood type will dictate your risk. In fact, a reasonably good Boston study found that there's no connection between blood type and severe COVID-19 cases. The lead author of this study, Dr. Christopher Latz, went so far as to say doctors should not use blood type to determine who is at greater risk of severe cases.
What we do know for certain is this: Those with underlying conditions like obesity, diabetes, COPD, and heart disease do have a much higher risk for severe cases. Get out there and walk, eat your vegetables, and meditate!
Have questions you want answered? Send them to us at [email protected].
What We're Reading...
Here's to our health, wealth, and a great retirement,
Dr. David Eifrig and the Health & Wealth Bulletin Research Team
October 9, 2020