Nearly $125 billion worth of assets... That's how much hedge funds lost in 2022.
This was by far one of the worst performances by the stock "experts" in over a decade.
Of course, it was hard to make money in 2022...
High inflation, aggressive central-bank interest-rate hikes, and the Russian invasion of Ukraine sent stocks into a tailspin last year. The benchmark S&P 500 Index fell nearly 20% for the year.
One of the biggest reasons why stock pickers struggled so much in 2022 was because they were too heavily invested in technology stocks. Late in 2021, you could do no wrong if you bought tech stocks... especially hot software names. All you had to do was close your eyes and pick one.
Fund managers didn't want to miss out on the ride. Even if they had reservations, they knew that if they missed these potential gains, their customers would put their money elsewhere. So hedge funds piled into names like DocuSign (DOCU) and Spotify Technology (SPOT). Both stocks fell about 65% in 2022.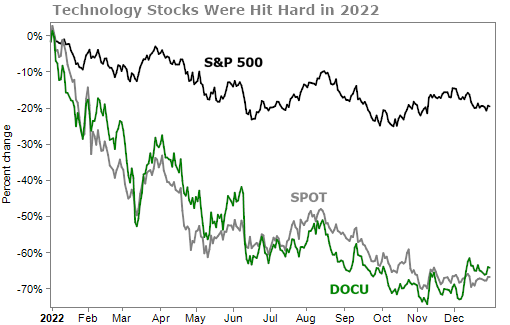 Many investors I know also fell into the trap of getting into technology stocks too late in 2021. The fear of missing out, or "FOMO," is a powerful driver in the stock market.
In total, hedge-fund investors redeemed $55.4 billion last year. That's the biggest outflow since 2016.
Again, 2022 was a brutal year for folks betting on the stock market.
But not all strategies lost money...
In fact, there is one trading strategy that did not book a single losing trade in 2022.
Not many hedge funds use this strategy. And it's not well known in the investing world.
In 2022, this strategy produced 23 winners out 23 closed trades. And for each of these closed trades, you would have earned an average annualized gain of more than 20%.
That may sound too good to be true. I get it. My "spidey senses" start to tingle when I hear claims of a strategy that never fails.
But the truth is that the strategy I'm talking about does well in just about all markets.
In 2021, when stocks were surging and there was little fear in the market, this strategy also had a perfect track record. Like 2022, it also averaged 20%-plus annualized returns for the closed positions.
And so far this year, this strategy has not produced one losing trade. Out of 15 closed trades, all 15 have been winners.
The results I'm referring to were achieved by a couple thousand of my best subscribers. They made money in 2021. They made money despite the market environment in 2022. And they are making bundles of money as markets are rising this year.
I want every subscriber to give this trading strategy a chance...
That's why I flew all the way down to South Carolina to teach professional golfer Kevin Kisner all about this strategy.
In a just-released video, I walk Kevin through the basics of how to make these types of trades. And I even get him to put his money to work with his very first trade. (It's off to a great start already.)
Kisner can drive the golf ball a mile. You've probably seen him in contention at PGA Tour tournaments. And now, with the tools I gave him, he can collect hundreds and thousands of dollars of income each month.
Click here to watch my sit-down with Kevin Kisner.
What We're Reading...
Here's to our health, wealth, and a great retirement,
Dr. David Eifrig and the Health & Wealth Bulletin Research Team
August 2, 2023