The typical American consumer's wallet is healthier than it has been in a long time...
Job and wage growth are healthy... Unemployment is falling... And despite the economic turmoil around the world, the American consumer keeps powering ahead.
April and May both saw increases in consumer spending. The whole "Brexit" issue didn't budge consumer confidence surveys.
One way we like to gain from strong U.S. consumers is with discount retailer Target (NYSE: TGT).
In 1962, the first Target store opened in Roseville, Minnesota. What was first a small discount retailer has become one of the biggest retail stores in the U.S.
Today, the big-box retailer boasts 1,792 stores across the U.S. and a robust online business.
It sells just about everything... from food to furniture to everyday personal items, Target has it. The home furnishings and other "hard goods" are what set Target apart from its competition. And those are its best areas of growth.
We're betting most subscribers have visited a Target store at some point... If not, you should picture a Wal-Mart, but with a nicer atmosphere and better-quality goods. And everything is still priced affordably.
Target aims for a different segment of the market than Wal-Mart. The median household income of its shoppers is $64,000, higher than the $51,000 average for the country as a whole. About 57% of its customers have college degrees, higher than the 40% average.
But Target still offers good prices to attract deal hunters. It's where I go when I need to get a good-quality product for a good price.
Target has had a rougher go of things over the past few years. The company was attacked by computer hackers in late 2013. Publicity of the breach – which jeopardized the personal information of millions of customers at the height of the holiday season – sent shares tumbling.
And Target's launch in Canada lasted less than two years due to poor execution. (Target closed its final store in Canada on April 12, 2015.)
Target has worked on revitalizing itself. In June 2015, Target sold its pharmacies to CVS Health for $1.9 billion. This looks like a win-win situation. CVS gets a bunch of new locations with high foot traffic. Meanwhile, Target doesn't have to try to operate pharmacies that CVS can run better anyway. It doesn't have to deal with the drug supply chain, insurance companies, or any of those details.
But May was a bad time for brick-and-mortar retailers. Macy's (M), Kohl's (KSS), and JC Penney (JCP) all reported earnings in mid-May, and the entire sector sold off. Target came down with them.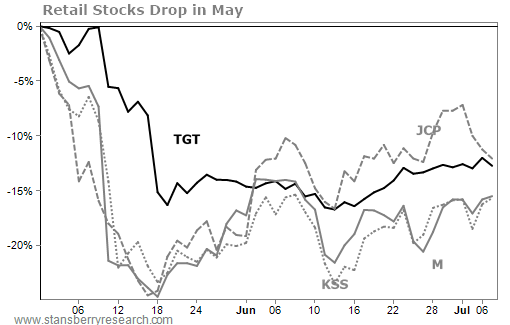 When Target put out its own earnings on May 18, it missed sales estimates by only 0.7% and beat expectations for adjusted earnings.
So Target is doing just fine, and consumers have been buying more since the quarter closed (on March 31). That looks like a recipe for a rebound.
Today, Target trades for 14 times its earnings, 0.6 times sales, and 13.7 times free cash flow. For comparison, the stocks in the S&P 500 Index trade for an average of 19.3 times earnings, 1.87 times sales, and 18.8 times free cash flow.
Target's also known for being generous with shareholders... Target has increased dividends for 48 consecutive years. In the past year, Target has bought back more than $1 billion in stock. With a yield of 3.1% and a payout ratio of 47%, this is a safe and steady dividend. I expect Target to continue to reward investors.
Target is just one of the 25 high-quality, blue-chip stocks I feature in The Blue Book: An Unconventional Way to Upsize Your Retirement. In this book, I explain how to use options to earn safe, reliable income on some of the world's best companies.
Only subscribers of my trading service – Retirement Trader – have access to this book. Click here to learn more about Retirement Trader and The Blue Book.
What We're Reading...