Pharmaceutical giant Pfizer (PFE) is drowning in cash...
And it's all thanks to the COVID-19 pandemic.
Yesterday, Pfizer raised its full-year sales forecast for its COVID-19 vaccine to $36 billion... an increase of 7.5%. This estimate reflects planned deliveries of about 2.3 billion doses this year.
Simply put, demand for Pfizer's vaccine has been unprecedented.
You see, out more than 190 million Americans who have been fully vaccinated, about 55% got their vaccine from Pfizer. (Most other Americans received the vaccine from Moderna.) And it's not just the U.S...
According to Pfizer Chairman and Chief Executive Dr. Albert Bourla, more than 75% of the company's vaccine sales from the most recent quarter came from outside the U.S.
Given how many countries have been ordering Pfizer's vaccine, it has quickly become one of the best-selling products in the company's history, which was founded in 1849.
For the most recent quarter, Pfizer pulled in $13 billion from the vaccine alone... Total sales for the quarter totaled $24.1 billion, more than double from what it was last year.
Pfizer equally splits expenses and profit from the vaccine with its German partner BioNTech (BNTX).
Also, Pfizer's vaccine recently became the first in the U.S. to be authorized for children as young as five years old.
Thanks to the pandemic, Pfizer is drowning in cash. And given how the pandemic is still raging all over the world, the boost in sales shouldn't stop anytime soon. There's good reason why Pfizer's stock tacked on 4% yesterday.
The truth is that this pandemic can go on much longer than people think...
When you study the past 130 years of global pandemics, you'll find they typically consist of two to four waves, each spanning about two or three years.
Given how many people are still contracting COVID-19, this pandemic will likely be one of the longer ones in history.
Here are COVID-19 cases around the globe...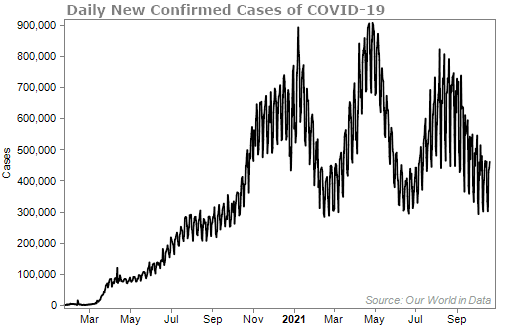 All of this means that companies making COVID-19 vaccines, tests, and treatments will be cranking out profits for many months to come.
One company I like to take advantage of during this COVID-19 bump is one that's under the radar. It's not in the headlines like Pfizer or Moderna. But it has done as much for folks through the pandemic as any company has...
Specifically, I'm bullish on life-sciences company Thermo Fisher Scientific (TMO).
When I mention "life sciences," I'm talking about companies related to the research side of medical care... pharmaceutical and biotech companies that develop new treatments, and the supply chain they rely on.
Thermo supports life sciences in nearly every way... It's an innovator with a long history. It develops diagnostic tests along with analytical instruments and other lab technologies.
Like Pfizer, Thermo has been getting a big boost from the pandemic.
Thermo developed a polymerase chain reaction ("PCR") test kit and has produced more than 650 million tests as of September. When the tests come in, Thermo makes QuantStudio, the leading PCR-processing machine. A QuantStudio 12K Flex costs up to $90,000.
The success in PCR does not reflect a company that made a product and got lucky. By CEO Marc Casper's own admission, if you had known a surge in PCR testing was coming, you wouldn't have bet on Thermo as the winner.
But the company reacted quickly, developed great products, and mobilized to dominate the market.
Thermo is also involved in the production of the COVID-19 vaccines. Here's how Casper explained all the ways Thermo touches on the critical aspects of the vaccine process a few quarters ago...
The bioproduction business includes cell cultures and single-use technologies – these are used in rapid turnarounds for development of vaccines.
It produces enzymes and nucleotides for ingredients in the vaccines.
It makes resins for purification that are necessary for mRNA products.
Thermo will manufacture some of the vaccine, along with the packaging known as "sterile fill finish."
Thermo is the largest manufacturer of ultra-low-temperature freezers – which you may have heard are necessary to keep mRNA vaccines at minus-94 degrees Fahrenheit for distribution.
Given how many people around the world need to be vaccinated still – and how the demand for testing will remain strong for many months ahead – I like Thermo as a way to play the pandemic.
Plus, Thermo is a company you want to own regardless of the pandemic. It's a true long-term capital compounder.
Since 1980, shares of Thermo have returned 14.2% a year. That crushes the S&P 500 Index, which has only increased 9.2% a year.
If you aren't a subscriber to Retirement Millionaire (where I first recommended the stock in 2020) and own shares of TMO already, I suggest you check it out. You can get started with Retirement Millionaire right here.
TMO deserves a spot in any portfolio.
What We're Reading...
Here's to our health, wealth, and a great retirement,
Dr. David Eifrig and the Health & Wealth Bulletin Research Team
November 3, 2021