Pessimism continues to grow...
This month, consumer sentiment fell for the fourth month in a row. And the struggle isn't new. Take a look at the Consumer Sentiment Index over the past 10 years...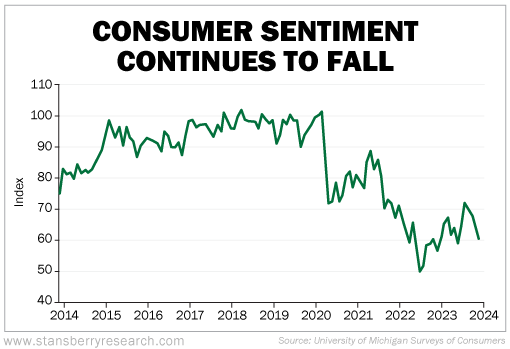 You can see the huge drop that occurred when everything shut down during COVID-19. And while consumers started to get more optimistic, we've seen sentiment struggle to return to the levels we saw before the pandemic.
If you're reading Health & Wealth Bulletin every week, you're probably not shocked. We've written a lot recently about the warning signs we're seeing in the economy and the stock market. Consumer sentiment is an indicator I regularly track to get an idea of how the average person is feeling. And clearly right now, consumers aren't happy.
There is good news, though... Low consumer sentiment is associated with higher market returns over the next 12 months.
When consumers are showing extreme confidence (when the index peaks), the market returns 4.1% on average over the following 12 months. When consumers are showing extreme pessimism (when the index is at a trough), that average return surges to 24.9%.
So I'll keep a close eye on how sentiment changes as we get through the holiday spending season.
During confusing markets – like the one we're seeing now – I like to make sure my portfolio is set up for defense in case the worst happens.
And on Tuesday, my colleague Greg Diamond warned that February 14, 2024 could be a massive turning point for stocks. As Greg said during his Prediction 2024 event earlier this week, "February 14 will be a massacre."
During the event, Greg explained why he's seeing a new cycle in the markets begin in February, why he's calling it a "fantastic opportunity," and the strategy you can use to gain an edge over the markets.
If you missed it, catch up on all the details here.
Now, let's dig into some questions... As always, keep sending your comments, questions, and topic suggestions to [email protected]. My team and I really do read every e-mail.
Q: Does green tea or green tea extract damage your liver over the long term? And what green tea extract has the least amount of caffeine? Thanks. – J.M.
A: We're big advocates of drinking green tea. And while it's true that too much green tea is dangerous, you'll only find alarmingly high concentrations in supplement form...
Green tea supplements are often marketed as a way to lose weight, reduce your risk of cancer, and improve your heart health. Green tea leaves contain molecules called catechins. In brewed tea, the catechins are at a safe, diluted level.
But the extracts contain high concentrations of catechins, which can cause liver damage. The severity of liver damage also worsens when you take green tea extract on an empty stomach.
If you take green tea extract, throw it out immediately.
Instead, do what I do... Avoid fad pills and enjoy a cup of brewed green tea instead.
Research shows that drinking five to seven cups of actual green tea every week provides incredible health benefits.
Green tea is calorie-free, lowers cholesterol, fights cancer, and keeps immune systems strong. Green tea leaves are processed in a way that preserves many of the nutrients known to provide the tea's health benefits.
It takes some people a while to get used to the flavor. But I can tell you from personal experience that drinking tea is a relaxing and refreshing activity.
For best results (both for flavor and health benefits), you should drink green tea freshly brewed after allowing it to steep for three to five minutes.
True green tea aficionados choose the loose leaves and a tea infuser over the prepackaged tea bags. The health benefits of loose green tea are much greater, due to the quality of the leaves. However, some great (and more convenient) green teas come in bag form.
And when it comes to caffeine, again, we don't recommend extract. But let's take a look at green tea for drinking... Decaffeinated green tea bags are available to buy online and in stores, wherever you typically get your tea. But keep in mind, beverages that have been decaffeinated still contain small amounts of caffeine.
We compared 10 different brands of decaf green tea to see how much caffeine they listed on their packaging or on their website. Here's what we found...
Celestial Seasonings – claims to have 0 milligrams ("mg") of caffeine (but we're tapping the B.S. button on this one)
Twinings – claims to have about 2 mg per 200-milliliter (7-ounce) cup across all varieties of decaf tea
The Republic of Tea – claims to have a very small amount across all decaffeinated teas, "such as 2 mg to 4 mg per cup"
Bigelow – claims to have 1 mg to 8 mg of caffeine per serving
Yogi – claims to have about 10 mg per serving
Unfortunately, most of the teas we compared did not list their actual caffeine content. This includes Allegro Tea, Bromley, Lipton, Salada, and Tick Tock Tea.
If you want to do what I do, here's how I take my tea...
I typically buy tea bags rather than loose-leaf tea. One of my favorite brands is Bigelow.
I prefer Japanese sencha and jasmine flavors.
I also buy and drink green teas that include other flavors from flowers and plants, which moderate green tea's sometimes-strong flavor.
Year-round, I use a bit of honey to sweeten my tea. I always use raw honey, locally made (when possible) to maximize the health benefits. And in the summer, I cook up a pot of tea and boil cranberries in another pot. Then I combine the liquids in a pitcher in the refrigerator for a delicious and naturally sweet iced tea.
If you're really worried about the caffeine, try herbal teas. While they have fewer of green tea's health benefits, they're still good for you, and you'll find more variety that is truly zero caffeine.
What We're Reading...
Here's to our health, wealth, and a great retirement,
Dr. David Eifrig and the Health & Wealth Bulletin Research Team
November 17, 2023