Hopes of returning to "normal" have been pushing the market higher lately.
In fact, we just experienced one of the single-greatest monthly rallies in the stock market's history... The S&P 500 Index was up 10.9% for the month, the tech-heavy Nasdaq was up 11.9%, and the Dow Jones Industrial Average soared 12.1%.
There's been a lot to be thankful for over the past few weeks. The biggest source of good news is, of course, the COVID-19 vaccine progress.
On Monday, biotechnology company Moderna (MRNA) said it's applying for full approval of its coronavirus vaccine in the U.S. and Europe. This comes as final late-stage trial analysis confirmed 94.1% efficacy of the new vaccine.
Experts say the general public could have access to a coronavirus vaccine as soon as April. That's well ahead of expectations.
If you've been reading Health & Wealth Bulletin over the past few weeks, you'll know that I'm skeptical about whether or not a vaccine rollout will go as smoothly as many think... But that's a topic for another day.
Today, I want to talk about the concept of returning to normal. Even with a vaccine, it's possible we won't see normal in the office ever again...
Right now, thousands of workers in the U.S. are at home. They're on their couches or in their home offices trying to be as productive as if they were in the office. For most companies, it's working.
Here at Stansberry Research, we've been able to continue churning out research and investment ideas without too much trouble while at home.
But starting around Labor Day, we saw many companies starting to bring their employees back to the office.
According to Kastle Systems, a security firm that monitors access-card swipes in a few thousand office buildings in 10 of the largest U.S. cities, only 14.9% of employees were in the office in early April... And that mostly consisted of maintenance crews and a handful of essential workers.
By September, a quarter of employees were back in the office. But with the recent surge in COVID-19 positive cases, workers are more hesitant about leaving the house. That rate has recently dropped to 17%...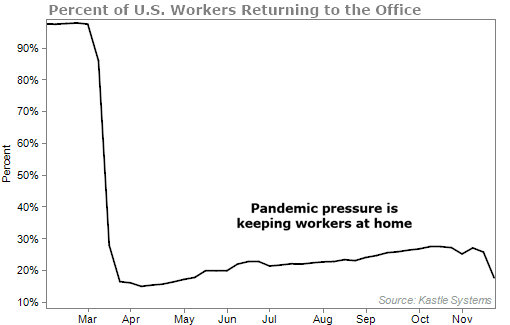 Going forward, businesses are going to be very cautious about bringing their employees back to the office. Many companies have already extended their work-from-home policies well into next year.
This work-from-home frenzy is also causing folks to leave big cities. We've recently seen a huge migration from major urban areas. People don't want to continue paying sky-high city costs when they don't have to commute to work every day...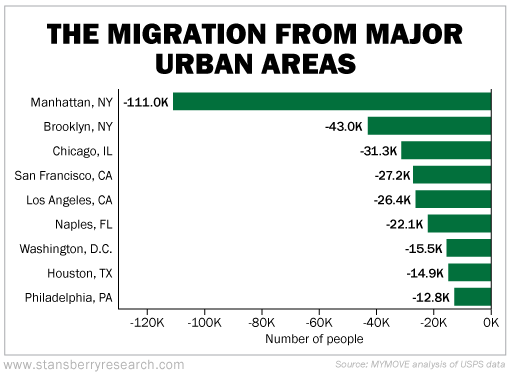 According to data firm CoStar Group, vacancy rates in downtown areas are steadily increasing. Rental apartment vacancy rates in downtown areas late last year were around 7%. They're now up above 9%.
As more Americans head for rural areas, many restaurants and other shops in big cities are barely hanging on... or have already closed their doors for good.
So while things in the economy may get closer to normal next year, there are still some things that may never go back to normal.
I think that the shift from office life to work from home is here to stay for many companies and employees. While many executives would love for their employees to be in the office, having face-to-face conversations and collaborating more easily, some are learning that working from home can be just as productive.
This is a trend that will last years. And that bodes well for the future of technology stocks.
While things will inch closer to normal next year and into 2022, some aspects of our lives have changed for good. The importance of innovation will only continue.
And speaking of looking forward, my colleague Greg Diamond believes that on December 23, there will be a huge turning point in the market.
He believes that what's coming could turn your entire net gain for 2020 either negative or positive... and potentially make you more money than you've made all year.
If you're interested in learning more, please click here.
What We're Reading...
Here's to our health, wealth, and a great retirement,
Dr. David Eifrig and the Health & Wealth Bulletin Research Team
December 2, 2020