In graduate school, one of my researchers had a friend who underwent botched back surgery.
The young woman was in her early 20s and in pain... even more so than before her surgery. Some quack of a doctor left her unable to stand for long periods of time and wearing a brace for the majority of her waking hours.
To top it all off, one of her professors told her she "didn't look disabled" at the start of her first semester when she asked for classroom accommodations. This professor was a health professional who should have known better than to make statements like that...
Unfortunately, that kind of sentiment is now par for the course for this formerly spry, young woman.
She wasn't this surgeon's only victim, either. She told of others who went under the knife looking for solutions, only to run into worse, lifelong problems.
As it turns out, 74.6% of people experience pain after spinal surgery, and as many as 35% of cases require further surgery. A whopping 40% of spine surgeries fail, according to a Turkish study. And roughly 80,000 people are suffering each year due to a back surgery failure. Worse still, many of these folks are left to rely on opioid medication to relieve their pain.
But today, I'm here to tell you something those surgeons don't want you to know...
You can avoid major surgery simply by practicing one of my favorite things...
Yoga.
It's true. Just ask Jack Noonan, who was 74 years old when his sciatic back pain got so bad that he couldn't walk. Noonan's lower back had begun compressing his sciatic nerve – something brought on by age and gravity.
Noonan's doctor pushed him toward surgery, saying it was the only solution...
But Noonan had other plans in mind. And with six months of disciplined yoga training under his belt, Noonan found relief from his back pain. He lost 15 pounds, gained a more "youthful" energy, and never has to deal with sciatic pain again. And it only took learning 15 movements and spending 30 minutes of time breathing through them twice a day.
Noonan told U.S. News & World Report in 2020 that he thinks "everybody in their 70s ought to do these stretches if they want to be flexible."
You could also ask Rachel Brathen, who practiced yoga to cure her scoliosis pain.
In her teen years, Brathen's doctors all pointed her toward back surgery to correct her abnormal spine curvature. But she decided to give yoga a try to see if she could avoid it. She began by taking a few gentle, restorative classes. And eventually – after years of training – she shifted to a more rigorous pace.
Brathen, now 34, had so much success with her yoga practice that she became a yoga instructor and moved to the beautiful island of Aruba.
And studies show that having a committed yoga practice can help you avoid surgery and pain.
A study of 25 people with scoliosis, aged 14 to 85, tested this idea using just one move... the one-sided plank.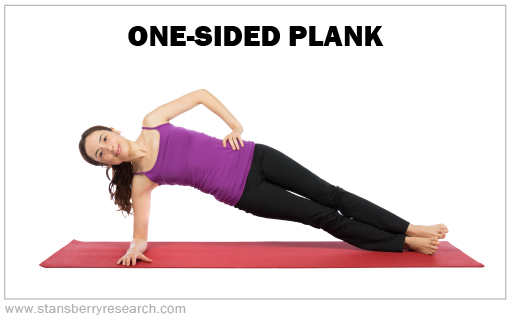 The researchers had participants spend time once a day planking for as long as they could. Participants were instructed to pose on the side their spine was curved toward. On average, people performed the experiment six days a week for one and a half minutes. The study period lasted nearly seven months.
The researchers found that participant spine curvature decreased with this single exercise.
Researchers in 2020 performed a meta-analysis of randomized controlled trials testing yoga against pain. They found that yoga significantly reduced pain in as little as four to eight weeks and rendered pain nonsignificant in 12 months.
And a 2019 study conducted in China found that in more than 675 individuals, yoga improved participant neck pain intensity, functional disability (like range of motion issues), and quality of life. The participants also experienced improvements in their mood.
So, do what I do and practice a little yoga every day... especially if you're experiencing back pain or considering surgery. Trust me, you won't regret it. Yoga has about a million benefits to offer.
To demonstrate yoga targeted to the back, neck, and shoulders, here are three videos I've hand-picked from one of my favorite yoga instructors – Adriene:
Try them out and let us know how you do ([email protected]).
What We're Reading...
Here's to our health, wealth, and a great retirement,
Dr. David Eifrig and the Health & Wealth Bulletin Research Team
May 23, 2023