If you think the housing market is going to significantly pullback anytime soon, don't hold your breath.
It's not.
But a lot of people are expecting housing prices to crash. And that's because of the craziness we saw over the past year or so.
Last year, homes were flying off the market...
If you were trying to buy a house and didn't put an offer in within hours of the listing, you likely didn't get the house. In February, there were an average of four offers for every home sold. It was one of the most competitive markets for buyers we've ever seen.
Plus, most of these offers came from folks who have never even seen the house in person before. According to real estate brokerage firm Redfin, 63% of buyers made an offer on a home they never saw in person last year.
And since most homes had multiple bids, prices rose. Earlier this year, Redfin found that 39% of homes sold above their listing price... an all-time high.
Though some of the craziness has died down and home prices have cooled a bit, you shouldn't expect a significant drop in prices any time soon.
I'll explain...
First, we need to talk about the housing crisis. Back in 2000 to 2005, there was a building boom. Access to credit was so easy that pretty much anyone could get approved for a mortgage. As you know, this led to a housing bubble, which eventually turned into a collapse.
After the crash of 2007 and 2008, homebuilders stopped doing their jobs: They stopped building new homes.
You can see how housing starts took more than a decade just to reach their long-term average. Even to this day, the hole from the crash has yet to be filled...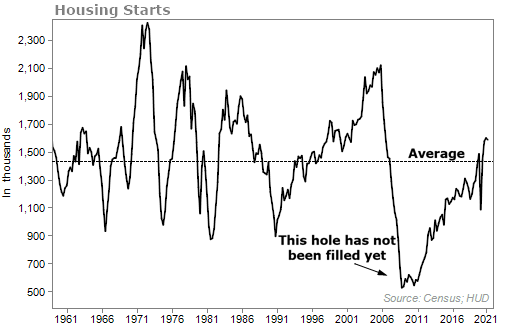 Because new homes haven't been built, this has led to a shortage in inventory. Supply is near an all-time low today.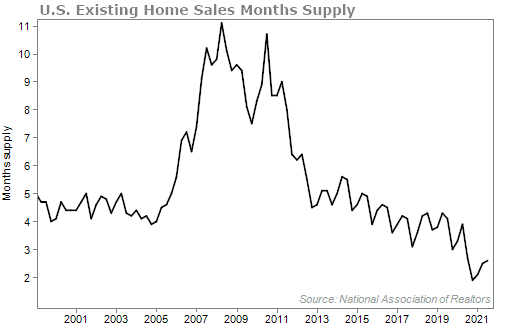 In the last few years, a handful of catalysts have come together to turn that housing shortage into the fuel that has sent home prices higher...
Low interest rates
A strong economy allowing buyers to accumulate cash
The pandemic leading folks to want bigger homes
The demographics of Millennials reaching home-buying age and financial ability
The resistance of a large Baby Boomer generation not ready to leave their homes or downsize
Add all of this up, and what we're looking at is an imbalance in the supply and demand equation. Put simply, demand is greater than supply.
And one of the most basic principles we all learned in high school economics is that when demand exceeds supply, prices rise to bring the market to equilibrium.
It's simple.
Plus, we don't see evidence that prices are too out of whack or in a bubble, for one simple reason... there's little to no speculation in real estate.
In the housing boom of the mid-2000s, the key signs of the top were house-flippers trying to buy an investment property and sell it a few months later. And they'd do so with some convoluted interest-only loan to maximize their profits.
According to real estate data collector ATTOM Data Solutions, homes flipped in 2020 accounted for only 5.9% of all sales. Today, most homes are being bought by families to live in, many with cash offers.
You can see how mortgage originations are up in recent years – and how quality borrowers are the ones applying for them.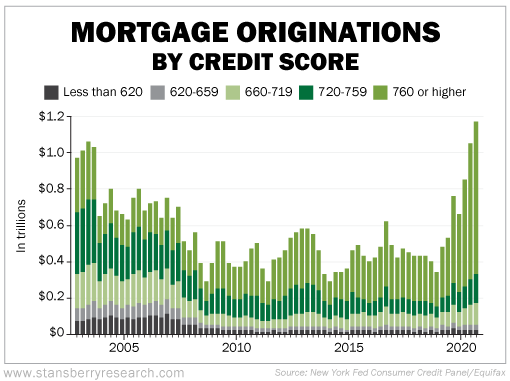 Of course, home prices can't rise forever. Eventually, they'll pullback.
But for now, expect higher home prices. While the rate at which homes appreciate may slow, we still expect it to be positive. And that's because of the supply and demand curve.
Always trust the law of economics.
My colleague Steve Sjuggerud is also bullish on the housing market. I've been writing about housing for a number of years and so has Steve... and we've both been proven right.
Steve is so confident in housing that he recently put together a presentation outlining the opportunity. Click here for all the details.
What We're Reading...
Here's to our health, wealth, and a great retirement,
Dr. David Eifrig and the Health & Wealth Bulletin Research Team
September 8, 2021