Don't give up on oil just yet...
While news of the Omicron variant of COVID-19 is spooking a lot of commodity investors, I (Jeff Havenstein) don't think you should panic.
In fact, I see the recent volatility as a buying opportunity.
Let me explain...
Right now, the markets are in a holding pattern. Investors are waiting to see just how dangerous the Omicron variant will be.
Drugmakers have raised concerns that existing vaccines might be less potent against Omicron. But they don't have all the data currently.
Still, oil – which has enjoyed a nice run this year – has been falling in recent days as a result. Brent crude, the international oil benchmark, is down to around $67 a barrel... a 20% drop from its late-October high.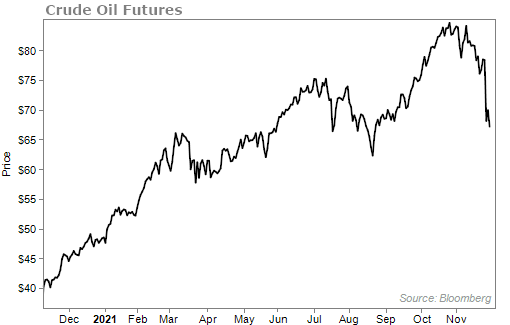 For steady-handed investors who don't mind a bit of short-term volatility, this looks like a buying opportunity.
Over the course of the next few months to a year, oil should easily climb back above $80 a barrel. I'd even make the case that oil should be around $100 a barrel.
You see, the oil supply is just too low...
Oil production got rocked during the start of the pandemic. Oil prices dropped below $40 – and oil futures even briefly went negative.
While we now know the economy bounced back from the pandemic quickly, there was a time when it looked like we were facing a massive global recession. Oil drillers reacted by shutting down everything they could (similar to how homebuilders stopped building homes after the housing bust in 2009 and 2010).
And oil drillers have barely started up again. Crude rig counts – the number of drilling rigs in operation – have started to rise. But they have a long way to go to get to pre-pandemic levels...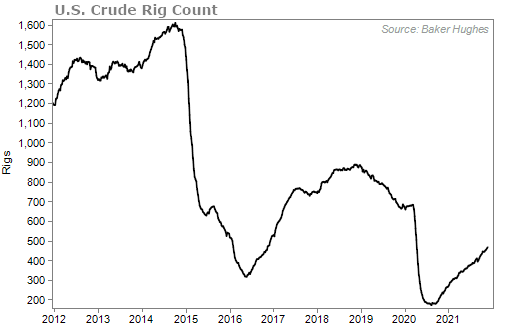 Oil production is still significantly down from where it was before the pandemic...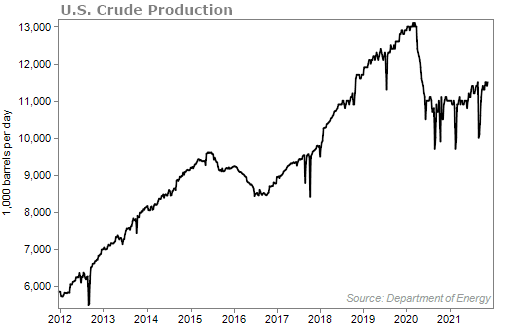 Put simply, inventory of oil is just too low. That supports higher oil prices.
Now, let's talk about the other side of the equation for a moment... demand.
The Omicron variant could hurt demand for oil. That's why we've seen oil investors jumping ship in recent days.
With the uncertainty of a new COVID-19 variant, folks may choose not to travel as much. They may cut down on driving to see friends and family, or choose not to fly.
But, most likely, demand for oil should only be affected in the short term.
It's unlikely that our economy will go through anything like we saw in early 2020.
President Joe Biden has already said that his administration will focus on increasing vaccinations rather than seeking new restrictions on the economy. Given the beating that businesses took last year when there were economic restrictions, there's a ton of political pressure to keep our economy open going forward.
Besides, vaccination rates are much higher than earlier in the year. Currently, about 60% of the U.S. population is already fully vaccinated. And while we don't know how the vaccine will work against the Omicron variant, it's, at a minimum, going to reduce some health risks.
That means, at worst, we'll see a temporary pullback in travel, which would just be a bump in the road in the demand for oil.
I am bullish on oil over the next year or so. Today's sell-off presents a great buying opportunity for folks who don't mind holding through some noise over the short term.
There's at least 20% upside in oil... And there's possibly much higher gains if you're willing to be patient.
What We're Reading...
Here's to our health, wealth, and a great retirement,
Jeff Havenstein with Dr. David Eifrig
December 1, 2021