Today is one of my favorite days of the month...
It's the day feedback e-mails start rolling in from subscribers. They aren't angry or upset. Quite the opposite, actually...
They write in talking about how much money they just made.
That's why I do this job.
You see, today is options expiration day. It normally falls on the third Friday of the month, but the markets are closed tomorrow for Good Friday... That means my subscribers will get their gains a day earlier than normal.
Specifically, subscribers who took my advice will be booking two winners today with trades we made on timberland company Rayonier (RYN) and trash giant Waste Management (WM).
Unless you've been living under a rock, you know we're in a dangerous inflationary environment. The most recent inflation reading on Tuesday came in at 8.5%. That's the highest since 1981.
Still, I was in the markets in the 1970s when inflation was soaring above 10%... I'm not going to let some inflation stop my readers from profiting.
Two of the best ways to make money in inflation is to bet on hard assets and on companies with pricing power. Timberland, for example, has shot up in price recently along with almost all other commodities. That means companies that own timberland, like Rayonier, should see their stock increase as well.
That's exactly what has happened...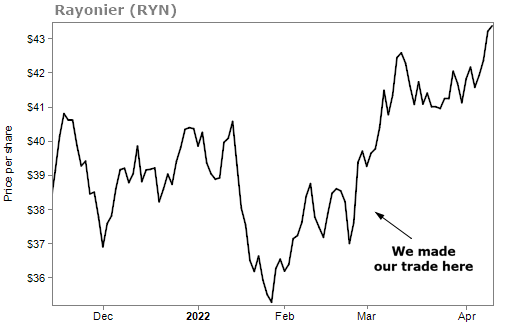 Also, if you own a company with pricing power, all it has to do is simply raise prices and pass on cost increases to customers. A company like Waste Management can do that.
It dominates the waste-removal industry, and many of its customers do not care how much they pay for trash removal... They just want their trash gone. They are fine paying higher prices with such an established and trusted brand.
From the time we made a trade on Waste Management, the stock has increased nearly 10%...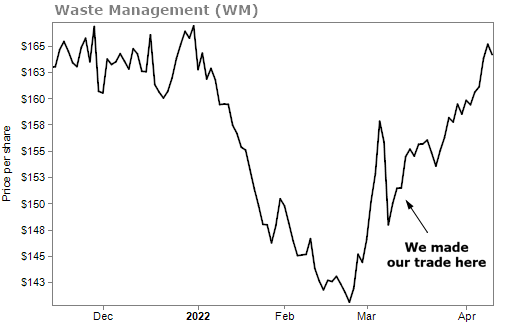 Subscribers who followed my advice and made trades on both of these stocks will be walking away with a minimum of $455. That's the bare minimum... If you put more into the trade initially, you would have made more.
And that's in just a month and a half.
The strategy I am sharing with my subscribers is something that I perfected during my days at Goldman Sachs. I'd go as far as to say it's the best and safest income-collecting strategy you'll ever find.
Earning $455 each month is hardly a one-time event, either. Many of our monthly gains are much higher.
For example, folks who made my trades would have earned $1,169 in profits last month.
In January, we had many trades closing for gains... Subscribers would have made $1,711 in profits – again, at a minimum if they participated in each trade.
Nothing makes me happier than hearing subscribers write in talking about how much money they made using my strategy. And I've been getting these notes for a couple years now...
In fact, my readers and I are currently on one of the greatest streaks in the market you will ever find.
With the trades that are closing today, we have now closed 116 consecutive winning trades in a row.
It has been over two years since we've taken a loss.
This has been a special achievement. It's a feat I have not seen anyone else do... But I'm not celebrating just yet.
A few years ago, I actually had a streak that is greater than the one I have today.
Over the course of 43 months, my team and I booked 136 consecutive winning positions. It was the longest streak of my career, which ended in 2013.
During that streak, I told my readers that I wouldn't trim my beard until we finally took a loss. As you can imagine, it was pretty scruffy by 2013.
Since we are getting close to beating our all-time streak of 136 trades, I'm growing my beard back out. I expect to keep growing it well into the summer and even next year.
The truth is that now is the optimal time to deploy this strategy. Investors are more scared now than ever before... There's inflation, a bear market in tech, a rate-hiking cycle, and excess levels of debt. Using my strategy, you can actually profit from all that fear...
Most people are skeptical that my strategy can help them reduce risk and generate income in these times of increased volatility.
But if you watch this free presentation I've just put together, you'll not only see that it does... but that I've been using it to help thousands of Stansberry readers just like you grow their retirement savings to heights they never thought possible.
Click here to see me explain step-by-step how it works.
Editor's note: Our offices are closed for Good Friday tomorrow. Expect your next Health & Wealth Bulletin issue on Monday, April 18.
What We're Reading...
Here's to our health, wealth, and a great retirement,
Dr. David Eifrig and the Health & Wealth Bulletin Research Team
April 14, 2022