Gratitude. That's the word everyone throws around this time of year.
In some homes, folks go around the table at Thanksgiving and name something they're grateful for... a good job, a loving family, decent health.
And that gratefulness may actually lead to happiness and health.
Studies of gratitude show a strong association with happiness. It's a great stress reliever and can help you focus during meditation. What's more, gratitude also improves sleep. In one 2011 study, folks who wrote down a few things they were thankful for before bed slept better and for longer periods.
There's another thing that boosts gratitude, but it's a bit of a taboo topic. In fact, each year when we bring it up, people claim we're trying to ruin their holidays.
I'm talking about end-of-life decisions.
Reflecting on your own death actually boosts your feelings of gratitude. A study on undergrad students at Eastern Washington University demonstrated this. Half were asked to focus on their death and mortality and half were not. Later, those who thought about mortality scored higher on tests measuring feelings of gratitude.
Now, this might seem morbid, but it's one more reason we recommend having the hard talks with your family when you're all together during the holidays.
According to research from the Kaiser Family Foundation, 69% of Americans avoid talking about death. Those more likely to talk are older and married.
Take a look at how folks responded to the question: "Have you ever had a serious conversation with a family member about your wishes for end-of-life medical care?"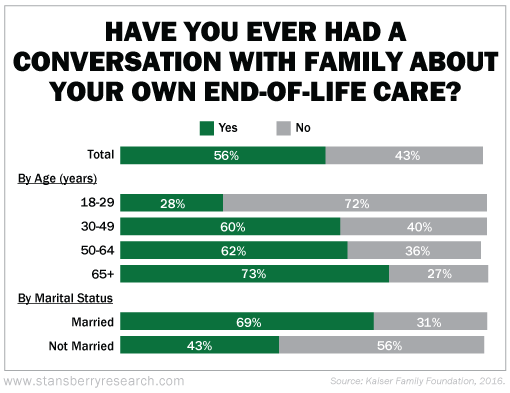 Think about it... if you were to be in an accident and on life support, would your kids know what you want? If your parents were in the same situation, do you know what they would want?
Another study out earlier this year, from the journal Health Affairs, showed that only a third of Americans have any kind of advance directive. That means that even if folks have had these talks, they haven't put their decisions in writing.
So if we're facing extreme emotional stress (like seeing Mom in a hospital bed), we might not remember those conversations clearly. That's why a written directive is so important.
It might seem too sad to discuss at the holidays, but it's an important part of preparing for the future. You're not only preparing yourself, but preparing your family. It's a solid lesson we encourage around here: Expect the best, but prepare for the worst. Have these conversations today to prepare, but hope you won't need them anytime soon.
Here are a few talking points to get you started...
Who should make health care decisions on your behalf?
Do you have a health care directive? If so, what does it contain?
Do you want life-sustaining treatments?
Do you want to die at home? Have you considered nursing homes or assisted living?
Do you want to donate your body to science? What about your organs?
Have you addressed your spirituality?
Do you want a funeral or memorial service?
Starting the conversation when the family is together will help make this easier in the future. After your conversations, be sure to put it in writing. And if you already have a will and advance directive, make sure your family knows (and knows where the hard copies are should they need them).
I think conversations about mortality and gratitude should go hand in hand. Talk about your wishes with your family. For many folks, this might also be the first holiday after the loss of a family member. Take time to remember them as well. Then shift to a conversation about what you're truly grateful for this year.
Let us know what you're most grateful for this year by writing to us here. And if you want a more in-depth guide for what to discuss and handle financial plans, you can read our full issue of Retirement Millionaire right here. If you're not a subscriber, get started today by clicking here.
[optin_form id="73"]
What We're Reading...
Here's to our health, wealth, and a great retirement,
Dr. David Eifrig and the Retirement Millionaire Daily Research Team
November 21, 2017