Doc's note: We're continuing our special holiday series, sharing our favorite issues. Today's essay was chosen by one of our team members, Jeff Havenstein...
If you're like me and get upset every time you look at your monthly cable bill, it might be time to make a change.

Recently, I convinced one of my family members to follow this advice. She now gets almost all of the same programs she used to watch, but for a fraction of the cost.
***
We hate cable companies...
Cable companies consistently rank near the tops of lists of the most hated industries in the U.S. And it's no wonder...
The average American family's cable bill is $103 per month. Companies like Comcast, Verizon, and Time Warner hold virtual monopolies and know we'll keep paying because of our addiction to television. Not to mention the terrible customer service most of us have experienced.
But a growing movement called "cord cutting" is threatening the way these giants do business. Cord cutting means cancelling your traditional cable subscription in favor of cheaper options. These include everything from a simple antenna to a monthly subscription that delivers on-demand TV-like service over your home's Internet connection.
If you're thinking of joining the cord-cutting movement, let me be honest with you – it's not for everyone. But if you have a reliable Internet connection in your home that can stream TV shows and movies... then we've found a number of tips for lowering your cable bill that can save you an average of $40-$60 a month. That's an annual savings of about $600!
Are you living a millionaire lifestyle? Our free daily letter is your guidebook:
Please provide a valid email address.
To start, you can completely cut the cord with these alternatives...
Antenna. Today's antennas can pick up high-definition local broadcasts and transmit them to your TV without a cable hookup. That means you can watch most of your local channels... including networks like CBS, NBC, Fox, ABC, and PBS.
One of the most popular high-definition flat antennas is the Mohu Leaf, and it usually retails for about $40. You can enter your zip code on the company's website, GoMohu.com, to find what channels you can pick up over the air in your area and what antennas would serve you best.
Roku. The easiest and most straightforward hardware option for streaming is Roku. This small device plugs into your TV and connects to the Internet. It allows you to control your subscriptions to most of the major streaming services and includes free channels like YouTube and Pandora.
Apple, Google, and Amazon make similar products, but I like the ease of use of the Roku.
Streaming Services. Sling TV, Netflix, Hulu, and Amazon Prime cover the rest of the channels with a variety of offerings. We've outlined the good, the bad, and the pricing in the table below.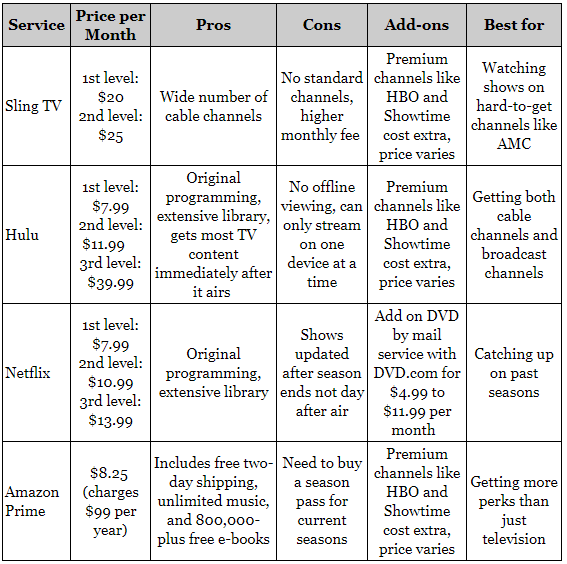 Here's to our health, wealth, and a great retirement,
Dr. David Eifrig and the Retirement Millionaire Daily Research Team
December 27, 2017
P.S. If you can't fathom cutting the cord, we have a few tips for you to lower your cable bill here. Jeff recently used one of these tips and now gets more channels than he previously did, while saving $10 a month.