This week, 97% of Puerto Rican referendum voters ticked "yes" for statehood...
The vote is nonbinding... the same sort that was last held in 2012, 1998, 1993, 1991, and 1967. And although a huge majority voted yes, only 23% of the island showed up – far below the usual 80% turnout.
So there will be another vote in October. That, too, will be nonbinding. And unless Congress consents to admit Puerto Rico as a state, nothing is going to happen – no matter what locals vote for.
In the meantime, the island's fiscal status is increasingly desperate. Last month, Puerto Rico filed for a form of bankruptcy. At $74 billion, it was the largest municipal bankruptcy filing in the U.S. And that doesn't include the $49 billion in pension obligations.
So with Puerto Rico back in the news, some readers have written in that they're worried about Puerto Rico's future... and wonder if we're headed for some sort of crisis in munis.
The short answer? Nope. In fact, we're watching munis closely for a buying opportunity.
Last month after Puerto Rico's bankruptcy filing, I gave two reasons munis should be in every retiree's portfolio.
For readers who aren't familiar with munis...
Municipal bonds – or "munis" – are loans that investors make to cities and states to build roads, schools, or other public buildings. For example... toll roads in California, water distribution in Texas, and maintenance of the New Jersey Turnpike.
In return, the government promises to send investors regular interest payments, plus return of the initial investment, called the "principal," at the end of a set period of time.
Some people are worried Puerto Rico's bankruptcy filing means we're headed for some sort of crisis in munis... but we're not.
The market wasn't surprised Puerto Rico declared bankruptcy.
We knew Puerto Rico was on the verge of default in 2013.
In 2014, I told Income Intelligence subscribers:
Puerto Rico's slow-moving bond default means that it's unlikely the territory will cause big turmoil in muni markets. Municipal-bond mutual funds have unloaded their holdings and now hold only 52% of the bonds outstanding. The rest are held by hedge-fund and other special-situation investors.
You can see that the market reacted to the initial news of Puerto Rico's default in 2013 and Puerto Rican munis tanked.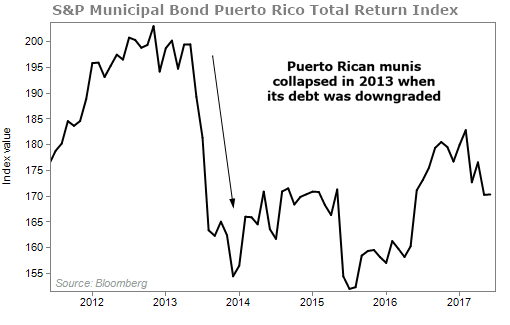 If you only read the headlines, you might think that municipal bonds have had a tough couple of years. Detroit, Michigan... Harrisburg, Pennsylvania... Stockton, California... and Jefferson County, Alabama all posted defaults.
For investors, this hasn't mattered a bit. A diversified basket of muni bonds has posted incredible performance.
I've long recommended people hold muni-bond funds in their income portfolios. Investing in bond funds – instead of buying individual bonds – gives you instant diversification.
Longtime readers know diversification and asset allocation are two ways to keep your portfolio safe.
I've told readers for years to ignore the fear mongering surrounding muni bonds. They still provide healthy yields with less risk. And that advice is paying off for my readers...
In my Income Intelligence newsletter, subscribers are up around 34% in the Invesco Value Municipal Income Trust (IIM). And it's currently yielding around 5% – the equivalent of a nearly 7% yield if you're in the 28% federal income-tax bracket. (And almost 9% if you're in the top federal tax bracket.)
Tonight, I'm publishing this month's issue of Income Intelligence. I'm updating readers on what I see happening in the muni market and where they should put their money now. Right now, my favorite muni is yielding nearly 5%... and trading at a more than 7% discount.
If you don't want to miss my latest advice on munis – and other income investment opportunities – click here to subscribe.
Are you living a millionaire lifestyle? Our free daily letter is your guidebook:
What We're Reading...
Here's to our health, wealth, and a great retirement,
Dr. David Eifrig and the Retirement Millionaire Daily Research Team
Baltimore, Maryland
June 15, 2017