No matter what your party affiliation is, the bill was an embarrassment...
Obamacare was passed by the Senate on Christmas Eve in 2009, when no one was paying attention.
Worse, it was thousands of pages piecemealed together, and voted on by people who hadn't even read it. Its total rules and regulations approached nearly 17,000 pages...
Assuming a six-and-a-half-hour workday (not including breaks), it would take the average person – reading about 250 words per minute – nearly 90 days to get through it all.
And six years later, it's still not clear whether the program is a success or failure...
Personally, I've heard from older folks whose out-of-pocket expenses have jumped $3,000-$4,000 a year since then. That's real money!
And despite early promises that Obamacare would magically lower employer-based health insurance premiums by as much as $2,500 per family... that clearly hasn't happened.
According to health care research organization Kaiser Family Foundation, since 2008, average premiums for family insurance plans have climbed a total of $4,865.
Worse... many insurers are raising rates much higher.
According to Kaiser Family Foundation, an unmarried 40-year-old non-smoker male saw rates for a "silver plan" – one of the higher premium health care plans – across the country climb an average of 10% last year before tax credits were applied. And in some states... like Alaska, Colorado, Hawaii, Idaho, Montana, Oklahoma, and Tennessee... his rates would have climbed more than 30%.
That's during a period when inflation has been practically nonexistent.
All of this is poor news for anyone relying on the government to cut their expenses. But for investors, it has sent one sector surging.
In my Retirement Millionaire advisory service, we've covered at length how the aging of America paired with the newly insured under Obamacare will raise the fortunes of nearly all health care companies.
That's been happening. Health care stocks have outperformed the broader market over this seven-year bull market.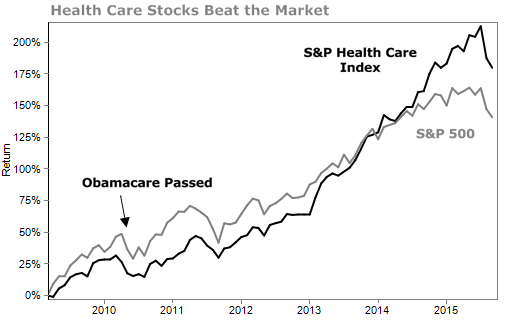 We've been riding the trend and still love the sector.
According to The Census Bureau's most recent data, the U.S. had 43.1 million folks aged 65 and older in 2012. By 2050, that will nearly double to 83.7 million.
And older people use three to four times the amount of prescription drugs as those younger than 50 years old. A 2002 study found that those older than 65 made up 13% of the population, but 36% of health care spending. The average person between 19 and 64 spent $3,352 a year. Those 65 and older spent $11,089 a year. (And we're sure those prices have risen since then.)
The health care market has grown thanks to Obamacare, as well. Total numbers are debatable, but Goldman Sachs says that 17 - 18 million people have been added to the insured since Obamacare started. A study by the public-policy research group RAND Corp. puts the number at 16.9 million.
You can see the growth opportunity here.
And since the penalty for not having health insurance will increase sharply next year, we expect more folks to "raise the white flag" and sign up for government-mandated insurance.
The final deadline for new signups is January 31. After that, folks who remain uninsured will face big fines when they file their taxes...
The average penalty in 2016 will jump to nearly $1,000 per household. (In 2015, uninsured folks got a "second chance" to sign up and avoid penalties if they found out about the fines upon filing their tax returns. No such luck this year.)
Between Obamacare and aging demographics, this is billions in extra business for insurance companies, drug companies, hospitals, and others. Just for doing the same thing they are doing today.
I spent the last half of my Retirement Millionaire letter going over our current model portfolio... including several health care recommendations trading at "Buy" and "Strong Buy" levels. If you're a Retirement Millionaire subscriber and haven't read it yet, please do so now by clicking here. And if you're not yet a subscriber, you can join here without any sort of long video.
[optin_form id="73"]
What We're Reading...
Something different: Last week, NASA posted its first astronaut job posting in four years. It pays $66,000 to $144,500 per year... and you might get to go to space.