We're not on the verge of a 2008-like housing bust...
There are some similarities between today and the years leading up to the housing collapse, sure. But the differences are too big to ignore.
So while you might hear some fear mongering that housing is heading for another bust, simply tune that nonsense out. Stick to the facts.
And that's what I'll share with you today...
A big concern with housing is that prices are too elevated. Mortgage rates have become too high for the average American. In fact, rates have gone up so much that the cost of a monthly home payment is up more than 50% over the past few years.
Mortgage rates have begun to drop, however.
They peaked above 7% late last year. And they have now dropped to around 6.1%... Lower mortgage rates will help bring back demand.
While a mortgage rate of 6.1% is still expensive, considering the past 10 years, it's likely rates will drop even more. The reason: inflation is likely heading even lower.
One predictor of inflation is the money supply...
When more money is circulating in the economy, more dollars are chasing the same goods and services. That drives up prices. You can see in the chart below how core CPI, which strips out volatile food and energy prices, tends to move in tandem with the money supply.
Given the recent downturn in money supply, it makes sense inflation will follow suit...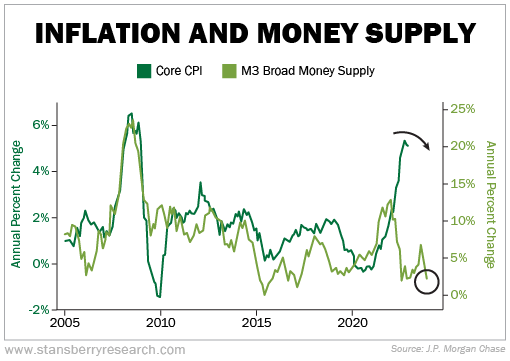 I want to leave you with one last thought about housing and why it won't collapse in the months to come...
The folks who have been buying houses lately are real families who want to live in them.
This sounds obvious, but it wasn't that way in the early 2000s. Back then, a lot of folks bought for speculation. The key sign of a market top was house flippers, trying to buy an investment property and sell it a few months later. And they'd do so with some convoluted interest-only loan to maximize their profits.
The homebuyers today have excellent credit scores compared with the folks who were getting loans back in the mid-2000s. Take a look...
The families buying homes today can actually afford to live in them.
My advice for you today is to tune out the nonsense you hear from the financial media regarding housing... It's not doomed. We're not on the verge of another 2008 housing bust.
There are even reasons to be optimistic on housing.
In fact, my colleague Brett Eversole recently made the case why now is the perfect time to invest in real estate... while everyone else has given up on it. Brett gave his True Wealth System readers a one-click way to profit from housing this past Friday.
If you're a subscriber to True Wealth Systems, you can read that issue here.
If you are not currently a subscriber, Brett recently sat down with my good friend Dr. Steve Sjuggerud to talk about their outlook for the markets. If you have any fear of investing your hard-earned cash in the market today, you need to listen to their presentation.
Today is the last day to take Brett and Steve up on their generous offer for True Wealth Systems, so be sure to click here to watch their presentation if you haven't already.
What We're Reading...
Here's to our health, wealth, and a great retirement,
Dr. David Eifrig and the Health & Wealth Bulletin Research Team
February 8, 2023