When was the last time you were paid to show up for a job interview?
Probably never, right?
I (Jeff Havenstein) know that has never happened to me. And I've never heard of that happening to anyone I know.
But it turns out that one McDonald's in Florida is desperate for workers. Blake Casper, the franchisee who owns the Florida burger joint, told the McDonald's general manager to "do whatever you need to do" to hire workers – even if it means paying folks $50 to interview.
When I saw this headline in Business Insider, I imagined there would be a line out to Georgia of folks wanting to interview and collect $50... But Casper said that the applications have been slow to come.
Casper described the situation as the "perfect storm"...
You've got a lot of people with a lot of money, and they're out there shopping. And then, on the flip side, we're scrambling for help.
It's not just McDonald's struggling to find workers. Plenty of other businesses can't hire workers fast enough.
According to a March survey by the National Federation of Independent Business, 42% of small business owners said they had job openings that they could not fill – a record high.
Hiring managers must compete with increased unemployment benefits and the fact that many people don't want to come back to work because of the virus. I'm also sure that some people got used to home life and don't want to go back into an office or restaurant.
This time last year, we had the opposite problem... Millions of Americans were out of work and were eager to get their jobs back.
Fortunately for them, the government stepped in and took some of that stress away with large unemployment benefits.
The government's unleashed trillions of dollars on the economy over the past year, and that's led folks to have more cash than ever before.
Now that the economy is opening back up, people want to get out of the house, travel, and most importantly, spend. The chart below shows that Americans are back on the roads again...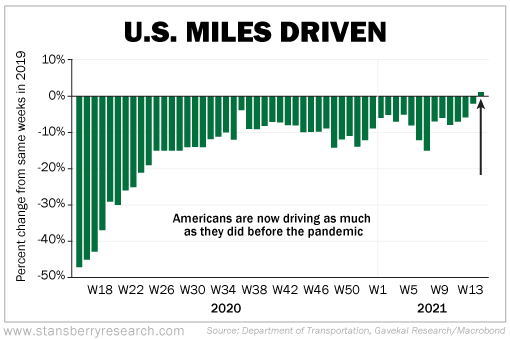 The point is that our economy is in a good place. And the most recent jobs report proved it. Nonfarm payrolls rose by 916,000 in March – well ahead of the Dow Jones estimate for 675,000 jobs.
The jobs are out there, but there just aren't enough workers... And that is a good problem to have.
With earnings season underway, I expect we'll see a lot of companies report better than expected results because of the sharp recovery in the economy.
With a strong economic recovery heading into the second half of this year, and with interest rates still incredibly low, it's hard to bet against stocks.
I'm a buyer in today's market. And that's with the knowledge that the market is at all-time-high valuations.
There is some froth in the market, sure. But I don't think it's at a peak yet.
It has been a few weeks since anyone I know has talked to me about stocks... And that's not typical in a market top. There's still plenty of speculation to come.
The best thing I think you should do is keep a good chunk of your money in stocks. Thanks to this economic boom we're about to have, we can sit back and enjoy the ride for the next few months.
My colleague Steve Sjuggerud says that right now we're in the calm before the storm – like the entire stock market holding its breath.
In short, new political, economic, and social forces have combined to create a perfect storm in the stock market. According to Steve, the crash last March is nothing compared with the economic devastation that lies ahead.
But if you're willing to put your fear and uncertainty aside and move your money before the end of the year... you are one of the very few who could become absurdly wealthy in 2021.
Steve will share all the details next Thursday, April 29, at 8 p.m. Eastern time. Click here to make sure you don't miss it.
What We're Reading...
Here's to our health, wealth, and a great retirement,
Jeff Havenstein with Dr. David Eifrig
April 22, 2021