Ignore the crowd...
That's some of the best investment advice I can give... But it's the hardest to follow.
Humans are hardwired to follow the crowd. This often leads people to sell their winners early and hold on to their losers – the exact oppositeof what you should do as an investor.
I've said many times that the most effective way to combat this impulse is to have a clearly defined exit strategy.
And Dr. Richard Smith makes it easier than ever to do just that.
In a special event last night, Richard detailed his sophisticated program that takes the guesswork out of investing. It tells you...
When to buy...
When to sell...
How much to invest...
And when to get back in.
Richard's secret weapon is what he calls a "Volatility Quotient." In short, it's a way to make sure you're putting more money into less-risky stocks and less money into speculations. It's designed to help you maximize your returns and minimize your losses.
Richard's system doesn't recommend investments. But it does take the investments you already own and shows you how to get the most out of them. Knowing how to get the most upside while limiting your downside risk could mean the difference between a winning portfolio and a losing one... particularly before this historically long bull market comes to an end.
During the event, Richard showed how you can take our newsletters – like my Retirement Millionaire advisory – and get even bigger gains.
As Stansberry Research founder Porter Stansberry said, "You're not going to succeed as an investor without this."
Q: The article on regularity/constipation with Dr. Eifrig's discussion was informative, but he offered no definition of soluble versus insoluble fiber. Definition of terms goes a long way in helping people to understand important points in a discussion and how they may remedy an identified problem. – G.B.
A: As we mentioned in our article on constipation, there are two types of fibers: soluble and insoluble. If you have constipation, insoluble fibers should be minimally consumed, especially if you have problems with your digestion. They can lead to bloating and gas. On the other hand, soluble fibers appear to lower cholesterol by both absorption and fermentation. Interestingly, the by-products of fermented fiber may actually block cholesterol production.
Many foods have a mix of each type of fiber but some have a little more than others.
Several common foods with loads of soluble fiber include:
1.       Apples
2.      Oranges
3.      Root vegetables
4.      Brown rice
5.      Pinto beans
Several common foods with loads of insoluble fiber include:
1.       Blackberries
2.       Bran cereal
3.       Rye bread
4.       Popcorn
5.       Pears
Q: Am I welcome to share the new Sunday Refresh publication with those I feel might enjoy it? – E.R.
A: For readers who don't know, this Sunday, two women on my team who are integral to our success, are heading up a brand-new, free e-letter, The Sunday Refresh. You likely already know their names... my assistant editor and franchise manager, Laura Bente, and research writer, Amanda Cuocci.
They'll publish it each Sunday... covering things like understanding 401(k)s, basic estate planning, and even stress management.
I'm excited for this letter. I'm confident their insights and perspectives will produce valuable information for our readers...
This is the kind of letter I would want people like my mom, my sisters, and the young folks in my life to read.
I encourage you to share it with those who you think will enjoy more great content from my team... your mother, sister, children, and grandchildren.
If you're not signed up yet, you can get started right here.
Q: I know you keep saying we should exercise, but I don't know where to begin. Is there an easy way to get started or a good gym you'd recommend? – J.H.
A: Exercise is always one of my top tips for a healthy year. Each January, we see surges in people flocking to gyms to sign up as a part of their New Year's resolution. But most of those folks won't keep going past February. In fact, an incredible 67% of folks with a gym membership never use it. That's millions of dollars we're paying every year for nothing.
Gyms are fine if you use them. But you can find easy – and free – ways to start your exercise routine going before making that commitment. We covered five tips in this week's video update: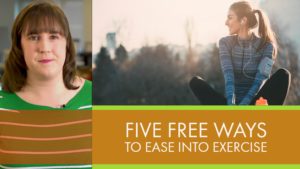 And no matter your exercise program this year, don't forget to pace yourself. We're covering the risks of exercising beyond your limits in the next issue of Retirement Millionaire, which publishes next week.
What New Year's resolutions did you make? Share them with us at [email protected].
[optin_form id="73"]
What We're Reading...
Here's to our health, wealth, and a great retirement,
Dr. David Eifrig and the Health & Wealth Bulletin Research Team
January 5, 2018