Netflix is in trouble...
The pioneering streaming service has grown its customer base every year for the past decade. Wall Street didn't expect that to stop. But that has become a real risk.
In the most recent quarter, Wall Street projections called for Netflix to add 2.5 million customers. Investors were stunned last month after Netflix admitted it had lost 200,000 customers... and that it expects to be down another 2 million in the next quarter.
Take a look at the chart below...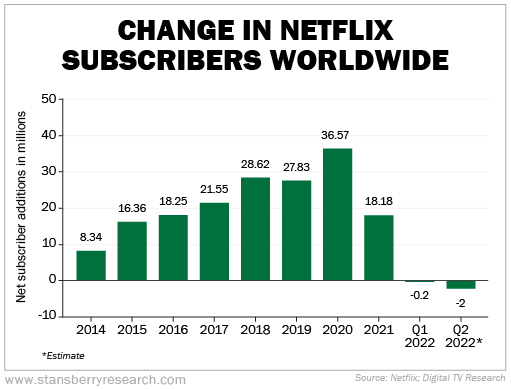 In this market, investors have rushed to sell when news is even remotely negative. And this loss was as shocking as it was brutal. Shares plunged nearly 40% over the following week. Today, they're down about 50%...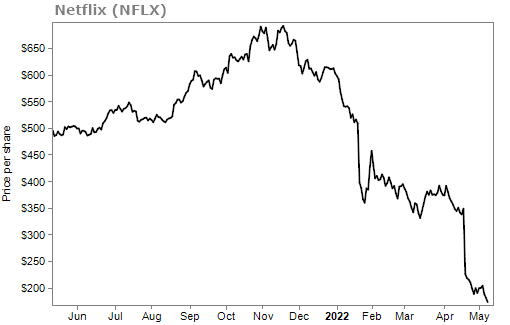 Practically overnight, Netflix went from a hot growth stock to toxic waste.
There are several reasons for this... With COVID-19 restrictions mostly gone and the weather improving, people are getting out into the world – not stuck at home watching shows and movies. Netflix also joined many other Western companies last month in exiting the Russian market, where it had 700,000 customers.
But the main reason Netflix is struggling is the abundance of streaming options and TV shows...
Once, Netflix was just about the only place to watch movies and TV shows over the Internet. Now, viewers can also choose among Hulu, Disney+, HBO Max, Peacock, Apple TV+, Paramount+, Amazon Prime Video, and more.
Customers are overwhelmed with content.
A study by marketing-research firm Nielsen recently identified more than 817,000 different shows available on TV and streaming services in the U.S... up from 646,000 in December 2019.
With so many services to choose from, there are going to be a lot of losers who don't have top-notch content.
CNN+ was one of them...
The news-streaming service launched on March 29 and was supposed to cost either $6 a month or $60 a year.
In our opinion, this was a terrible idea from the beginning. But there were some intriguing elements to CNN+... There was an enormous library of shows. For example, it had every episode of Anthony Bourdain: Parts Unknown along with popular Larry King interviews.
But less than a month later, CNN+ got the ax.
CNBC reported that fewer than 10,000 people had used CNN+ every day through two weeks. News website Axios reported that 150,000 people signed up overall, many of whom used a heavily promoted lifetime discount of $2.99 per month. That's not good for a service that cost CNN $300 million.
Chris Licht – the inew chairman and CEO of CNN Global – put it simply... "Our customers and CNN will be best served with a simpler streaming choice."
In other words, no one needed CNN+. And no one was going to pay for it.
Again, there are so many other options for streaming, along with regular TV.
Of course, part of the reason why CNN+ imploded so quickly was a new leadership shift. Just last month, CNN parent WarnerMedia finalized its merger with Discovery, creating Warner Bros. Discovery (WBD).
The new management team wanted to clean house and "focus our investment on CNN's core news-gathering operations and in further building CNN Digital."
But CNN+ is just one of the problems facing this new company...
Warner Bros. Discovery owns two streaming services: HBO Max and Discovery+. While HBO Max is the prized jewel of the company, Discovery+ has struggled to attract customers. It ended 2021 with 22 million paid streaming subscribers versus 130 million for Disney+ and even 56 million for Paramount+.
We're not surprised to see Discovery+ having trouble. Folks like watching its shows – like 90 Day Fiancé and Serving the Hamptons – but not enough to spend $6 a month to stream them.
The merged company will more than likely bundle Discovery content with HBO's at some point. But the company still has a lot of brands that folks really aren't interested in paying for.
In my Advanced Options service, we targeted Warner Bros. Discovery as a stock to continue to fall. You see, it was about to report earnings. And we expected it would have a lot of bad news just as Netflix did. And we were right.
The stock plunged after earnings. And we helped readers make 56% from our bearish trade in just three days.
Our timing was perfect – especially for the down market that we're in today.
If you want to make money as stocks fall, you owe it to yourself to learn this particular strategy... Again, it's a trade that can bring you big gains when the market is rocky.
Another example, we made 127% in just 32 days by betting against General Motors (GM) using this trading strategy.
If markets do continue to fall, or if we eventually enter a bear market, this strategy can earn you hundreds-of-percent gains. And that can help offset losses you may take in other parts of your portfolio.
You can learn this strategy for a fraction of its regular cost in our seven-part course, Stansberry's Financial Survival Program. All the information and education is included in Module 4, which is written by Greg Diamond and our very own Jeff Havenstein.
Stansberry Alliance members have access to these ideas and research at no additional cost. For anyone who wants to gain access to the Financial Survival Program, click here.
What We're Reading...
Here's to our health, wealth, and a great retirement,
Dr. David Eifrig and the Health & Wealth Bulletin Research Team
May 11, 2022