My passion for teaching is the one thread that ties all my many, varied interests together.
Early on in college, I realized how much I loved taking what I had discovered and teaching it to others. For example, I started sharing my thoughts on wine during group wine tastings... and by my senior year I was teaching ballroom dance classes.
And when I graduated and went to work at Goldman Sachs, my group went around the world teaching...
We helped major financial institutions figure out ways to streamline their money-management and risk-management processes. For example, we helped Fidelity set up its Spartan brand of index funds decades ago... now some of the biggest and best-known funds on Wall Street.
And I loved teaching when I entered the medical field. I could share my thoughts on the latest medical studies with other folks who were interested in research and help patients learn how to take care of their eyes.
It's even one of the big reasons I started writing for Stansberry Research 13 years ago.
Porter Stansberry made the point that as a doctor, I could only help one person at a time. A patient would come in and I would try to fix him and then send him on his way. But in the publishing business, I could reach hundreds of thousands of people at once.
Of course, I still enjoy one-on-one teaching. That's why I regularly hold impromptu classes on everything financial in our Baltimore office.
I love spending time walking new proofreaders or customer service folks through the basics... everything from questions about paying down student debt to what kind of mortgage to get.
That's why, on June 19 at 8 p.m. Eastern time, I'm doing something I've never done before...
I'm going to hold my first-ever Trading Master Class. I'll be teaching readers like you in our headquarters in Baltimore, Maryland. You'll get to see the training session, and you're invited to participate too, right from your home computer.
During my Master Class, I'll show you how it's possible to "boost" your gains on Stansberry stock recommendations... and make 10 TIMES what you'd make investing in a stock the normal way.
So if you've ever wanted to be "in the room" while I'm teaching one of my favorite strategies, this is your chance. Click here to reserve your seat.
Do you have options questions? Send them my way... [email protected].
Q: What are your thoughts about including platinum within our metals (gold and silver) insurance hedge? – T.M.
A: History doesn't always show what's going to happen in the future, but let's look at platinum as a "chaos hedge" in the past. During the 2008 crisis, gold fell about 25% (performing better than stocks). Platinum fell 64%.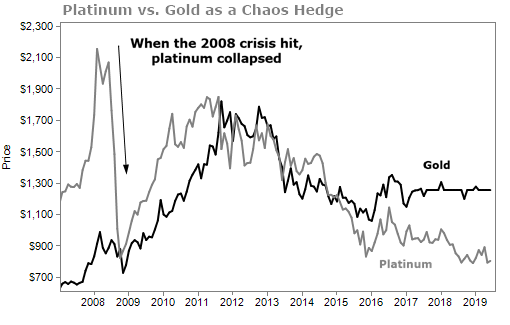 In the dot-com bust, platinum fell 32% and gold rose 28%. Will platinum be a store of value in the next crash? It's possible, but it doesn't look like it has happened before. So we're sticking with our longtime favorite chaos hedges like gold and silver.
Q: Looking for a good wine recommendation for summer. Any suggestions? – J.C.
A: In 2017, I wrote about a new wine from my friend and fantastic wine maker Brenda Lynch of Mutt Lynch Winery... Rosie Rosé.
This wine is out of sight. And the rest of the world is finding out. Brenda's rosé just won a gold medal at the 2019 Experience Rosé Wine Competition.
And Brenda just sent me her tasting notes:
Our Rosie Rosé delivers fresh and bright berry fruit aromas and flavors – picture fresh strawberries, perhaps a hint of blueberries, and definitely some red raspberries.
It's a beautiful wine for the summer. I love to pour it over ice. And when it's really hot out, do what I do and add soda water for a refreshing rosé spritzer. Plus, it's guiltless because – right now – the price is so stupid cheap.
Brenda is offering a special deal for Health & Wealth Bulletin readers... To celebrate National Rosé Day tomorrow, you can get a bottle for only $14.99 with flat rate $10 shipping. Just use the code "MILLIONAIRE" in the code box when you're ordering on https://www.muttlynchwinery.com/. But you can only use this code tomorrow, June 8, to get this crazy deal.
Q: Hey Doc. You don't like pills, but what about protein powder? I workout with a lot of guys that swear by their protein powder shakes. – G.O.
A: Don't fall for this muscle-building fad... it's dangerous, especially if you're older.
A recently published study in the Journal of Nutrition tested the effects of protein powder supplementation in active older men (70 years old on average). Participants performed whole-body resistance training three times a week for 12 weeks. Half of the participants drank 21 grams of protein after exercise and before bedtime, while the others drank a placebo beverage of equal calories. Both groups saw an increase in muscle mass, but the protein group fared no better.
Each man in the study had already consumed his dietary protein intake (1.2 grams per kilogram of body mass per day, on average) prior to taking the supplement... This is key. Protein supplementation is a waste when nutritional targets have already been met with a balanced, healthy diet. In other words, a 210-pound man would need to eat about 114 grams of protein per day. That's easy enough to achieve with foods like a single chicken breast (54g), a container of Greek yogurt (17g), three ounces of light canned tuna (25g), and a cooked cup of lentils (18g).
If you want to see positive changes to your health and body, do what I do – make changes to your lifestyle first. Supplements are not a fast-track ticket to health and wellness. I like to get my protein from whole foods, including eggs, lean meats like chicken, almonds, and Greek yogurt (just be sure to get the plain, unsweetened version).
What We're Reading...
Here's to our health, wealth, and a great retirement,
Dr. David Eifrig and the Health & Wealth Bulletin Research Team
June 7, 2019