It's time to get the heck out of our hometown...
Stansberry Research is located in Baltimore, Maryland. It's our hometown. Most of our employees live here and have called the Old Line State home for their whole lives.
But sadly, Maryland is now dead last on our retirement rankings.
Longtime readers might be familiar with my report on the Best States to Retire. My team has spent months analyzing data on eight major categories, including:
Taxes on retirees
Health care costs
Housing rates
And more…
If you've thought about moving, now might be the perfect time.
That's because the housing market is hot right now. If you're looking to sell the family home and downsize, you'll do very well. Average housing prices have gone up, which means you'll get more for your house. If you choose to do that, you'll need to figure out where to go next... Do you stay in state or move away to make your retirement nest egg last longer?
There's one thing our data have shown us already: Marylanders need to move ASAP.
That's because, sadly, Maryland is now dead last on our retirement rankings. I'd like to imagine we're here suffering on your behalf, so you don't have to retire here. Luckily, I'm the only one in the group even close to retirement possibility... and it won't be Maryland!
But seriously, if you live in one of these five places, you need to take a hard look at where you want to spend your retirement years:
No. 46: New York
No. 47: Illinois
No. 48: Louisiana
No. 49: Rhode Island
No. 50: Maryland
These states ranked last overall in our analysis. That means they are the absolute worst
five places for retirees.
The main problem is that their tax rates on retirement income, health care costs, and cost of living are among the highest in the country.
But it doesn't stop there. These states came in near the very bottom of just about every category. Take a look...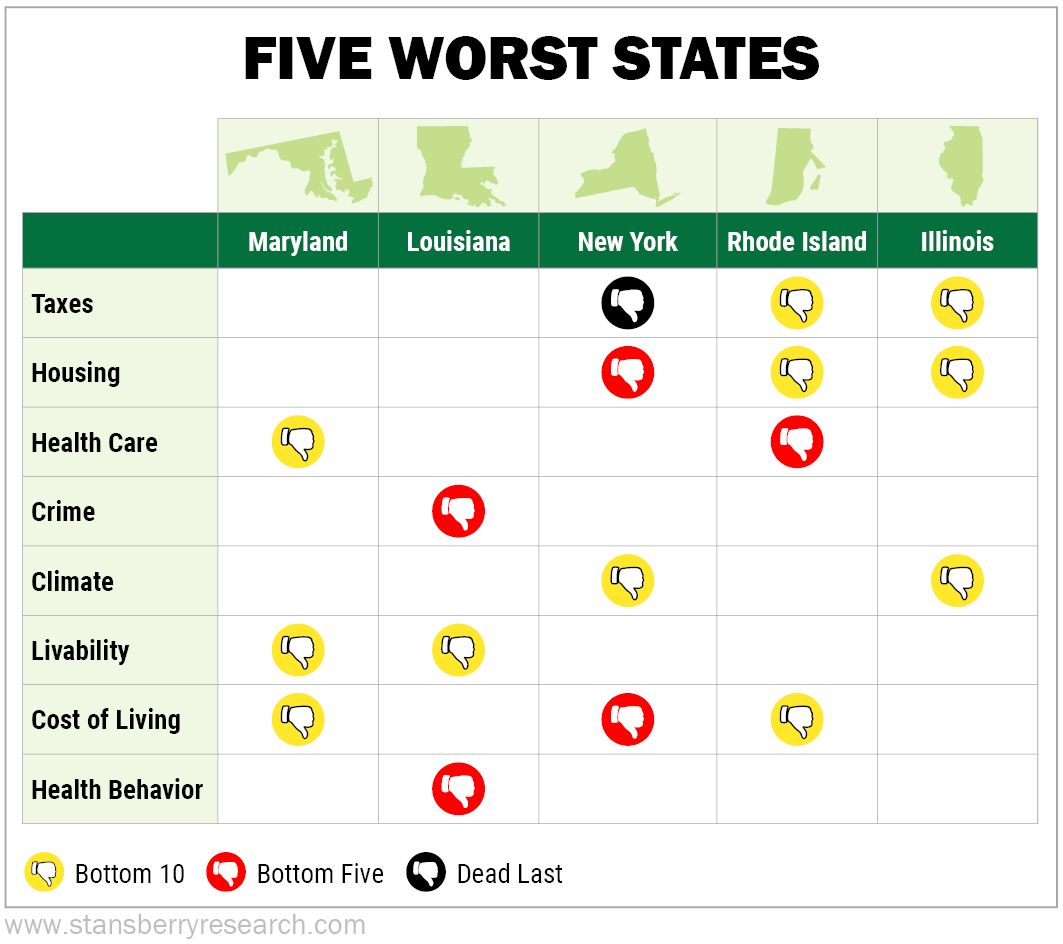 Across the board, these states were low in nearly every category (most just missing ranking in the bottom 10 in each category). Because of our weighting system, Maryland had some of the lowest scores in the most heavily weighted categories (taxes, housing). That brought it to the very bottom of the overall list.
If you live in one of these worst states, get out before retirement.
Whatever your situation for retirement, making a move is a big decision. This will likely be the last move of your lifetime. Whether you make the decision as a way to save money, move to a climate you like better, or move closer to the grandkids, you want to make sure you have as much information as possible to make the best choice.
That's why my team and I began publishing our Best States to Retire report in 2014. I constantly travel around the country, so I can give you a boots-on-the-ground opinion. Additionally, my research team has spent months crunching the numbers on crime rates... hospital quality... taxes... and much, much more. We pored over research and data on every state to compile our list of the best states for retirement.
We also included a list of considerations if you want to stay within your own state but move to a less-expensive area.
Retirement should be a time to relax and enjoy your time without worrying about money. That's why taking the time to weigh all your options is worthwhile. We've done all the legwork for you. We want you to use the data in this report to figure out what's most important to you and make the best decision for you.
Retirement Millionaire subscribers can read Dr. David Eifrig's Best States for Retirement (updated for 2022) right here. If you're not a subscriber, you can buy the report – and get it e-mailed straight to your inbox – right here.
What We're Reading...
Here's to our health, wealth, and a great retirement,
Dr. David Eifrig and the Health & Wealth Bulletin Research Team
June 9, 2022