There's one thing that most of us can't go without… and that's human interaction.
We all crave it.
But over time, it's gotten harder to develop meaningful relationships. That's because most of us are buried in our phones for the majority of the day. As a society, we've become less social.
It's not like how it used to be… You don't need to endure the supermarket cashier's questions if you can order all your groceries from Amazon or Walmart. And you likely won't meet your future partner at work or at school because most jobs are becoming remote and so are many education courses.
Having less meaningful face-to-face communication is a trend that has grown in recent years… and it will continue to grow as technology becomes more integrated into everyday communication.
That's why it only makes sense that the business of love has moved online.
And it turns out that one company is dominating the online dating industry… Match Group (MTCH).
Match.com was one of the few real success stories of the original dot-com boom. Started in 1995, with a $9.95-per-month fee, it was one of the first Internet businesses to successfully charge people for online content or membership.
Match.com is not the only dating site in town, however. There's also Tinder, OkCupid, Hinge, and PlentyofFish. All those sites and apps have millions of members worldwide.
But here's the thing… all of those "competitors" are owned by Match Group.
Like I said, Match dominates the online dating industry. It's able to stay ahead of the curve by buying successful dating sites and apps and bringing them under its umbrella.
This "rollup" strategy has worked very well for Match over the years. It's a reason why it's one of my best recommendations in my Retirement Millionaire advisory.
My team and I first recommended buying shares of Match Group in 2017. Since then, the stock is up 454%…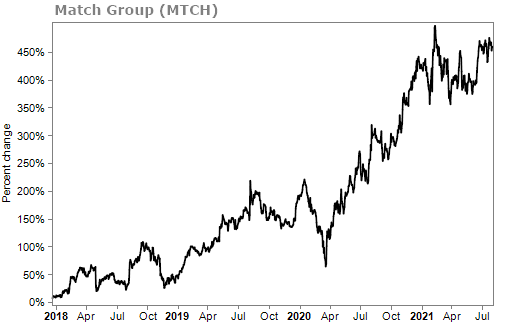 Back in 2017, when we first made the recommendation, we talked about how online dating used to have a stigma to it. Today, online dating is just the norm.
COVID-19 has accelerated the trend…
Social distancing has been intensifying demand for virtual dating. Even stuck at home, unable to go to bars and other social gatherings, people want to connect with other people. COVID-19 doesn't change the fact that people need love.
Video dating has taken off and Match has been profiting with its Tinder video-dating products.
In fact, online dating is now the most common way for people to meet. Since 1940, traditional ways of meeting partners – through family, in school, and at work – have all been in decline.
Match now has 11.1 million subscribers across its different brands. And that's up from the 9.9 million it had just one year ago.
If you bought Match at any time over the last few years, you have made a lot of money.
The Only Question Now Is When To Sell Match.
The company has done such a good job growing the online dating market, is there any growth left?
The short answer, not yet. We're not even close to selling.
Match has plenty of growth ahead of it. The market is far from fully saturated…
Match estimates that there are more than 600 million single people globally who lack Internet access. Most of these people are in the Asia-Pacific regions. That's going to change… Mobile-network company GSMA predicts that mobile Internet user penetration in the Asia-Pacific region will increase from 48% to 61% by 2025.
It's an incredible opportunity for Match to grow its products across the world. Match estimates that the total number of dating-app users worldwide will potentially rise to 300 million in 2023, up from 254 million in 2020.
The reason we bought Match Group was simple… It dominated the online dating industry and we believed there was going to be incredible growth for online dating products.
Both of those are still true today.
Most folks who have a 454% winner sitting in their portfolio would want to sell some shares and take some risk off the table – especially near the top of a market cycle.
I tend to be a conservative investor, so I get it.
But when you are deciding whether or not to sell a big winner, you have to look at the reasons why you bought the stock in the first place.
If the story has changed, then it's probably time to sell. Take your profits and move on.
If the story hasn't changed, then keep holding. There are likely more gains to come if you bought for good reason.
That's what we're doing with Match Group.
In fact, I rate Match Group as a "strong buy" in my Retirement Millionaire portfolio. If you don't own any MTCH today, it's a great way to get exposure to the fast-growing online dating industry.
Match Group is just one of eight stocks that are up by more than 200% in my Retirement Millionaire portfolio. One stock is even up over 1,000%… and that stock is still rated as a "strong buy."
Like Match, the story still tells us to buy, so we're going to keep holding.
Retirement Millionaire has one of the best track records in our industry for a reason. And that's because we only recommended the highest quality of stocks and are patient with them.
I recently released a warning that the power of your dollars is in danger. So knowing where – and how – to invest is critical to maintaining and growing your nest egg. We are living in dangerous financial times, the biggest risk is doing nothing.
To learn what you should be doing, click here.
What We're Reading…
Here's to our health, wealth, and a great retirement,
Dr. David Eifrig and the Health & Wealth Bulletin Research Team
August 4, 2021