If you were hoping for a tropical vacation later this year, you probably have to start making new plans.
Despite the progress that has been made reopening economies around the world, travel is still iffy at this point.
Many popular vacation locations aren't even allowing tourists...
The Virgin Islands, for example, recently banned tourists for the next month. As of last week, all hotels and villas in the Virgin Islands are no longer accepting new guests. Bars, nightclubs, and many restaurants have to remain closed. And there's even a restriction on weekend beach use.
The Cayman Islands recently announced that its borders will remain closed for at least another month and a half.
Hawaii has already pushed its reopening date back from August 1 to September 1... And it looks like it may be pushed back even further to November or December.
Travel is an enormous business. In 2019, the total contribution of travel and tourism to the global economy was $9.25 trillion. That's more than the combined gross domestic product of Japan and Germany, the third- and fourth-largest economies in the world.
Travel in the U.S. has been crushed as well. The chart below shows the load factor, or the percentage of seats paid for on flights, for domestic flights. Travel started to come back in May and June but has recently turned back down again...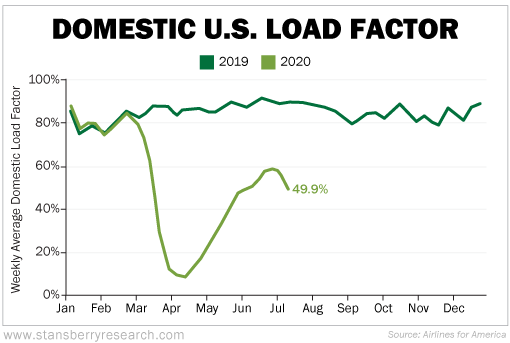 Of course, there's more to the economy than travel. The travel industry has been hit hard, but it's not the only one...
Restaurants are also struggling. Some restaurants have been allowed to open their doors and dining areas to customers while others can only do carry-out and delivery. Business is nowhere close to where it was before the outbreak earlier this year...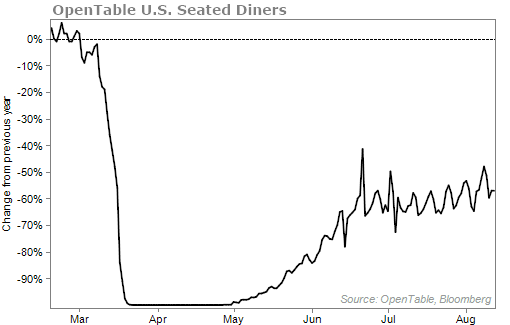 The longer that restrictions in our economy last, the more businesses will have to close their doors for good. Many restaurants are already closed permanently – jobs that we'll never see again.
The chart below shows how many business closures are considered temporary and which are permanent since March 1. As you can see, permanent closures have steadily been increasing...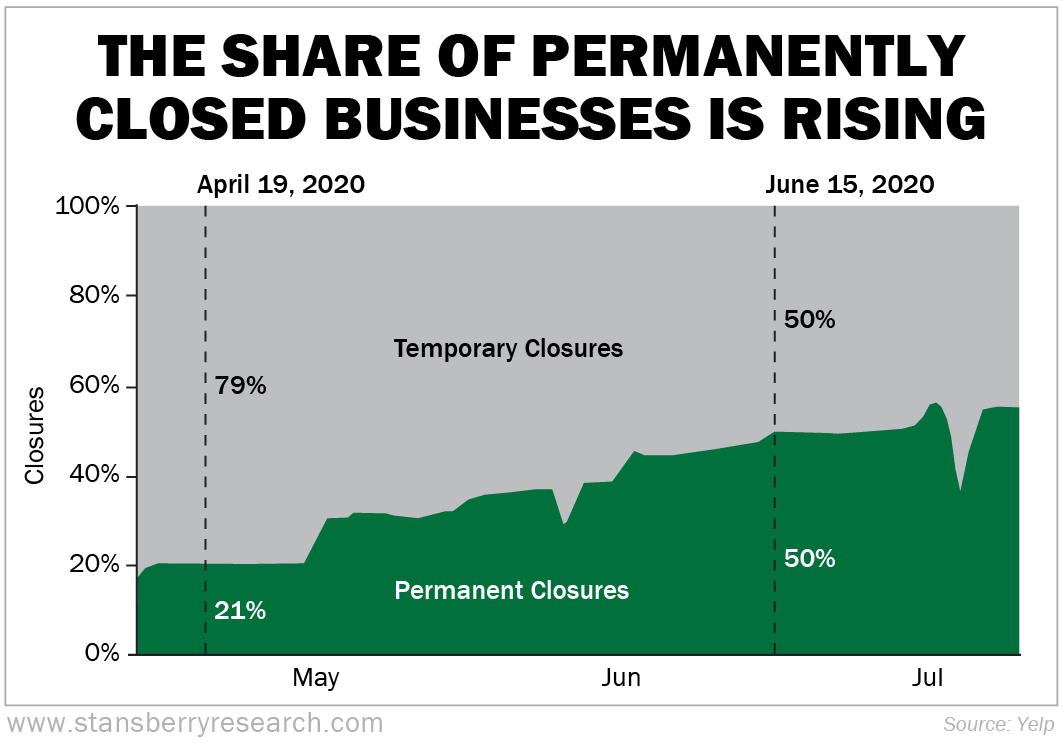 More than half of all closed businesses are now considered permanent – roughly 60,000 businesses. That's a big number.
Things have been so rough for so many businesses that they have significantly pulled back on their spending...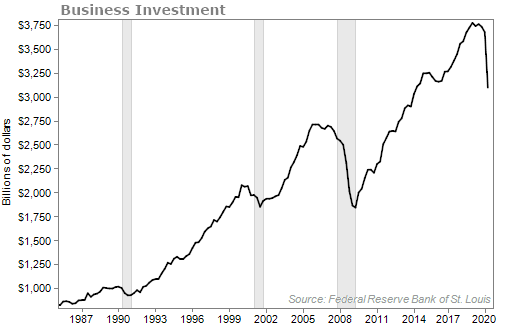 The point of all this is to show you that the economy isn't in the greatest position right now. And certain areas of our economy will continue to struggle over the next few months.
But someone forgot to tell the market that...
Yesterday, the S&P 500 Index closed at a new all-time high. And the Dow Jones Industrial Average is only 6% off its all-time high...
Again, all while travel has been decimated... while restaurants can barely keep their lights on... and while businesses have cut their spending.
There's a huge disconnect between the stock market and the economy right now. Investors have been willing to overlook horrific economic data on the expectation that the economic recovery will be swift.
And a swift recovery is possible. Who knows, maybe by the end of this year you'll be sipping a margarita in the Cayman Islands...
But I have to look at what's going on right now. And it doesn't look great.
The average company in the S&P 500 currently trades for 26.5 times earnings and 2.5 times sales.
That's expensive.
Over the past four decades, stocks have typically traded around 19 times earnings and 1.6 times sales.
Fresh off new highs, things in the stock market just feel a little too good right now... when it's the opposite in the economy.
Investor confidence is high. And when everyone is thinking one thing, the opposite tends to happen.
Now I'm not trying to scare anyone or force them to sell their stocks. I'm not calling for another major market crash or anything like that. Far from it. You should own stocks today...
But you need to be careful about which stocks you own. There are real risks in the market, so it's best to be a little conservative.
Stick with the stocks you love... Stocks that grow revenues every year, increase their dividend payments, have lots of free cash flow, and stocks that can protect their business from competitors, also known as having an "economic moat."
Now's not the time to make wild speculations with half of your portfolio. Stick with good businesses and have some cash ready. If stocks do take a breather and pull back, it will be time to buy more of the businesses you love.
What We're Reading...
Here's to our health, wealth, and a great retirement,
Dr. David Eifrig and the Health & Wealth Bulletin Research Team
August 19, 2020