If you like free stock picks, today's issue is for you.
That's because I'm going to run my "Magic Formula" and see what stocks it spits out...
Longtime subscribers will remember that back in November of 2019, I wrote an essay called "Doc's Formula for Buying Winning Stocks." Basically, I gave away the secret sauce that my team and I use to look for investment ideas.
The formula is simple. There are really only five things you need in an investment...
Consistent top-line growth – I like seeing a company that has multiple years of consecutive revenue growth.
Does more with less – I like seeing a company that has a return on assets ("ROA") of at least 10%. (The formula for ROA is net income divided by total assets. The higher that number, the better a company's management team is at using its assets to generate income.)
Increases dividends every year – I like seeing a company with at least 10 or more consecutive years of dividend growth. (This would make a company a "Dividend Achiever.")
Avoids too much debt – I like seeing a company that has a net debt-to-EBITDA of less than 4.
Trades for a reasonable price – I like seeing a company that has a price-to-earnings multiple of less than 25.
Over my decades long investing career, I've learned that if you buy and hold businesses that meet these five requirements, you'll make a lot of money over time. And you'll experience less volatility along the way.
Of course, there are times when a stock doesn't meet all five of these requirements and it's still a buy... For example, not every stock pays a dividend. Does that mean Amazon (AMZN) doesn't deserve a spot in your portfolio?
Of course not. It's one of the best businesses ever created. You should own it even though it's not a Dividend Achiever.
You might also ask: Don't you want to look at qualities you can't necessarily measure... like if a company has an economic moat or not?
The answer is that we most definitely want to buy companies that have strong advantages over their competition. Fortunately, the formula filters out companies that do not have this. For example, a company that grows its sales each year and increases its dividend payments for a decade or longer can only do so if it has an economic moat.
So when you see the list of companies below, you know they'll all have competitive advantages. You also know they are efficient, aren't over-levered, and trade for a reasonable price.
The table below shows the top 12 stocks that came from my Magic Formula, sorted by market cap...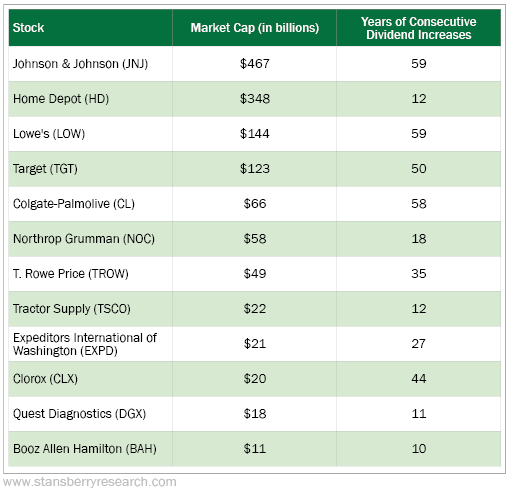 You can look at each name on this list and know that they have competitive advantages.
Take Home Depot (HD), for example... It has a massive retail footprint and sells things that consumers typically only buy in person – which helps deter online companies like Amazon. It's the same thing with Tractor Supply (TSCO), which sells items like farm and ranch equipment and, of course, tractors and lawn mowers. Tractor Supply has many stores in rural areas that need its products the most.
Or take a company like Booz Allen Hamilton (BAH)... Booz Allen is a consultancy firm that employs folks with expertise in technology, cybersecurity, analytics, and engineering. The vast majority of its sales comes from Uncle Sam or other federal contractors. And the U.S. government is a customer that has extremely deep pockets and a track record of paying its bills that stretches back centuries.
Booz Allen Hamilton has a backlog of $23 billion. Northrop Grumman (NOC) also does the majority of its business with the U.S. government, and that's why it has a massive backlog of $76 billion.
All of the above companies are high-quality... They grow their sales every year. They are efficient. They reward shareholders with bigger dividend payments. They have their debt load under control. And they all trade for a valuation less than the broader market.
If you have some free cash lying around, this list is a good place to start.
In fact, many of these stocks are already buys in my various publications – or they have been recommended in the recent past.
Over time, if you buy and hold companies like the ones above, you'll end up making a lot of money. The best part, you'll sleep soundly at night holding them.
What We're Reading...
Here's to our health, wealth, and a great retirement,
Dr. David Eifrig and the Health & Wealth Bulletin Research Team
August 25, 2021