Barrett Brown is having the opposite problem many small-businesses leaders are facing today...
Too many people want to buy his products.
Brown is the president and owner of CedarWorks – a Maine-based seller of slides and swings. With everyone stuck at home, parents have needed some way to keep their children happy and busy (for their own sanity).
Having some slides or swings in your backyard is a great solution. Thanks to COVID-19, demand for CedarWorks' products rose two to three times higher than normal.
The only problem is that Brown can't find enough workers to keep up with demand.
Delivery times have suffered as a result... Before the economic shutdowns, CedarWorks could have your order delivered within two to three weeks. Now deliveries are taking one to two months.
The Wall Street Journal highlighted Brown's struggles in a recent issue...
"Anyone who is on unemployment would've been an economic fool to take a job somewhere" when unemployment benefits could earn them up to twice the CedarWorks typical pay, said Mr. Brown, the CedarWorks president and owner.

As the Covid-19 pandemic in the U.S. escalated in March, demand for sets of slides and swings at CedarWorks rose two to three times the normal rate as homebound families looked for ways to keep their children occupied.

Mr. Brown needed a bigger staff. He started by recruiting through word-of-mouth, focusing on high school and college students who were children of people he knew. One college student who was eligible to collect unemployment benefits turned down an offer from Mr. Brown, opting to stay home, he said.
If you've been reading Health & Wealth Bulletin over the past few weeks, this should be no surprise...
Last month, I told you that this was going to be a serious problem for U.S. businesses. I told you workers may not return to work as fast as everyone thinks. Here's exactly what I said...
One of the biggest problems I see is that millions of Americans may not want to return to work right away. There's little incentive.

And that's because they're making a lot of money being unemployed.

According to the Labor Department, roughly half of all U.S. full-time workers are making more from unemployment benefits than they made at their jobs before the economic shutdown.

In many cases, folks who lost their job are receiving a weekly check of about $978 from the government. That's up $600 from what was paid on average last year. And roughly half of full-time workers made $978 or less per week in the first quarter of 2020.

Even when businesses reopen, mangers may struggle to hire back their workers. For example, if you were laid off from the restaurant industry, why rush back into a crowded restaurant when you make more by simply sitting on the couch?
Brown even said that, "We would have to pay 50% to 100% above our standard rate to lure someone into the workforce."
And not all businesses are as fortunate as CedarWorks. Many businesses – especially small businesses – won't see their pre-coronavirus demand levels return for some time. Combine that with a lack of employees, and it's a recipe for disaster.
As I told my Retirement Millionaire subscribers last month, "Let's not mistake it, this is a small-business recession."
That's why I'll say this again... We most likely won't see 'normal' anytime soon.
For more evidence, take a look at the chart below. You'll see that many Americans are making far more in unemployment than what they made while they were working...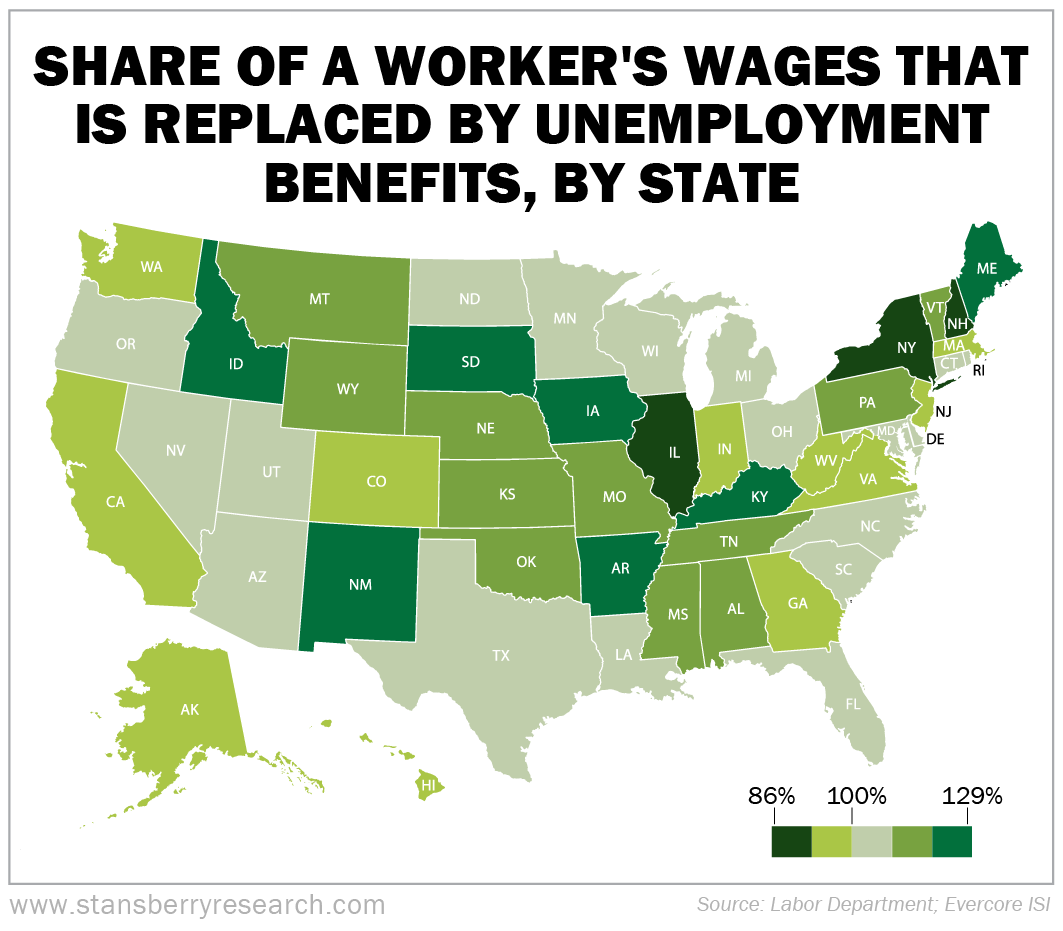 Also, all of the recent riots across many major U.S. cities may deter some workers to returning to work as well. And that's because the majority of jobs are located in big cities.
When I look at the market today, I have to be honest and say that the risk-reward setup for stocks doesn't look great.
More than 40 million Americans have lost their jobs over the past 10 weeks... Gross domestic product ("GDP") could fall 40% this quarter (or more) – levels not seen since the Great Depression... Plus all of the trouble brewing for small businesses...
And yet, the S&P 500 Index is only 10% off its all-time high.
Given the hit that the economy is taking, it's pretty rational to think that stocks shouldn't be this close to all-time highs.
Stocks are priced near perfection. But this is, again, at a time when a lot could go wrong...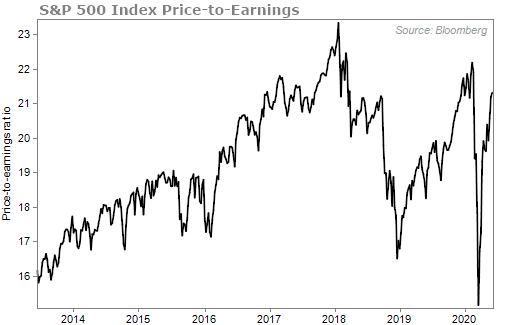 For the market as a whole, the potential reward doesn't appear to outweigh the risk. I'm not saying that stocks can't go higher from here, but I remain cautious.
That's why I think you need to be more careful than ever with your investing in this market.
You need to have a plan for every investment you make. You need proper position sizing. And you need an exit strategy if things turn for the worse.
If you haven't already, I recommend you sit down and watch my colleague Whitney Tilson from last Thursday's Recovery Investing Event.
Whitney discusses his outlook on the market and the best part is, he talks about a system that can tell you what to buy... when to buy... and how much to buy – which is exactly the kind of guidance needed during this unpredictable market.
Click here to watch before it's too late.
What We're Reading...
Here's to our health, wealth, and a great retirement,
Dr. David Eifrig and the Health & Wealth Bulletin Research Team
June 3, 2020