It's the biggest shift since the Internet...
And if you want to see big returns over the next five years, you need to be invested in this industry.
I'm talking about cloud computing... But it's probably not the cloud computing that you're thinking about.
"Cloud" is a common buzzword that has been overused and co-opted to cover many topics. The cloud can refer to data storage for your photos and files using an Internet-based service like Dropbox, Box, or the Apple iCloud.
But I'm not talking about that kind of consumer cloud.
The cloud can also refer to software-as-a-service ("SaaS") businesses, in which software is hosted through the web, rather than an installed application. This sector has been red hot over the last two years thanks to companies like Salesforce (CRM).
But I'm not talking about the SaaS cloud either.
Rather, I'm talking specifically about something called infrastructure-as-a-service ("IaaS").
Prior to the cloud, when a big business needed computing power it had to build a cluster of computers called "servers". Those servers would store and serve up databases or websites.
With the cloud, the business doesn't need to do that itself. It can simply rent the computing power from a data center on demand and host its services there.
If you need an example of IaaS, think of Amazon Web Services or AWS. Amazon really invented the modern IaaS "public" cloud.
Amazon realized it had built massive server capacity to handle surges like the Christmas rush, but on normal days it used only a fraction of that power. If it could rent out the excess computing to others, it could be very profitable.
And it has been...
Amazon alone has grown its cloud revenue from zero in 2006 to $3 billion in 2013 (the first year it disclosed Amazon Web Services sales) to $32.5 billion in AWS revenue in the last 12 months.
Numbers for the industry as a whole show outstanding growth. The totals tallied by Goldman Sachs show cloud spending surged from $8 billion per year at the start of 2015 to $74 billion in the last 12 months. That puts current growth at around 40%.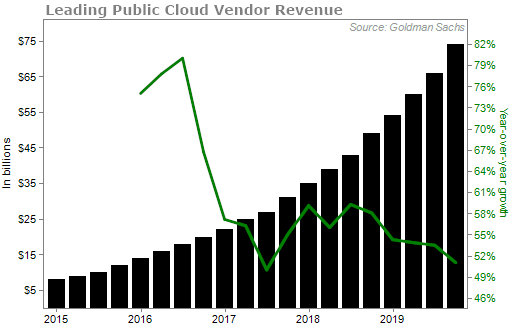 The best part... the cloud is profitable.
While Amazon's cloud earned 12% of the giant's revenue in the most recent quarter, the cloud accounted for 71% of the company's operating income. The AWS segment boasts an operating margin of 25%.
The growth in this nearly $100 billion industry has been remarkable. And many may think that the growth times are over. But that's far from the truth...
Despite the attractiveness of the cloud, only somewhere around 20% of the computing workload has moved to the cloud.
The public cloud won't host all computing, but it will hit – at a minimum – 50% of the current computing workload.
And some estimates are more aggressive. Consultancy LogicMonitor used surveys of technology buyers to predict that 41% of enterprise workloads will be on public clouds by the end of 2020 – a double in just one year.
Gartner, another technology consultancy, looked at spending (rather than computing cycles) and estimates that 28% of IT spending will shift to the cloud by 2022, up from around 18% today.
Those are a lot of numbers... but just know that the IaaS is big business. And it's going to get even bigger.
There are also high barriers to entry. Since it costs billions of dollars to build cloud infrastructure, there are only a handful of companies that have significant market share. The companies that dominate the market now will likely continue to dominate in the years ahead.
Last night I sat down with Porter Stansberry, Steve Sjuggerud, and Austin Root to discuss our outlook for 2020... And we all shared our No. 1 stock pick for 2020.
My top pick was none other than a company in the IaaS space. Its cloud business has gone from zero in sales in 2010 to over $41 billion over the past 12 months.
It's not done growing either...
My team and I ran the numbers, and we (conservatively) estimate that this company will more than double its earnings over the next five years, mostly thanks to IaaS.
It's a stock you want to own. And it's a stock that makes up nearly 8% of our Total Portfolio product, which beat the market last year.
Even if you missed last night's event, you can still see the whole thing, including my No. 1 stock pick for 2020, right here.
What We're Reading...
Here's to our health, wealth, and a great retirement,
Dr. David Eifrig and the Health & Wealth Bulletin Research Team
January 15, 2019