The Middle East oil boom – 100 years in the making – has collapsed.
The reason is simple: the incredible boom in U.S. shale production. But the "worst case" for oil prices may be overstated.
Speculators betting on prices going lower are in for a big surprise. They've forgotten that oil prices run in a cycle.
Here's how it works...
When prices are low, there's little reason to explore new areas or invest in new technologies. Producers will run through their current wells and produce what is profitable. At a certain point, though, the current wells start to wind down and prices begin to climb... leading producers to start investing in new discoveries or new technologies.
When prices really get high, a full-on boom mentality takes over. Producers exploit every resource they can get their hands on.
Developing commodities takes time. These projects take months and years to really get cooking, and before you know it, there's too much of the commodity around. Prices fall again and the cycle starts over.
Oil has seen the same thing many times over.
It was the extreme rise in oil prices to $140 that sped along the development of the U.S. oil and gas boom. If prices had stayed at $60, where they were in 2007, it's less likely that companies would consider researching horizontal drilling and hydraulic fracking technologies.
The high prices nine years ago created today's boom in oil production... And now, we're seeing the effects of a glut.
I pointed out three years ago to my Retirement Millionaire subscribers that $106-per-barrel oil prices looked about to fall.
We didn't use a sophisticated model or insider contacts to figure that out. You could see it in production and inventories... In 2014, U.S. production had grown to 9 million barrels per day. That's up from 5 million in 2008.
Oil inventories are stores of oil sitting in tanks and other holding places, waiting to head to a refiner or other end market. There's only so much storage capacity, and it costs money to use it. When inventories get high enough, prices have to drop to clear out all the excess.
Sure enough, that's exactly what happened. As you can see below, oil prices collapsed.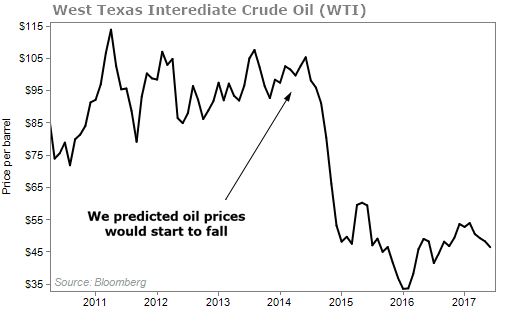 Today, I'm starting to see opportunity in oil again.
So are my colleagues Flavious Smith and Stansberry Research founder Porter Stansberry. Here's what Porter wrote on Friday...
For the first time in more than a decade, we're beginning to get bullish about oil prices. No, we don't think they're going to bounce back tomorrow. Instead, we believe we're entering into a five- to 10-year period where oil will form a major bottom... before moving much, much higher.

Our long-term prediction is that oil will trade for more than $500 per barrel.
A move that big will create small fortunes for investors in this sector. And on Wednesday, you can learn what opportunities are the most likely to profit in both the near- and long-term, absolutely free...
Porter believes oil is going to be the best investment you can make over at least the next decade. The trick to being successful is knowing which assets to buy... and when.
Click here to sign up for a FREE webinar that Flavious and Porter are hosting Wednesday night at 8 p.m. Eastern time.
Here's to our health, wealth, and a great retirement,
Dr. David Eifrig and the Retirement Millionaire Daily Research Team
Baltimore, Maryland
June 12, 2017
Are you living a millionaire lifestyle? Our free daily letter is your guidebook: