Shipping giant FedEx (FDX) is struggling... but not for the reason you might think.
While folks are shopping more in person and ordering less online than they did a year ago, shipping volumes aren't the main source of pain for FedEx. It's quite the opposite, actually.
FedEx's workers can't keep up with all of the packages that need to be sorted and shipped.
As an example, in one of FedEx's largest sorting hubs in Portland, Oregon, managers have been scrambling to get packages to their customers on time. The workers at the facility can't sort through them fast enough, leading to delays.
Because of this, FedEx has diverted roughly 25% of the packages bound for Portland to other sorting facilities. FedEx has also added more trucking routes and even hired third-party transportation companies to help move packages in a timely manner.
All of this means it'll take more time until the customer gets their package... more package miles, which could increase the chance of something going wrong... and of course, it costs more money.
You see, the sorting facility in Portland only had 65% of the workers needed to handle its regular package load. And Portland isn't an outlier, either. Across the board...
FedEx's biggest problem is a labor shortage.
On a recent call with analysts, Chief Operating Officer Raj Subramaniam explained that FedEx has had to reroute more than 600,000 packages a day because of facilities that don't have enough workers. And this has caused the business to take a major financial hit...
In the company's most recent quarter, FedEx added $450 million in costs thanks to the shortage. That includes money for overtime pay, higher wages to attract workers, and extra spending on transportation.
FedEx has been actively trying to hire more workers. The company has not only raised wages, but also offered additional incentives for weekend shifts. And it has been adding up...
For the most recent quarter, salaries and employee benefit expenses rose 13%, including 27% in its Ground division.
Still, throwing money at its problem hasn't helped much. Workers have simply been hard to come by.
The labor shortage contributed to an 11% plunge in profits for FedEx's quarter. As a result, shareholders have been jumping ship. The stock fell 9% after earnings were released...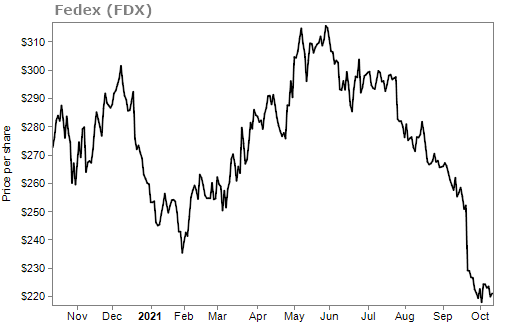 FedEx isn't the only company dealing with a labor shortage. There are countless firms across a broad range of industries that need workers.
The chart below takes the unemployment level and divides it by the number of job openings. What it shows you is how many job openings there are for every unemployed American.
Right now, there are five job openings for every four unemployed Americans.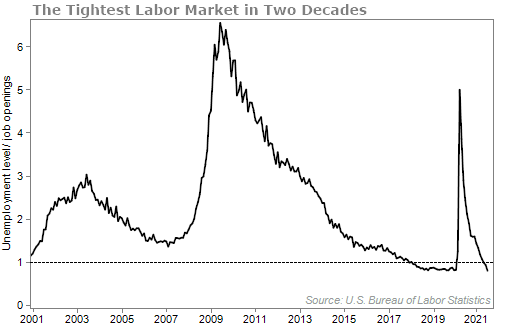 Basically, if you want a job and are willing to put in a minimal amount of effort, you can get one.
Another way to determine how tight the labor market is right now is by looking at the percentage of folks who voluntarily quit their job. Most of the time, people only quit their jobs when they can find higher pay somewhere else.
In August (the most recent month for which we have data), 2.9% of the workforce quit their jobs. That's a multidecade high.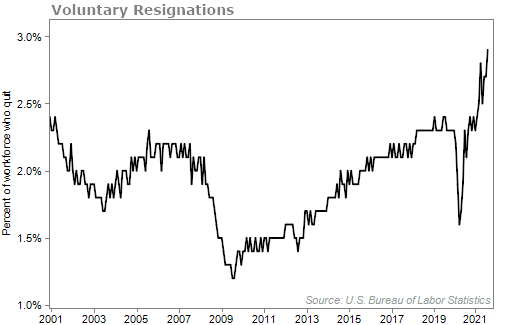 Businesses are getting rid of fewer workers, too. According to global employment and staffing firm Challenger, Gray & Christmas, U.S. companies announced only 15,723 job cuts in August – a decrease of 17% from a month earlier. It's the lowest number since June 1997.
A few factors are creating the super-tight labor market right now. Folks may not be taking open positions because of...
Fear of contracting COVID-19
Lack of affordable child care
Substantial unemployment benefits
Early retirement because they don't want to change careers
 As the economy has reopened and many businesses have returned to in-person work, it has created ideal conditions for a historically tight labor market.
Since we're in such an extreme situation, many companies are raising wages and offering big bonuses. Again, they are desperate.
So if you've ever wanted to make a change in your career without sacrificing pay, this might be the best time to do so.
What We're Reading...
 Here's to our health, wealth, and a great retirement,
Dr. David Eifrig and the Health & Wealth Bulletin Research Team
October 13, 2021