If you're like me, you're still hunting for last-minute Christmas gifts.
So we're skipping today's regular Q&A issue... Don't worry, it'll be back next week.
Instead, my team and I wanted to share our best gift ideas with you. These are all things we've liked, used, and purchased ourselves. As with everything we do here, we want to give you all the information we can to empower you to take control of your life.
And if you've already finished your shopping, why not get a little something for yourself?
My (Doc's) picks
Sideways nearly killed merlot.
In the 2004 movie Sideways, the main character tours wine country, exclaiming his love for pinot noir while openly hating merlot. At one point in the movie, he shouts at his travel companion, "I am not drinking any [expletive] merlot!"
Three years after the film, merlot sales had fallen 2% while pinot noir sales had grown 16%, according to a study from Sonoma State University.
Prices of merlot fell, giving the wine an even worse reputation... mostly thanks to the cheap merlot makers using additives and flavorings like blueberry and nut oils. Some wines even contain embalming fluids...
I still believe merlot is a great wine. So I've always wanted to see if I can do better.
And this year, I have with my 2016 Eifrig merlot.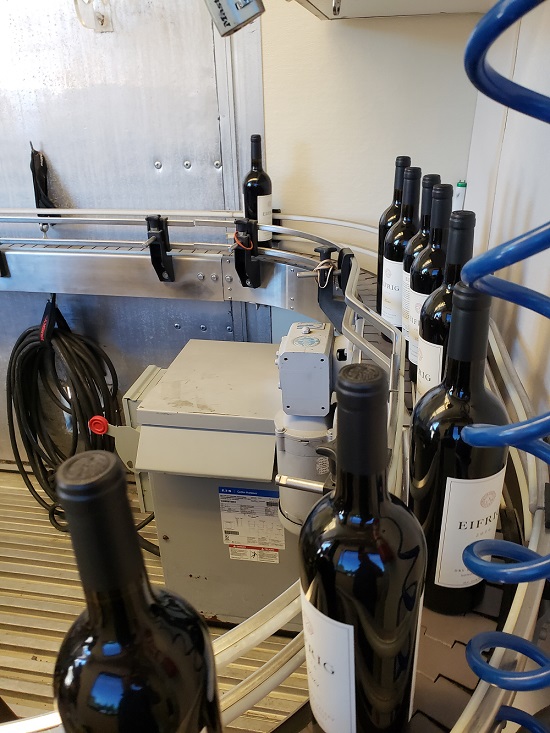 First bottle of merlot coming off the line
There are no strange additives. I didn't even add extra yeasts. Instead, I let the feral yeast from the vineyard and winery take over.
This wine is my new favorite. It's one of my biggest accomplishments of the year.
You may think I'm just trying to sell it, but the fact is, I only made 44 cases. And I've already sold 15 just by whispering to a few buyers of my cabernet sauvignon (who aren't merlot snobs because of the movie) that I made it.
I'm releasing it to Eifrig Cellars insiders this weekend, so it will be sold within the week. However, if you want to try to snag a bottle for yourself, you can do that here. Just be sure to act quickly before they're gone.
Speaking of things I'm taking pride in, I've spent this month sharing my latest venture – Advanced Options – with you.
Advanced Options is designed specifically to achieve triple-digit gains in a short period of time by using options market techniques most investors have never heard of or tried. You could potentially increase profits, reduce risks, and even profit when a stock's price (or the market as a whole) goes down or barely moves.
This type of trading strategy goes to a completely new level that could have a huge impact on your wealth, beginning right now.
And your chance to get a "charter member" bonus ends tonight.
Get the best shave in the world by Christmas...
Folks know I have a beard and shave around it every few days... But I still know a great razor when I see one. And for those who shave daily, you won't get a better shave than with the OneBlade razor.
I know you've heard me talk about this razor a few times before. But you truly have to see it to believe it. It's a beautiful tool that should be part of your daily routine.
If you haven't bought yourself something for the holidays... or you're looking for a gift for your son or brother... we have a special deal for Health & Wealth Bulletin readers to save more than 60% on this heirloom-quality razor.
If you want to take advantage of this special holiday offer and get your razor by Christmas Eve, you need to order by December 18 (that's just four days away). Click here to order.
(Full disclosure, I own a tiny piece of the business.)
Our senior analyst, Matt
With the world in such a crazy state, I'll direct you to a few recent books about the future. First, Yuval Noah Harari's Homo Deus: A Brief History of Tomorrow lays out a wild outline for the future. He asks the question: now that humans have (largely) conquered famine, war, and plague, what will we work toward next? (Harari's previous work, Sapiens, is also a must-read).
In a different vein, economist and public intellectual Tyler Cowen lays out his argument for economic growth and personal freedoms in Stubborn Attachments: A Vision for a Society of Free, Prosperous, and Responsible Individuals, and also frames his argument as a moral obligation to future generations. This one's a little philosophical and dense, but it offers a good workout for the mind and will challenge some of your preconceptions.
Our franchise manager, Laura
This year, I've made my home high-tech. One of my favorite products to help me do that is the Nest Learning Thermostat. I can control the thermostat from my phone, plus it's programmed to automatically lower the temperature when no one is home... It even displays the weather.
After trying to inflate my car's tires – and finding the air hose cut – I bought the EPAuto Portable Air Compressor Pump. This pump plugs right into my car's 12 volt outlet and only takes a few minutes to fill up my tires to the right pressure.
Our researcher, Amanda
There are so many kitchen gadgets you could put on this list, but cutting boards are essential. And finding good ones isn't easy. My husband and I love these Gorilla Grip boards for a few reasons: They're dishwasher safe, BPA-free, and good sizes. If you want affordable boards with easy cleanup, these are it.
I recently bought a new Fossil watch for my husband. He loves it and found it simple to pair to his phone without a lot of fuss. We have a few Fossil watches and can vouch for the quality of the products as well as fantastic customer service.
Every woman I know 30 and older, including myself, seems to have one of the telltale Vera Bradley printed bags. I recently noticed them branching out to other merchandise like gloves, scarves, and robes... perfect last-minute gifts for wives.
Our managing editor, Steven
Darn Tough socks are the best and most durable socks out there, especially the hiker boot full-cushion style. And they have an unconditional lifetime warranty... If you manage to wear a hole in them, they'll send you a new pair.
Our weekend edition editor, Chris
The Anker Soundcore 2 portable Bluetooth speaker is probably one of the most reliable and durable Bluetooth speakers you can get for under $50. The sound quality is above and beyond for a mere six-inch speaker and the device boasts a battery that can handle 24 hours of nonstop play. I have yet to verify that last claim myself, but I use this speaker for hours a day, every day, and I recharge it so infrequently I couldn't tell you the last time I did. I highly recommend it.
The Instant Pot Duo Mini is probably one of the most useful kitchen gadgets I never knew I needed. It's a slow cooker, a pressure cooker, a rice cooker... it sautés and it steams... It's a kitchen device that can cook just about anything in a fraction of the time, and with minimal effort on your part. Nearly any meal or recipe I'd like to try has an Instant Pot version online that ends up being even better than the original. If you enjoy cooking but are often pressed for time, check out the Instant Pot. It's a lifesaver.
Our junior analyst, Jeff
If you're searching for a gift to buy your three-year-old nephew, look no further than this six-piece housekeeping pretend playset. My nephew plays with this all the time. It also doesn't hurt that the house gets a bit cleaner when he's playing.
I bought this wine holder a few months ago and whenever guests visit, they always tell me how much they love it. Wine and puppies... What could be better?
We hope you've enjoyed our gift list and find something for yourself or someone you love. As a disclaimer, we do receive a very small amount for anything purchased through these references.
What We're Reading...
Here's to our health, wealth, and a great retirement,
Dr. David Eifrig and the Health & Wealth Bulletin Research Team
Baltimore, Maryland
December 14, 2018