Talk to your neighbor, your co-worker, or your next Uber driver and they'll likely all say the same thing about the economy... Folks today are sure we're heading toward a recession.
And that makes sense because we're all experiencing the day-to-day effects of inflation.
One year ago, the price of a loaf of bread was $1.81. Today, it costs $2.00. The cost of a pound of beef is up from $4.79 to $5.35. The price of gasoline is up a staggering 131%.
These price changes are real. As a result, families all throughout the country have had to tighten their budgets. Given their experiences, this makes them believe we're headed for a recession.
It's important to point out that everyone we're talking to about the economy also has a job... Playing devil's advocate, it's hard to see recession with such a strong labor market.
Bloomberg puts the chances of a recession over the next 12 months at more than 50%. It's a coin flip.
But getting back to sentiment, we'd estimate the average American thinks the odds of recession are much higher than 50%.
As investors, we care what the economy does. Typical stock returns during recessions have been abysmal.
So today, let's turn to one industry to see if we can get a glimpse into the future of what our economy will do – an industry that many don't view as important anymore...
I'm talking about manufacturing.
Manufacturing used to make up a significant part of our economy, at about 20% of U.S. gross domestic product ("GDP") just a few decades ago. But that has fallen by about half today.
Still, we care about manufacturing because it does a good job of predicting GDP. Manufacturing often leads GDP numbers by a couple months.
You see, heavy industrial businesses aren't like consumers. They don't buy more or less in a given month because of their optimism, tax refunds, bonuses from work, or the weather.
Industrial corporations plan months to years in advance. They carefully weigh potential returns and capital costs. They only start expanding when they're highly likely to be profitable.
To measure how the industry is doing, we look at the Manufacturing Purchasing Managers' Index ("PMI") from the Institute for Supply Management.
The PMI surveys executives in manufacturing. A reading above 50% means growth and expansion. A reading below 50% means contraction.
The chart below shows GDP growth and the PMI since 1980...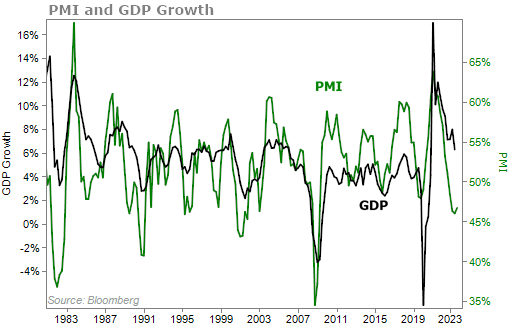 Today, we're seeing the PMI at 46.7%. Again, this means contraction. And the PMI has been below 50% since the third quarter of last year.
Since the PMI usually leads GDP growth numbers by a few quarters, this means we could see our economy slow soon. And the longer the PMI stays below 50%, the greater the odds of recession are.
This gives me a reason to worry... and I'm not the only one.
My colleague Greg Diamond, one of the best technical traders in our industry, just posted a new prediction for 2024.
In short, he says, "2024 will a massacre for most investors."
If you haven't heard Greg's presentation yet, I suggest you give it a listen. He teams up with 50-year Wall Street veteran Marc Chaikin to talk more about what to expect in 2024.
What We're Reading...
Here's to our health, wealth, and a great retirement,
Dr. David Eifrig and the Health & Wealth Bulletin Research Team
November 15, 2023