Investors typically only care about one word: Growth.
Over the past few years, value has fallen out of favor. Investors want to see growing revenues and expanding market share. The stocks that have been driving the market higher recently – Microsoft (MSFT), Apple (AAPL), and Amazon (AMZN) – all have just that.
Unfortunately, for many countries, industries, and companies around the world, growth is going to be hard to come by in the near future.
Take China. For years, China has been the posterchild for growth. In the early 2000's, gross domestic product ("GDP") was increasing by about 10% a year. Growth has slowed in the recent years but still has been increasing by over 6% a year...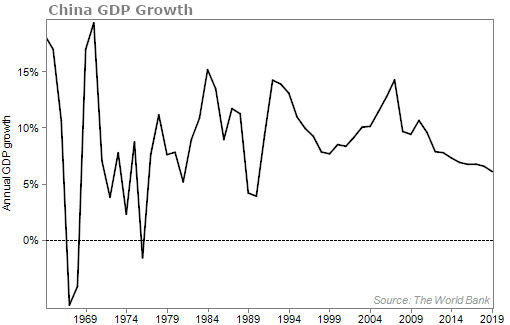 China's economy has come to a standstill thanks to the coronavirus. China, the birthplace of the novel coronavirus, just had its worst three-month period in decades...
GDP shrank 6.8% in the first quarter of 2020 compared with a year earlier. This is the first time since 1976 that China reported an economic contraction. And the economy only contracted 1.6% in 1976 because of a cultural revolution.
Again, China is supposed to be the one place you can turn to for growth in the stock market.
There are some estimates that China could eke out some growth for the full year. But that is far from certain. The road to recovery will be long. It's impossible to predict what things will look like in the next few months.
Economic activity in the eurozone suffered over the past few months as well, contracting nearly 4% in the first quarter. And the U.S. was worse...
The U.S. economy shrank by 4.8% in the first quarter. Some economists are predicting that GDP, for the second quarter, will be around -8%, which tends to be the optimistic view... Other projections are calling for -15% growth. And, it could ultimately be even be worse than that.
All we know is that the final second-quarter reading will be bad.
While many parts of the U.S. are coming back online over the next few weeks, we don't think things will get back to normal very quickly.
Microsoft, Apple, and Amazon can't drive the market higher forever.
So over the next few months, with major economies across the globe suffering, where will you turn for growth?
The silver lining of this pandemic is that there will be incredible opportunities for growth and profit – but only if you know where took.
For example, on Monday I recommended that subscribers of my Advanced Options trading service make a trade on a stock that will actually profit from the economic lockdowns.
The truth is that the coronavirus pandemic has upended society. Many of our behaviors and habits will likely change forever.
One of the most talked-about coronavirus-related concerns is where we will work in the future. The number of people working from home has exploded out of necessity.
Companies around the world have been trying to cope with their staff scattered from their offices. Although the economy is in the early stages of reopening, working from home is not going to be a passing fad. It's here to stay.
So in our trading service, we put on a bullish trade that could nearly double our money if the work-from-home craze continues. We think it will.
Employees are getting used to working from home. And many managers are realizing that it can be more profitable – and just as efficient – to have their employees work from home instead of renting out office space.
There are companies that will grow their revenues because of the millions of people working from home.
While the headlines you see on CNBC or the Wall Street Journal look abysmal, there are opportunities to make money. There are companies that will grow.
Again, you just need to know where to look.
One expert you can trust to find hidden growth opportunities is Enrique Abeyta. Enrique is a former hedge-fund manager who has made millions finding unique hypergrowth stocks.
With so much unknown, now is a frightening time to invest your money in the stock market. But the coronavirus has actually created many buying opportunities for the stocks Enrique looks for.
Enrique and our corporate affiliate Empire Financial Research put together a presentation describing his new strategy. He also gives away his No. 1 favorite stock for free.
What We're Reading...
Here's to our health, wealth, and a great retirement,
Dr. David Eifrig and the Health & Wealth Bulletin Research Team
May 13, 2020