It can be tough to separate your wants from your needs...
Many of us hold ourselves to a budget that separates our necessities (things we need) from our discretionary spending (things we want). It's a useful exercise to ensure we have enough money to go around.
For most folks, a car falls into the "necessities" side. It's our way of getting everywhere we need to go. And everyone has specific needs for their cars. A common one is making sure a car is big enough for the people and cargo they plan to carry inside.
And this is where many people overspend by thousands of dollars.
Doc recently introduced me (Brady Holt) when I responded to a reader question about expensive cars. (But eagle-eyed readers may have seen my name before.) When I'm not working as a managing editor on his team, I'm testing and reviewing dozens of new cars every year... something I've done since 2008.
Today, I'll explain how people unintentionally buy more car than they need... and the financial mindset you need when you're choosing between two different vehicles.
I'll illustrate my point with a recent example...
A couple of weeks ago, I was driving the all-new 2023 Toyota Sequoia. This is a "full size" SUV, a massive machine that's more than 17 feet long and seats up to eight passengers across three rows of seats.
Some folks consider a jumbo SUV like the Toyota Sequoia to be a necessity... After all, they're not going to squeeze their three gangly teenagers into the backseat of a Corolla.
And this new Sequoia is certainly an appealing SUV. You can kit it out with a beautiful leather-trimmed dashboard... a rip-roaring 437-horsepower engine... and available amenities that include power-retractable running boards, a 14-speaker stereo system, and rain-sensing windshield wipers.
But if you're carrying passengers in those three rows of seats, you're left with a piddly 11.5 cubic feet of cargo space. That's less room than you'd find in the trunk of a Hyundai Accent sedan.
Take a look...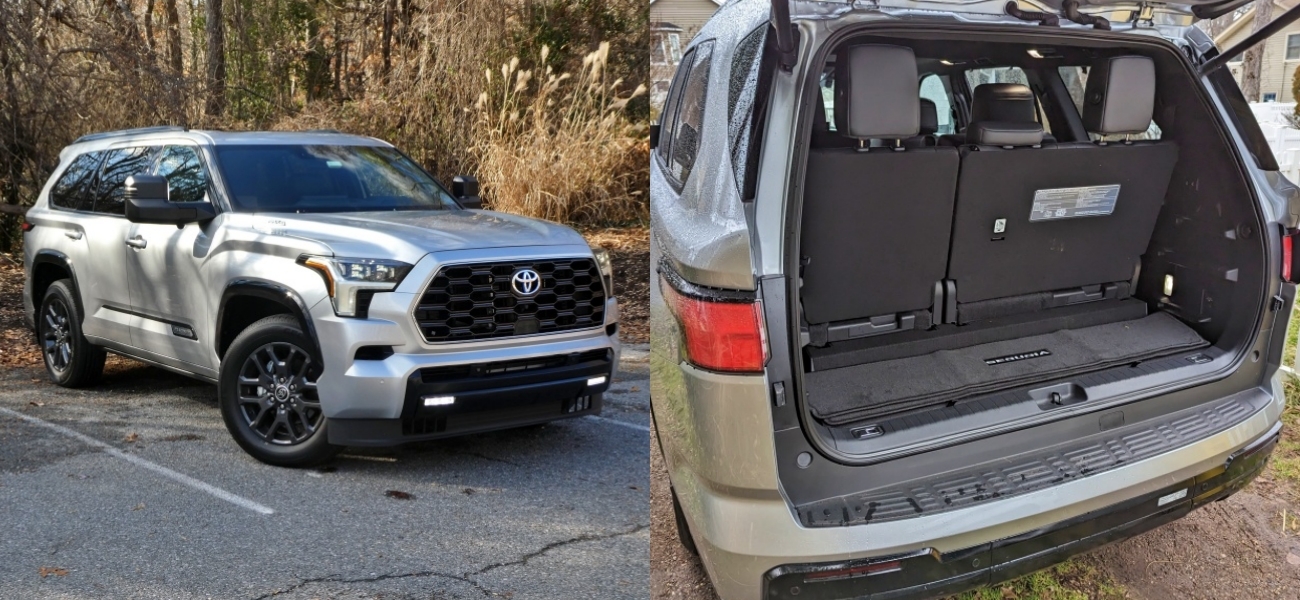 To make this enormous SUV useful, you need to slide the third-row seat forward (killing its legroom) or fold it down (goodbye, eight-passenger capacity).
I'm not saying the Toyota Sequoia is a lousy car. As a big, powerful, decadent splurge, it can be great for someone who loves a "king of the road" feel. The redesign from the 2022 model improved its handling, technology, and gas mileage. And for folks who need to haul heavy trailers, its standout towing capacity of up to 9,520 pounds is a true necessity.
But many folks who say they need this $58,300 SUV (and that's just the starting price) are mistaken. If you need space for eight passengers, you could get even more room from a number of midsize, lighter-duty crossover SUVs or minivans. Their smaller, less-rugged suspensions take up less space from their interiors. These lighter-duty roots also help drop their prices by about $20,000.
Some of my favorite lower-cost alternatives include the Hyundai Palisade, Kia Telluride, and Volkswagen Atlas crossovers and the Honda Odyssey, Kia Carnival, and Toyota Sienna minivans.
I present this example to illustrate a type of tunnel vision that befalls many car buyers. They might decide what typeof vehicle they need, then choose their favorite car from that designated class of car. So if they decide "I need a full-size SUV," they might take home whichever feels best to them... and never cycle back to why they decided on such a big car in the first place.
Once you've figured that out, the question becomes this: Is your $20,000 extra indulgence on a powerful, beautifully trimmed, king-of-the-road SUV the best use of your discretionary budget? Or would you get more enjoyment from spending that $20,000 on a lavish new bathroom... two years of weekly dinners at a fancy restaurant... or the peace of mind that comes from a larger retirement nest egg?
That's not something I can answer for you. It's up to you where in your life you'd like to spend freely and where it's more natural to pinch pennies.
And just to be clear, even if you'd never buy an enormous $60,000 SUV anyway, I could rattle off countless similar examples. Here are a few more...
The Nissan Murano and Chevrolet Blazer midsize SUVs are as small inside as a compact model like the Nissan Rogue or Chevrolet Equinox... The Jeep Cherokee compact SUV is no roomier than a subcompact model like the Honda HR-V or Kia Seltos. The Hyundai Kona subcompact SUV is less functional than a five-door economy hatchback like the Honda Civic or Kia Soul. The Mazda3 compact car has the cramped rear seat of a subcompact Nissan Versa. And so on.
And that's not to say that some of these cars are bad and some are good... I just find it valuable to separate the necessity from the indulgence. Once you know that a Nissan Murano costs $6,000 more than an even roomier Nissan Rogue, it's time to decide whether $6,000 for a bigger engine, flashier styling, and a quieter ride is the best use of your discretionary budget. There's no single right answer...
But because cars are so expensive, even a seemingly small price difference between two cars can be a big deal for your overall household budget. When you choose one, carefully consider your wants versus your needs – and be sure you're spending your hard-earned money on the right indulgence for you.
Keep your car questions and comments coming to [email protected]. We read every e-mail.
What We're Reading...
 Here's to our health, wealth, and a great retirement,
Brady Holt with Dr. David Eifrig
February 2, 2023