It's a race to $1 trillion...
It won't be long now before either Apple (APPL), Alphabet (GOOGL), Microsoft (MSFT), or Amazon (AMZN) become the first publicly-traded $1 trillion company...
The growth of these companies over the last decade is remarkable...
Apple has grown from an $80 billion firm in early 2009 (in terms of market capitalization) to $890 billion today. Microsoft has more than tripled since 2013. Alphabet has grown 290% since 2010, and Amazon has doubled since the beginning of 2017.
The chart below shows the market cap of these four behemoths soaring over the past 10 years...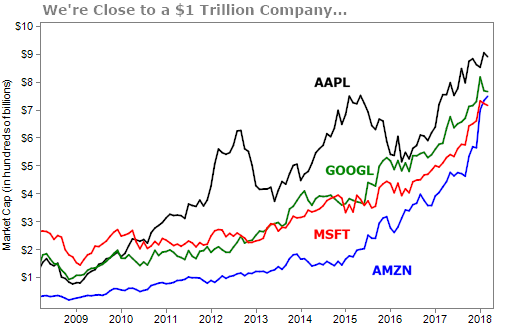 It's really anyone's guess which company will cross the $1 trillion mark first. It might be the next iteration of iPhone sales that pushes Apple above it. Or it could be Alphabet if Waymo (a subsidiary of Alphabet) wins the autonomous-vehicle battle by coming out with the best self-driving car.
And even though Amazon was late to the party – it didn't become a $200 billion company until 2015 – its growth skyrocketed over the past two years. Before we know it, Amazon may control every aspect of how we shop.
For anyone buying into these stocks in the past few years, it's been extremely profitable.
By now you've heard of the FAANG acronym – for Facebook (FB), Amazon, Apple, Netflix (NFLX), and Google. Buying into these stocks is perhaps the most popular trade over the past decade. Folks are jumping in thinking there's no way these firms won't continue to grow...
These stocks are so popular that the Bank of Montreal (BMO) created a new exchanged-traded note ("ETN") – called the BMO REX MicroSectors FANG Index 3x Leveraged ETN (FNGU) – back in late January... just to give folks easier exposure to these companies.
The ETN doesn't just have the FAANG stocks... It also includes popular tech names like Alibaba (BABA), Baidu (BIDU), Nvidia (NVDA), Tesla (TSLA), and Twitter (TWTR).
Are you living a millionaire lifestyle? Our free daily letter is your guidebook:
FNGU won't give you the same returns as if you just bought a fund holding all these stocks... This note is three times leveraged, making is absurdly risky.
If the stocks gain 20%, the note should trade up 60%. Sounds like a great deal. But the opposite is also true. If stocks fall 20%, the note could plunge 60%.
If you're a speculator and don't mind that extreme risk, FNGU might be a good buy.
But the everyday mom and pop investors will see this as a get-rich-quick play and won't understand the risks. I've heard from readers who've put a good chunk of their savings into risky investments and come out with nothing.
Investing in something like FNGU means you'll have to endure a lot of volatility before you get any potential payoff.
If you bought FNGU in late January, you would have been down 23% only a week and a half later. From there, FNGU shot up 57% in just 32 days. And from there to yesterday's close, FNGU is down 13%.
I've said it before... Lots of investors want ways to get rich quick, without a lot of work.
Longtime readers know I prefer caution. Understand the risks before you buy. Always use proper position sizing. Risky investments should only be a small percentage of your portfolio because you will have to stomach swings of 50% on a regular basis.
You might be thinking, "But Doc, tech stocks have been doing nothing but shooting up for years."
Even industry-dominating, shareholder friendly companies like the FAANG companies aren't immune to risk. The price you buy them at still matters.
Let's take a look at Microsoft...
If you bought Microsoft at its peak during the dot-com boom, it's taken the stock more than 16 years just to get back to the same price it was trading at...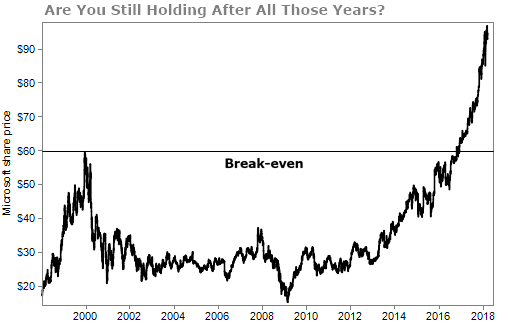 There's no doubt it's a blue-chip stock and it's a company I love. In fact, it's one of the top 25 blue chips I feature in The Blue Book: An Unconventional Way to Upsize Your Retirement.
Now I'm not saying to not buy any of these stocks. Quite the opposite. In May 2017, I recommended Amazon to Retirement Millionairesubscribers. At the time, my team and I saw the growth and profitability potential for Amazon even though it was trading for a ridiculous 176 times earnings.
Since my recommendation, we're up 63%. And I suspect Amazon still has a long way to go.
Just recently, investment-banking company Jefferies forecasted that Amazon will reach $1 trillion in market cap by 2022. Jefferies' analysts reiterated a "buy" rating on the stock and said that Amazon can continue to grow because its advertising business sales will surge the next few years.
One or more of these tech giants could hit $1 trillion before the year is out.
But think before you start throwing your money into them. You need a plan. You need to be mindful of valuations. And you need to see a clear vision of how the company will grow to justify its pricey valuations.
Trust me, this boom won't last forever.
What We're Reading...
Here's to our health, wealth, and a great retirement,
Dr. David Eifrig and the Health & Wealth Bulletin Research Team
March 21, 2018