Investing has gotten harder again.
We've enjoyed a 10-year bull run in the market. And over that time, investing for higher returns seemed quite simple. But there's a saying on Wall Street, "Don't confuse brains with a bull market."
Since December, we've been reminded that stocks don't just go up... They also go down. To help you navigate what's happening in the market today, over the next three days, we'll give you some of the most important things you need to know to understand today's market.
I've shared these essays with my Income Intelligence subscribers over the past several months. They cover many of the topics that led to the bull market's downturn – but they came before it happened.
Today, we're starting with why we've moved away from one of our favorite sectors. These companies have helped us "sleep well at night" for years... Until recently.
For decades, investors could work on a "frothy market" playbook. When stocks got too high, you could retreat to sectors like consumer staples to collect dividends and protect your capital.
That's not so easy these days. Since 2012, consumer staples mostly have sported higher valuations than the market as a whole.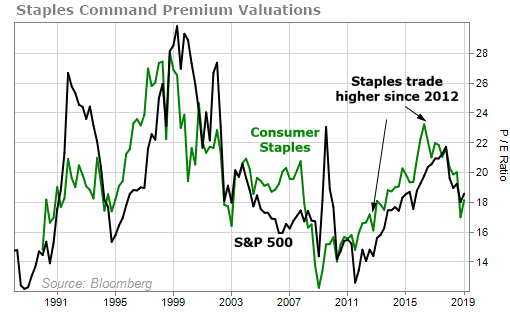 These are boring companies like Walmart (WMT), Campbell Soup (CPB), and Clorox (CLX). They should be priced cheap and have sturdy share prices. Instead, they were priced at a premium.
And over the past five years, consumer staples have underperformed in the broader market, as you can see in this chart...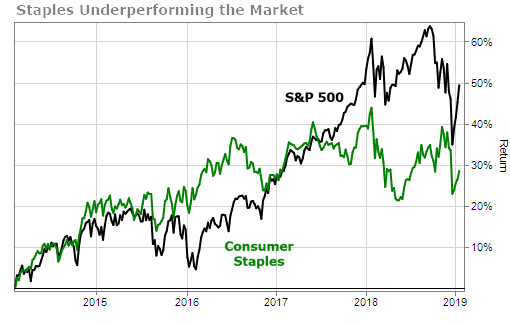 So much for safety.
In other words, the traditional safe havens for income investors have either been bid up to levels where they deliver little yield, or they've been failing.
In Income Intelligence, we've worked hard in our portfolio to deliver better investments. It's why we've ventured so far as to recommend Russian telecom stocks, emerging markets, preferred shares, and carefully timed entries into master limited partnerships (MLPs) and exits out of municipal bonds.
Still, as the markets trend higher and both the bull market and the economic expansion run longer, we've become more cautious and more creative to keep income checks flowing without risking our capital.
For many investors, the last few months of 2018 were a brutal wake up call.
That's why, tomorrow night, I'm airing an Urgent Market Briefing.
I'll reveal why Americans will look back on 2019 as the year when the concept of retirement changed in America forever.
The decision about what to do with investments right now will be the most important decision made in a decade.
And for folks who are retired or planning on retiring soon, this decision could determine if you retire in style... or even if you can retire.
If you're concerned about what has caused the recent volatility in the markets...
And if you're interested in learning how to protect and grow your nest egg in 2019... it is critical that you attend.
Click here to reserve your spot.
Here's to our health, wealth, and a great retirement,
Dr. David Eifrig and the Health & Wealth Bulletin Research Team
January 22, 2019