Doc's note: For months, I've shared essays from my friend and colleague Steve Sjuggerud on his "Melt Up" theory. And today, Steve explains why the Melt Up – and the enormous gains it could make investors – is only just beginning...
Social media behemoth Facebook (FB) fell nearly 20% in one day in late July. And that was just the beginning...
The major tech stocks continued falling in the days that followed. The tech-heavy Nasdaq Composite Index lost more than 300 points over three days, for a three-day loss of nearly 4%.
The end of the world is apparently here, according to the media and the big brokerage firms. The news headlines make it seem like this is it...
Are they right? Is this the beginning of the end? Is the Melt Up really over?
I'll spare you the suspense: The Melt Up is NOT over. In fact, as I'll explain, it's only getting started...
We've had a few bad days. So what?
Let me put it in perspective...
Take a look at this chart of the Nasdaq since 2009. Don't you want to be onboard this train?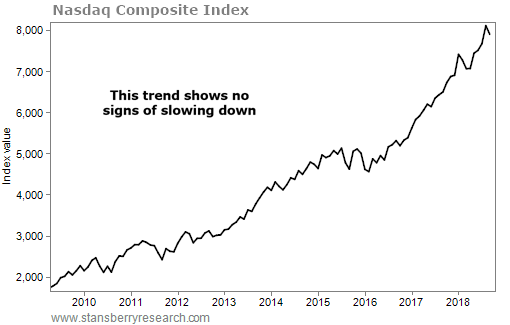 The big trend is still up. And to me, it's actually wonderful that investors are scared... It means we still have plenty of upside left.
The computers behind my high-priced True Wealth Systems (TWS) service recently confirmed today's opportunity.
Right now, my computers are getting more bullish on U.S. stocks... flashing new "buy" signals on several areas of the U.S. market.
Overall, they spot more opportunities in U.S. stocks now than they have at any time in recent months. And that's big news.
You see, I built the TWS computers to spot the big trends. And right now, they see uptrends in just about every corner of the U.S. market.
Are you living a millionaire lifestyle? Our free daily letter is your guidebook:
For example, consumer staples moved into buy mode last month. So did semiconductor stocks. Others followed suit across all different types of sectors.
In short, the TWS computers see tons of opportunities today. They think now is the time to put money to work in a big way.
I agree...
In fact, I believe now could be the best time to buy in a long time. The Melt Up I've been writing about for months has officially begin, as I explained recently.
This is big news. It means we have a green light for making money in the months ahead.
Sure, it seems scary out there. A couple of bad days make it seem like the end is here and the bull market is over. But we need to keep perspective. It's only a few bad days we're talking about here.
Instead of worrying, let's follow the True Wealth Systems computers' lead. They don't read the newspaper or worry about the headlines. They simply crunch the numbers.
Right now, the numbers say we should be bullish... that we want to own stocks today.
My advice is to do just that. Stay long the Melt Up and stay long U.S. stocks.
Good investing,
Steve